Níl an leagan Gaeilge ar fáil go fóill, más maith leat an leagan Béarla a léamh féach thíos.
St. Brigid's Day – Celebrating the Creativity of Women
News
14 February 2018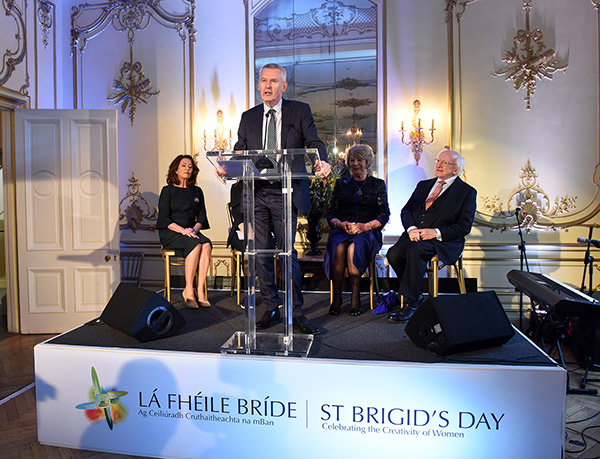 St. Brigid's Day – Celebrating the Creativity of Women
With the support of the Department of Foreign Affairs and Trade's Emigrant Support Programme, the Irish Embassy in London will marked St Brigid's Day, or Lá Fhéile Bríde 2018, by celebrating the creativity of women on 1st February at the Irish Embassy in London
Ambassador Adrian O'Neill was delighted to welcome President Michael D. Higgins, who visited London to attend the celebration as the guest of honor.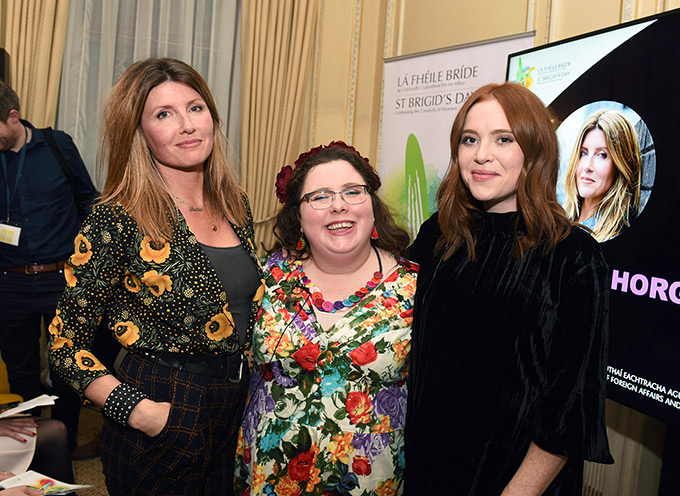 The Embassy opened its doors to the Irish Community in London and hosted twelve different performances, talks and panel discussions over the afternoon and evening of 1st February in a variety of spaces throughout this historic building, all compèred by TV's Pauline McLynn. The event celebrated the enormous contribution and talent of women in such diverse fields as music, film, comedy, architecture, poetry, literature, fashion, art, theatre, craft, business and entrepreneurship, science and technology.
Participants in the day's events included renowned figures such as award-winning TV actor, writer and producer Sharon Horgan, international fashion designer Orla Kiely, Enterprise Ireland CEO Julie Sinnamon, star of standup and TV comedy Roisin Conaty, musician and recording artist Keeva and the uniquely-talented Camille O'Sullivan.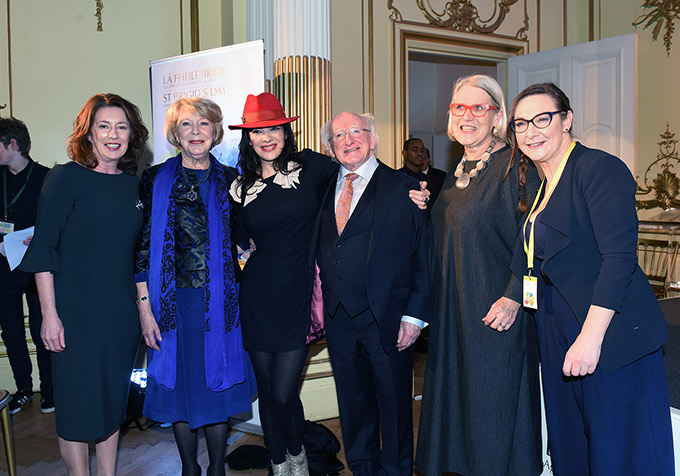 Speaking about the event, Minister of State for the Diaspora and International Development, Mr. Ciarán Cannon, T.D., said: "I am delighted to lend my support to this innovative initiative which highlights the richness of creativity amongst Irish women. From leading writers to comedians to businesswomen, the diversity of talent on display at this St. Brigid's Day event is truly impressive."
Ireland's Ambassador in London Adrian O'Neill said, "This Embassy initiative offers a wonderful opportunity to celebrate talented and creative women from a wide range of backgrounds. St. Brigid's Day traditionally represents the beginning of spring in Ireland and we see it as an apt occasion to celebrate the many talented women who contribute so much to Irish and British life."