Covid-19 Update December 1st 2021
News
01 December 2021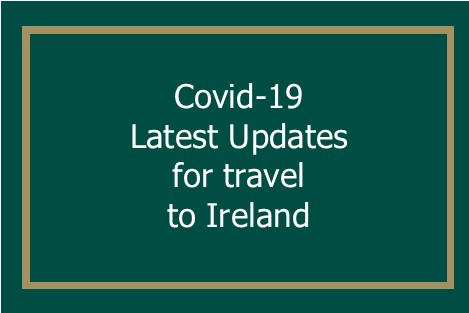 Updated Information on Travel to Ireland
Subject to the prevailing public health situation, Ireland is broadly aligned to the EU approach to non-essential travel into the EU from third countries. To protect its citizens against importation of variants, an 'emergency brake' mechanism is coordinated at EU level to react swiftly to the emergence of a variant of concern or variant of interest. Government advice is to avoid travel to a country where the emergency brake has been applied.
As of July 20 to date, the emergency brake mechanism is currently not in place for the United States.
Passenger Locator Form:
All passengers, vaccinated or not, arriving into Ireland from overseas are required to complete a mandatory Public Health Passenger Locator Form and to submit it to the relevant authority at their port of entry. This form is only available online. Exemptions are in place for providers of essential supply chain services such as hauliers, pilots and maritime staff.
Please check the Irish Government Advice Page for further up-to-date information on COVID 19 travel restrictions. All guidance is subject to change and travelers should check current requirements before travelling.
You will also need to check the Covid testing re-entry requirements for the United States see here: International Travel | CDC. More information here: Find out if you can board a flight to the United States | CDC Also check your US State's public health website for the most up-to-date requirements.
Entering Ireland from the US:
With effect from 00.01am on Friday 3 December 2021, all persons arriving into the Irish State from overseas whether vaccinated, unvaccinated or recovered from COVID-19 will be required to have a certified "negative/not detected" test result. Full information here.
EU Digital COVID Certificate Third Country portal – open to applications from all Irish Passport Holders
The Government has added a further service to enable all Irish passport-holders who were vaccinated outside of the EU to apply for an EU Digital COVID Certificate.
Applications will be accepted from individuals 18 years of age and older who hold a valid Irish passport and a vaccination certificate for a vaccine type currently authorised for use for international travel into Ireland, The EU Covid Certificate Portal is accessible here.
All vaccinated non-Irish passport holders should ensure they bring their original CDC card for proof of vaccination in Ireland.
See here for public health measures in place as at 30th November.
Vaccinated Persons
For the purposes of travel, passengers are considered vaccinated if they have been vaccinated with a product listed below after the recommended number of days after the final dose, see table below.
| | |
| --- | --- |
| A full course of any one of the following vaccines: | Regarded as vaccinated after: |
| 2 doses of Pfizer-BioNtech Vaccine: BNT162b2 (Comirnaty®) | 7 days |
| 2 doses of Moderna Vaccine: CX-024414 (Moderna®) | 14 days |
| 2 doses of Oxford-AstraZeneca Vaccine: ChAdOx1-SARS-COV-2 (Vaxzevria® or Covishield) | 15 days |
| 1 dose of Johnson & Johnson/Janssen Vaccine: Ad26.COV2-S [recombinant] (Janssen®) | 14 days |
| 2 doses of Coronavac (Sinovac) | 14 days |
| 2 doses of Sinopharm BIBP | 14 days |
| A heterologous (mixed) dose of any of the above vaccines | Apply the information above as it applies to the second dose |
| A single dose of any of the above vaccines administered within 180 days of a positive RT-PCR test result. The traveller must hold proof of the positive test and the vaccine dose | Apply the information above as it applies to the administered vaccine |
Accompanying Children
Children aged 11 or under will not require any pre-departure tests to travel into Ireland
PASSPORTS - IMPORTANT NEW INFORMATION ABOUT ONLINE PROCESSING:
The Consulate is no longer mailing or accepting passport application forms. The Passport Service is now directing all Irish citizens to use the online system to complete their passport application.
As of April 29th, the Passport Service has expanded services offered through the online passport application system and is operational for all applicant types in the United States.
The expanded online service will now include:
First time applicants - Adults, minors, and renewals/replacements over 5 years outdated
The online system already offers services for:
Renewing a passport that expired within the last 5 years
Renewing a passport to change your name
Replacing a passport that is lost/stolen/damaged/visa pages are full
To access the online system, please visit: www.dfa.ie/passportonline
VISAS
The Minister for Justice, Heather Humphreys TD, and the Minister of State for Law Reform, Youth Justice and Immigration, James Browne TD, has announced the resumption of short stay entry visa processing from Monday, 13 September 2021.
All travellers arriving into Ireland must continue to comply fully with measures required by law including producing proof of vaccination, recovery from Covid-19 or a negative PCR test to Immigration Control at their port of entry.
If you are unsure as to whether you require a Visa or Preclearance to enter Ireland please check here by entering your nationality.
WORKING HOLIDAY AUTHORISATION
The processing of Working Holiday Authorisation has resumed as of November 1.
FOREIGN BIRTH REGISTRATIONS / CITIZENSHIP
Processing of Foreign Birth registration has resumed on a phased basis from Monday 15 November 2021.
Applications that have been sent to the FBR team have been securely held and will now be processed in strict date order. At present, due to the complex nature of the Foreign Birth Registration and the pause in service due to Covid-19 restrictions, please allow approximately 2 years for processing of Foreign Birth Registration applications at this time.
Please note that the Consulate has no role in the processing of FBR applications. As such, we are unable to advise on the eligibility of an applicant, on the content of applications or the status of existing applications. https://www.dfa.ie/citizenship/born-abroad/registering-a-foreign-birth/