St. Patrick's Day Festival Wien 2017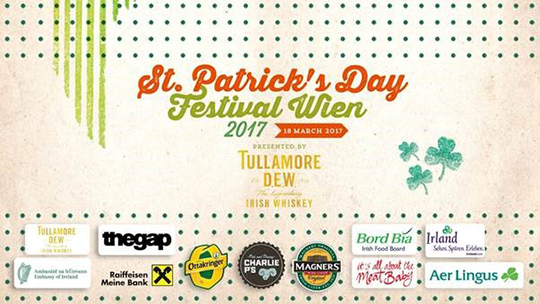 Cultural Programme
The Embassy is delighted to present the cultural programme featuring history, literature and the Irish language. This will take place in the more intimate surroundings of the Ottakringer Brewery's Goldfassl Magazin. This event will be in a quieter relaxed atmosphere, with seating for 80 people. We are delighted to have such a high level programme and we would be delighted if you would join us. You can read more about the full programme on the Embassy Facebook page or download the full programme from the Embassy Hompage.
In the meantime, here are some of the highlights:
13:30 Workshop on the Irish Language by Michael McCaughan
'I was one of the 1.8 million people who claimed to speak Irish … but like most of that cohort I was faking it.'
About to turn 50, and having lived for many years in Latin America, journalist Michael McCaughan decided that the time was right to rediscover the language of his own country. "Coming Home" chronicles this journey, from a surreal start involving dedicated listening to Raidió na Gaeltachta's death notices, to rediscovering the soul of the language through immersing himself in Phil Lynott's music – all without becoming a Gaelbore. Coming Home will make you want to follow in his footsteps and strike out in search of the grá.
We are delighted to have Michael with us at St Patrick's Fest Vienna where he will give a workshop on the Irish language for beginners and Gaeilgeoirí alike. This workshop will be fun for all involved and we encourage as many people as possible to take part!
14:10 History of Irish Connections to Vienna through the Schottenstift
Since the 12th century, Ireland has had a home in Vienna through the Schottenstift, one of a series of Irish monasteries founded throughout the German speaking world. Dr Diarmuid Ó Riain will give what promises to be a fascinating insight into the history of the Irish in Vienna. Who were they? Why did they come here? And why do people think that they are Scottish???
Dr. Diarmuid Ó Riain is a lecturer at the University of Vienna specialising in the history of Irish monastic activity in Europe, the transmission of Irish texts on the Continent, and hagiographical studies in general.
15:30 Interview with Writers Michael McCaughan and Lisa McInerney by Tamara Radak of the University of Vienna's Centre for Irish Studies
Tamara Radak is a PhD candidate in the University of Vienna's Centre for Irish Studies. He work focuses ion modernist fiction.
Tamara will conduct an interview with both writers where we will look to discover the inspiration behind their work. How do they approach writing? How does the work of a journalist compare to that of a novelist?
Questions from the audience will be most welcome and we hope for an interactive discussion.
16:00 An audience with award-winning novelist Lisa McInerney
Lisa McInerney has had a meteoric rise to the top of modern Irish literature. Formerly an award-winning blogger, her debut novel "The Glorious Heresies" won the 2016 Baileys Women's Prize for Fiction and the 2016 Desmond Elliott Prize. It was shortlisted for an Irish Book Award, longlisted for the 2016 Dylan Thomas Award, and named as a book of the year by The Irish Times, Sunday Independent and Sunday Business Post. In 2016, it was announced that the book will be adapted into a television series, with Lisa attached to adapt her novel for the screen.
Her second novel, The Blood Miracles, will be published in April 2017.
Lisa will read from her novels and collection of short stories.
16:40 The Secret of Kells – Children's Movie
A young boy in a remote medieval outpost under siege from barbarian raids is beckoned to adventure when a celebrated master illuminator arrives with an ancient book, brimming with secret wisdom and powers…
The Secret of Kells is a movie for all ages! Join us with your children to disappear into a magical world of Irish mythology.
18:00 Ireland-England Rugby
Watch Ireland derail the English chariot in the Aviva stadium!
Well… we live in hope.