New Ambassador to Bulgaria Presents Credentials to President
Ambassador of Ireland to Bulgaria Michael Forbes presented his diplomatic credentials during a ceremony held on 11 October 2016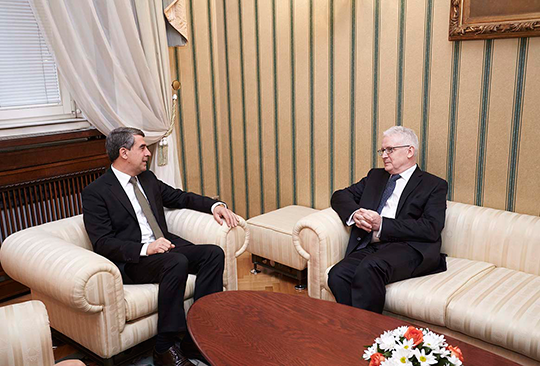 Ambassador Michael Forbes presented his Letter of Credence to the President of the Republic of Bulgaria Rosen Plevneliev on 11 October 2016. Upon presenting his credentials, Ambassador Forbes said to President Plevneliev: "I look forward to enhancing and further igniting Ireland's relations with Bulgaria in these challenging but exciting times".
Ambassador Forbes later said that it was a privilege to represent Ireland in Bulgaria, as both countries are committed EU members and partners. "I am anxious to work on further enhancing the interactions between our countries, including through deepening bilateral trade and economic links. I am also conscious of the importance of our Irish Community here in Bulgaria. I look forward to working with the Community in the months and years ahead."
The Ambassador added that he will seek opportunities to promote Ireland's rich culture in Bulgaria, and that he is delighted to see that Irish literature and theatre already enjoy wide-spread interest. "I have already travelled and witnessed some of Bulgaria's beautiful nature and historic monuments and I am discovering Bulgarian film. I am excited to travel more around this beautiful country, meeting people, and learning about the Bulgarian culture and language."
Prior to his appointment in Bulgaria, Ambassador Forbes served as Permanent Representative of Ireland to the OECD and UNESCO. From 2009 to 2012, he was the Director for Europe and Asia at the Irish Department of Foreign Affairs and Trade. Prior to that he served as Ireland's Ambassador to Israel. A graduate of Trinity College Dublin, Ambassador Forbes is a native of Dublin.