Ambassador Sinead Walsh
Ambassador Walsh has been working in Sierra Leone since 2011.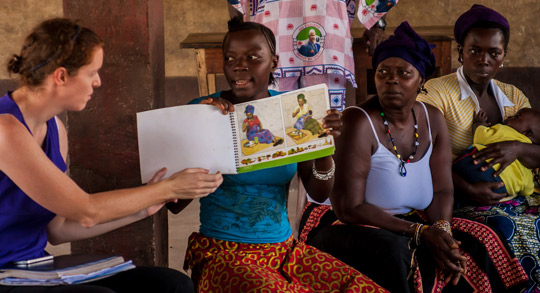 Message from the Ambassador
Message from the Ambassador
The formal relationship between Ireland and Sierra Leone dates back to 2002. However, Irish missionaries first came to Sierra Leone over 150 years ago, establishing a relationship of friendship and solidarity that endures to this day.
It is a privilege for me as Ireland's first Ambassador to Sierra Leone to continue the work of strengthening and deepening the links between our two countries. Working closely with government and development partners, our development cooperation programme in Sierra Leone is built on the values of partnership and openness and a shared commitment to ending poverty and reducing inequality – to implementing and achieving the vision laid out in the Agenda for Prosperity.
I encourage the people of Sierra Leone to visit Ireland. To experience the warm welcome there which you have given us here. We are pleased to offer visa services, please see other sections of our website for more information. On an annual basis we support Sierra Leoneans to pursue post-graduate qualifications and attend various conferences. I encourage you to take advantage of these opportunities as they arise.
It is with great pride that I acknowledge the Irish citizens in Sierra Leone providing crucial support to the ongoing Ebola response and recovery process. We are always available to offer consular assistance to any of our citizens in Sierra Leone.
I look forward to interaction and contact with those interested to know about our work in Sierra Leone via my twitter account.
Best Wishes,
Ambassador Sinead Walsh
About The Ambassador
About the Ambassador
Ambassador Walsh has had an active career in development since 2000. In 2009, Ambassador Walsh joined the Department of Foreign Affairs and Trade as a Development Specialist. In 2011, she was posted to Sierra Leone as Head of the Irish Aid programme in Sierra Leone and Liberia and diplomatic representation in Sierra Leone. 2014 witnessed the upgrading of the office in Sierra Leone to a full Embassy and in May 2014, she was appointed as the first Irish Ambassador to Sierra Leone and Liberia.