Ireland and Mexico celebrate 40 years of diplomatic relations
22/1/15
The Minister for Development, Trade Promotion and North-South Co-operation, Mr Seán Sherlock, TD, and the Ambassador of Mexico to Ireland, H.E. Carlos Garcia de Alba, today launched a programme of events to celebrate 40 years of diplomatic relations between Ireland and Mexico. A corresponding programme organised by the Irish Embassy in Mexico City will be launched at an event hosted by the Irish Ambassador to Mexico, H.E. Sonja Hyland.
Highlights of the joint programme include a performance by Alondra de la Parra, the world famous Mexican conductor, with the RTE Symphony Orchestra at the National Concert Hall; a St Patrick's Day concert by The Gloaming in Mexico; a visit to Ireland of the Mexican Navy's tall ship Cuauhtémoc; and a celebration of Irish Film in Mexico City and Guadalajara.
There will also be a seminar marking the 400th anniversary of the birth of William Lamport, the Irish-born author of the first proclamation of independence of Mexico, as well as concerts, dance performances, seminars, and literary events.
Speaking ahead of the launch, Minister Sherlock said:
"I am delighted to launch this series of events marking our strong friendship with Mexico. While diplomatic relations were established in 1975, there is a long history of Irish emigration to Mexico, stretching back to the 1600s. This includes Juan O Donojú of County Kerry origin, who was the last Viceroy and helped lead Mexico to independence, and the soldiers of the heroic San Patricio battalion who fought for Mexico during the Mexican–American War of 1846 – 1848.
"Mexico is the most popular destination in Latin America for Irish tourists, and Ireland's largest trading partner in the region, with total bilateral trade in 2014 at over €1.3bn, of which over €1bn is exports from Ireland to Mexico – a figure which has increased rapidly since our Embassy opened there in 1999.
Ambassador de García de Alba added:
"This programme of events is not just a chance to celebrate the official ties that link us, but also to raise interest in a growing cultural relationship between Ireland and Mexico, where many Irish people have made their homes. We have deep cultural similarities, as shown by the interest in Mexico in Irish literature and music, a shared interest in each others' cinema - and a growing appreciation for each others' history and food.
"Mexican students increasingly come to Ireland to learn English, and I encourage them, and Irish students interested in Mexico, to take part in the events planned for this year."
More information about the events in both Ireland and Mexico is at the website of the Embassies of Ireland in Mexico and of Mexico in Ireland.
ENDS
Press Office
22 January 2015
Note to Editors:

Diplomatic relations between Mexico and Ireland were established in August 1975. Mexico opened a resident Embassy in Dublin in September 1992; Ireland opened an Embassy in Mexico City in October 1999. There is an Irish Honorary Consul in Cancun, and Mexico has Honorary Consuls in Kildare, Cork and Galway.
The Irish programme in Mexico will include:
An exhibition of works by the Irish photographer Daragh Muldowney;
An academic and cultural colloquium marking the 400th anniversary of the birth of William Lamport/Guillén de Lambardo, the Irish-born author of the first proclamation of independence in the New Spain.
The Second International Celtic Music Festival in Puerto Vallarta. The second international festival of this type involving groups from the US, Canada, Mexico and Ireland. A showcase event also to take place in Mexico City
A Gala Premiere of the Irish film 'Price of Desire' at the Guadalajara International Film Festival
A season of Irish Film at the Cineteca Nacional, the Mexican National Film Institute
Iconic Mexican monuments and buildings to be illuminated in green as part of the Global Greening project.
A Performance by Irish traditional music group "The Gloaming".
Irish jazz group, the Tommy Halferty Trio, to perform as part of the Eurojazz festival
A retrospective exhibition on the work of Irish-Mexican artist, Phil Kelly
Participation of Irish authors and artists at the Feria Internacional del Libro de Guadalajara (the second largest book fair in the world)
The programme in Mexico is supported by a wide range of institutions in both Ireland and Mexico including the Department of Foreign Affairs and Trade and Culture Ireland.

The Mexican programme in Ireland will include:
An exhibition of children's works on the theme of El Zorro
A gala concert, with the RTÉ National Symphonic Orchestra conducted by Alondra de la Parra
The participation of the Mexican piping band "San Patricio" in the St Patrick's Day Parade in Dublin
A symposium on William Lamport.
Concerts by the Mexican flautist Horacio Franco in Dublin, Wexford, Limerick, and Belfast
A performance of folkloric ballet by the University of Guadalajara.
Mexico is the world's 11th largest country by population, 12th by territory and the 14th largest economy. It is predicted to become one of the top 10 recipients of FDI in the world in the next decade.
Exports from Ireland to Mexico from January to November 2014 were €1.14bn, and imports for the same period were €291m.
A Mexico-Dublin Business Conference took place in May 2014 and a Latin America Trade Forum, organised by the Irish Exporters Association, took place in October 2014.
President Higgins visited Mexico in October 2013.
The programme of events can also be followed through Embassy Mexico's Twitter account, @IrishEmbMexico.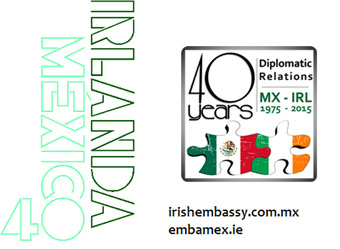 Contact Details
---
Tel: +353 (0)1 408 2268
Tel: +353 (0)1 408 2274
Tel: +353 (0)1 408 2276
Tel: +353 (0)1 408 2280