Minister Flanagan Launches Irish Passport Card for Use in 30 European Countries
2/10/15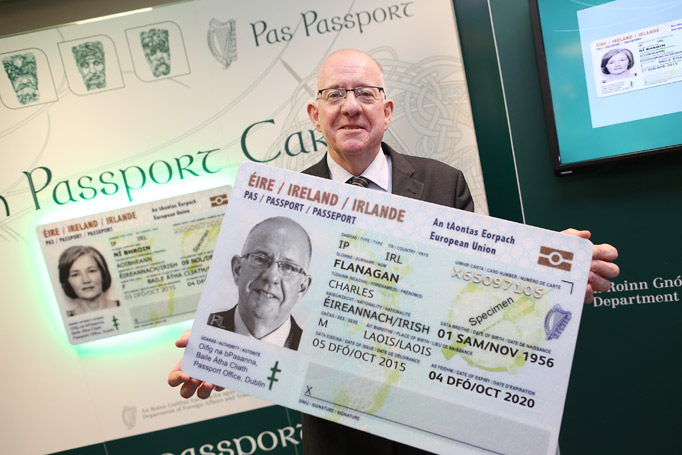 Minister Flanagan launches the new Irish Passport Card
Minister Flanagan Launches Irish Passport Card for Use in 30 European Countries
Pioneering Combination of Irish Technology and Design
Now Open for Online Applications
The Minister for Foreign Affairs and Trade, Mr. Charlie Flanagan T.D. today announced that applications for the new passport card are now being accepted on-line from Irish citizens.
This is a new innovation that will allow Irish citizens to travel within all thirty countries of the European Union and European Economic Area (EEA). Adult citizens who already have a valid Irish passport book are eligible to apply for the card, which is designed to fit readily into any wallet or purse.
Speaking at the announcement of the new service, Minister Flanagan said;
"I am delighted to announce that applications for the new passport card can be submitted on-line from today through my Department's website and also through a new mobile app which has been specifically designed for the purpose.
"The introduction of the passport card is a significant innovation that will enhance the travel experience for Irish people as they go on holidays or business trips to thirty countries throughout Europe. Citizens who apply will need to have a valid passport book already but they will be able to use the passport card alone for travelling to such popular destinations as Spain, France and Italy.
"This an Irish-led and Irish-designed project that combines cutting edge technology and security features with ground-breaking levels of user-friendliness and flexibility."
The Minister added:
"I am particularly proud that we are one of the very first countries in the world to introduce such a passport card. It represents a very positive story of Irish-led creative thinking and innovation and illustrates that we are very much pioneers in this area.
It also underlines the Government's commitment to the expanded provision of public services online."
Full details about the passport card application process are available at www.dfa.ie/passportcard
Notes for Editors:
· Citizens must be over 18 years of age to apply for a passport card
· Citizens must be in possession of a valid passport book to apply for a passport card.
· Passport card personal details must be exactly as they are on the applicant's passport book.
· The card has a maximum validity of 5 years or the remaining validity of the passport book. There must be at least 30 days validity on the passport book.
· The application fee is €35 plus a credit card transaction cost. Additional delivery costs outside Ireland are approximately €5.
· Applications will be received online via the Department of Foreign Affairs and Trade website (www.dfa.ie/passportcard) or through the free app for smart phones and tablet devices which is available in iOS (via Apple App Store), Android (via Google Play Store) and Microsoft (via Windows Store) formats.
· The Passport Service has the capacity to process 3,000 Passport Card applications per week. Depending on demand it is estimated that applications will be processed within 20-25 working days. This will be kept under review.
· The passport card is valid for entry into the following thirty countries:
· EU Countries (27 excluding Ireland): Austria, Belgium, Bulgaria, Croatia, Republic of Cyprus, Czech Republic, Denmark, Estonia, Finland, France, Germany, Greece, Hungary, Italy, Latvia, Lithuania, Luxembourg, Malta, Netherlands, Poland, Portugal, Romania, Slovakia, Slovenia, Spain, Sweden and the UK.
· The European Economic Area (EEA): the EEA includes EU countries and also Iceland, Liechtenstein and Norway.
· Citizens can use the card alone for travel to these countries but the Passport Book must be used for all other foreign travel, including to the United States.
· Further information on the application process can be found at www.dfa.ie
· The passport card represents the culmination of co-operation among some of Ireland's leading technology and security companies. This project is leading the way in secure MRTD deployment and further demonstrates that Ireland is at the cutting edge of innovation in the technological arena. The consortium comprised both large and small companies, led by DLRS, with security design and APP development supplied by Absolute Graphics in Wicklow and Purple Pod in Meath. The final product is a state-of-the-art polycarbonate supplied by HID in Galway.
· The passport card enrolment process relies on cutting edge technology that adheres to the highest levels of security to ensure that applicants are safe and secure at all times while applying for their card. The software solution has been developed to work across a number of mobile platforms including iOS, Android and Windows Phone and also features a secure website for desktop users. The enrolment process allows users to submit a passport compliant photo taken on mobile phones or upload a suitable photo on the website where advanced biometric algorithms will test each one to ensure ICAO Standards are reached. Once all verification checks have been achieved, the user can pay their fees through the secure payment portal.