Minister Flanagan to Address UN General Assembly and Meet with UN SG in New York
27/9/15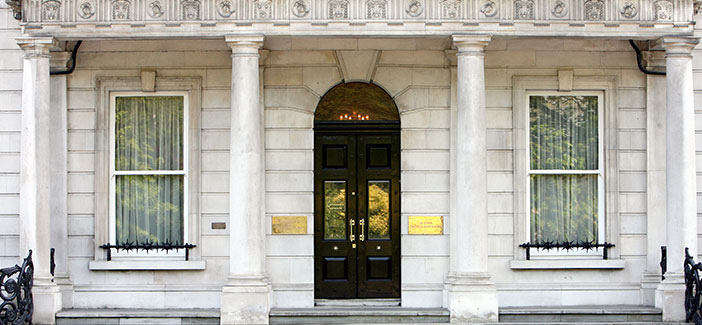 Focus on Northern Ireland in Washington Contacts with prominent politicians
The Minister for Foreign Affairs and Trade, Charlie Flanagan T.D., today begins a five-day visit to the United States during which he will address the UN General Assembly and meet with UN Secretary General Ban Ki-Moon in New York. The Minister will also meet in Washington with a range of senior US political contacts with whom latest developments in Northern Ireland will be the main focus.
Minister Flanagan will address the 70th Session of the United Nations General Assembly on Thursday October 1st and lay out Ireland's perspective on a range of foreign policy challenges including disarmament, peace-keeping and human rights. Later that day he will hold a bilateral meeting with UN Secretary General Ban Ki-Moon. SG Ban visited Ireland in May and launched 'UN60', a programme of events making 60 years of Ireland's membership of the UN.
The Minister will launch a major Royal Irish Academy exhibition, making UN60 on Sunday, 27th September. Other UN elements of the Minister's programme include attendance at major UN summits on Peacekeeping Operations and Countering ISIL and Violent Extremism convened by President Obama on Monday, 28th and Tuesday 29th and a series of bilateral meetings with foreign ministers.
Speaking ahead of his departure, Minister Flanagan:
"In my address to the UN General Assembly, I will underline that ongoing conflicts and new types of threats are creating humanitarian crises and situations of instability, poverty and mass displacement around the world. I will emphasise that in these difficult times, the need for stronger leadership from the United Nations has never been more critical.
"I will also welcome commitments which will be made by countries that are new to or re-engaging in UN peacekeeping. These will complement the activities of longstanding peacekeeping contributors like Ireland which has a distinguished record of service in this area. We will continue to play our part in this regard.
"While Ireland is this year reflecting on what has been achieved over 60 years of UN membership, we are also looking towards the future of our place on the world stage. Active and engaged young people will be central to Ireland's continued contribution to peace and security, human rights and development. In this context, am delighted our first ever UN Youth Delegates, Eoin Ó Liatháin from Dublin and Orla Murphy from Cork, will be with us in New York over the coming days.
"This is a particularly significant week in New York for the UN Sustainable Development Goals, which Ireland, together with Kenya, was responsible for leading the negotiations. This responsibility was a reflection of the high regard in which Ireland's work in the development field is held".
In Washington on Wednesday 30 September, Minister Flanagan's will have a series of meetings with Senator Patrick Leahy and prominent US Congressmen including Joe Kennedy, Paul Ryan, Jim Sensenbrenner and Richard Neal. He will also address the Congressional Friends of Ireland group and Irish-American community leaders. These exchanges will focus in particular on Northern Ireland, with Minister Flanagan briefing on latest developments in the ongoing talks process.
Prospects for U.S. immigration reform, trade and cultural links between the U.S. and Ireland and 2016 commemoration events in the U.S. will also be discussed. Later that afternoon, the Minister will attend a special event in Washington to highlight and promote the work of the International Fund for Ireland.
Minister Flanagan also stressed the importance and value of continued U.S. support in relation to developments in Northern Ireland:
"I value greatly the active involvement and good counsel of Senator Gary Hart and the U.S. Administration at this important time. I look forward to my meetings with senior Administration officials, with our contacts on Capitol Hill and with the Irish-American community and other friends of Ireland".
On Tuesday afternoon, Minister Flanagan will address an Enterprise Ireland / BNY Mellon financial technologies event and meet with several Irish companies operating in this area.
The five-day programme will also include a number of Irish-American community focussed engagements. On Sunday 27 September, the Minister will visit the New York Irish Center and Irish Hunger Memorial in Battery Park. On Thursday, 1st October, the Minister will meet over a working breakfast with local Irish-American community leaders in New York and visit the New York Irish Arts Center.
ENDS
Press Office
27 September 2015
Note to Editors
The UN60 Exhibition being launched by Minister Flanagan will initially be displayed at the UN Headquarters in New York from 5th October onwards and then proceed to the UN's Palais des Nations in Geneva. It will be presented in Ireland at Iveagh House in Dublin on 14 December, exactly 60 years after Ireland's accession to the UN, and will subsequently be displayed at Dublin Airport, the Royal Irish Academy and Cork Airport.
Minister Flanagan formally launched the 'UN60' Programme at an Iveagh House Lecture which took place in Dublin Castle on Monday 25th May 2015. United Nations Secretary-General, Mr Ban Ki-Moon, was the keynote speaker at the lecture. A full programme of events can be accessed at http://www.dfa.ie/un60.
The UN Youth Delegate Programme is an initiative of the Department of Foreign Affairs and Trade in conjunction with the National Youth Council of Ireland. Ireland's 2015 UN Youth Delegates are Eoin O'Liathain (25) from Ballymun in Dublin and Orla Murphy (23) from Upton in Co. Cork.
The Leaders' Summit on Peacekeeping hosted by President Obama on Monday 28th September takes place against the backdrop of increased demand for peacekeeping. Numbers of military and police serving on peacekeeping operations has more than tripled since 2000. Ireland strongly supports the objective to increase support for and broaden participation in UN peacekeeping operations. Ireland's commitment to continued participation in peacekeeping has been reaffirmed by the Government in its Foreign Policy Review and in the White Paper on Defence. We currently have some 370 Defence Forces and Garda personnel in the field.
Ireland works closely with our EU partners and through the United Nations to coordinate efforts to prevent and combat terrorism. The Leaders' Summit on Countering ISIL and Violent Extremism focuses on Resolution 2178 which was adopted unanimously by the Security Council at last year's UNGA. Ireland co-sponsored the Resolution along with 103 other member states. The Resolution takes a comprehensive, human rights compliant approach to tackling the foreign terrorist fighters issue in accordance with international law.
Contact Details
---
Tel: +353 (0)1 408 2268
Tel: +353 (0)1 408 2274
Tel: +353 (0)1 408 2276
Tel: +353 (0)1 408 2280