Tánaiste's address to ESRI Conference
07 March 2013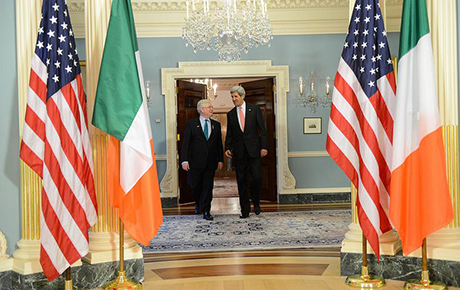 Reaping the Benefits of Globalisation: What are the Opportunities and Challenges for Europe and Ireland
Ladies and gentlemen,
Firstly, my thanks to the ESRI and to the European Commission for your invitation to be with you this morning. Unfortunately, I wasn't able to join you earlier, as I was taking the Order of Business in the Dáil. But I am pleased to have this opportunity to talk about the importance of what you are doing and what it means, both for Ireland and for Europe.
Let me start my remarks, by putting your work in the context of what has been happening in Ireland, and in Europe over the past few years.
As you may have seen, yesterday, the Irish Government published its second annual report, marking two years in office. What people sometimes forget, is how difficult Ireland's economic position was, only two years ago. Our banking system was broken. Our public finances were unsustainable. In the three years before we came to office, a quarter of million jobs had been lost in the Irish economy. And companies, some of whom are household names in this country, were having difficulties financing themselves. It is no exaggeration to say that the position was chaotic. In fact, to be honest, it was difficult for the new Government to be fully frank with people as to how bad things were.
Since then, we have turned the situation around. We have brought a new level of financial and economic stability to Ireland. I was reminded last week, that at their peak, Irish 2 year bond yields hit 22%. Last week they were trading at approximately 1 per cent. The Irish banking system is being revived, and the public finances are on the right track. The Irish people have made enormous sacrifices, but we have achieved stability, on which we can build.
During that same period in Europe, we have also gone through an extremely difficult time. At the height of the euro crisis, there was real doubt about the future of the euro. There were serious commentators asking whether a country can leave the euro, or whether the currency itself had a future. It hasn't always been pretty, but the European Union has responded to these challenges. We have taken a series of steps, including the Stability Treaty, the establishment of the ESM, and decisive action by the ECB, which has now restored financial stability. Many difficult decisions have been required, but they have worked.
Stability, however, is not only a goal in itself. The Stability we have achieved is the basis on which we can re-build our economies, and create more and better jobs for our people. That is why the Irish government during its Presidency has explicitly adopted the Theme: Stability, Jobs and Growth for Europe.
The work that you are doing, is a vital link between financial stability on the one hand, and the creation of jobs and growth on the other. Of course, there is extensive debate about the implications for employment of simultaneous austerity across Europe, and I share the frustration of many on that score. But if we are to make full use of that stability, then we have to have a robust European model of economic growth. By which I mean, not just short-term macro-economic stability, but medium term, sustainable growth, based on innovation and increasing productivity. We need far greater political and administrative engagement with the concept and debates associated with industrial policy.
And to do that, we have to have the kind of intellectual and research inputs that you have been discussing today. This is an area where there is an open political door for new ideas and new thinking.
Wind back the clock, if you will, to the last time that Ireland was emerging from a serious fiscal crisis. During the 1980s, if someone used the term 'competitiveness' in Ireland, it is fair to say, they were generally talking about a fairly narrow concept to do with costs in general, and wage costs in particular. Cost competitiveness is still important, but during the 1990s a new and far more holistic understanding of the term 'competitiveness' developed. At that time, many economists became interested in the work of Michael Porter and others on competitive advantage. There was much discussion about the role that industrial clusters play in economic development. Around the same time, economists came to focus more on innovation and particularly in identifying when and how innovation flourished. in the early 1990s, our National Economic and Social Council, published a report by the Swedish Social Scientist Lars Mjoset, focused on weaknesses in Ireland's National System of Innovation. To be honest, up to that point, not a lot of policymakers had heard of the term 'National System of Innovation' ,and certainly very few of them had much of any idea that it might need to be supported so that it would be improved. These were new and interesting concepts, but concepts that were hard to translate into policy levers that anyone could pull.
And yet, if you look at what has happened since that time, there is no doubting that ideas of that kind have been hugely influential in what has since the late 1990s. Europe has strongly endorsed the need for innovation, building on the Lisbon Strategy. Ireland has followed the vision suggested by EU leadership and has invested enormously in the area of scientific research, largely through a new State Agency, Science Foundation Ireland, and has supported business investment in R&D by introducing tax credits and financial supports for innovation. Today, SFI Funded researchers are involved in over 2,000 research collaborations spanning 68 countries. Such collaborations have grown significantly (in excess of 10% per year) year on year since 2008.
Through SFI, along with the significant state investment in research facilities, we have dramatically enhanced Ireland's research landscape and capability, to the extent that:
There has been a significant increase in Irish research publications – both in numbers and in quality;
The numbers of licences, patents, and discoveries that are captured as having potential commercial interest including spin-outs, have increased dramatically; and
In addition, there has been significantly enhanced R&D activity at company level though EI and other state supports.
Today, Ireland is
2nd in the world in probiotics research (food for health);
3rd in the world for the quality of its research in Immunology (of major importance to Life Sciences companies),
6th in Nanotechnology (of key importance to ICT/semi-conductor companies)
8th in the world for the quality of its research in Materials Science ( again key to ICT and Life Sciences sectors)
This is important, but what we have also recognised is that innovation is far more than what happens in a Laboratory. If you look at the Government's Jobs Strategy, both for 2012, and for 2013, many of the measures contained in it are self-consciously focused on improving our national system of innovation. For example, we are taking measures to shift our education and training systems to increase the number of graduates with IT skills. We are developing new forms of finance for SMEs, and high performance start-ups. The strategic investment fund, which is inheriting the assets of the national pension reserve fund, will have an explicit mandate to provide finance of this kind. The Jobs Strategy has a focus, not just on start-ups, but also on 'scale-ups' – so that we can have more firms who employ, not just ten or twenty people, but two or three hundred people. Across the full ambit of Government, we are looking at how we can support and improve innovation in our businesses.
Now, as we emerge from this crisis, the moment is particularly opportune for new thinking on industrial policy. Dare I say but that innovation policy in the 21st century has taken over from what we called industrial policy in the 20th. We know that the world is changing around us, and policy has to respond to that change. Take one example. The Competiveness Report has an interesting discussion on the changes that are taking place in how businesses are managed on a global basis. In effect, we could now be said to be thinking about an international system of innovation. This is the context in which the Report makes the point that while the concept of clusters is long established, the idea of industrial networks is less familiar, and there is an interesting discussion on the possible role of public policy in this area. Equally, the report contains a discussion on the potential role of SMEs in global value chains – this represents a new development as global value chains were traditionally seen as the preserve of larger enterprises. This development is particularly interesting in Ireland given the challenge that we have always faced in developing sustainable indigenous employment, rather than simply relying on foreign investment, and how to link the two.
One of the most striking facts brought out in the report is the reduction in trade volumes that occurred during the crisis. At the same time, China's role in global trade expanded. There are a number of lessons to take from this, which are important strategically, both for Ireland and for Europe.
For Ireland, one of the many lessons that we have to take from the crisis, is the importance of avoiding over-reliance on any one sector of the economy and the problem of employment and investment displacement that the expansion of such a sector has for the rest of the economy. Of course, we are not the only country to have experienced a property boom and to suffer when the construction sector goes into decline – the competitiveness report shows that. But Ireland is one of the most globalised economies in the world. So, even as we learn the lessons of the property crash, we also have to think about how to insure ourselves against future economic fluctuations. One way to do that is to diversify what we sell, and where we sell it. As the global centre of economic gravity shifts, and emerging economies account for a greater share of economic activity and Trade, countries like Ireland have to ensure that we are linked to the global centres of growth. China, is a critical piece of that puzzle, but by no means the only piece.
Many of the emerging economies are quite statist – their economies are heavily influenced by the State, and so Government to Government contact is essential in the promotion of Trading links. That is why the Government has consciously given the Department of Foreign Affairs an enhanced mandate in the trade area. Precisely because, if we are to develop our trade, and diversify our trading patterns, we need a strong focus on the part of Government. Equally, the Government has made it a priority to strengthen the co-ordination among agencies and Departments at home who have a role in developing economic links with China. These are some of the practical steps that have to be taken to develop our competitiveness in this new context.
At the European level, the kind of shifts in the global value chain that you have been discussing mean that it is even more important that we develop our trade links with other major blocs. The Irish Presidency, for example, placed considerable emphasis on obtaining a mandate for discussions on a EU-US trade agreement. As you may know, we have been successful in doing so, and President Obama highlighted his agreement to these talks during his recent State of the Union address.
The notion of a European model of competitiveness and growth is not just an economic construct. Of course in Europe, we have our own particular inheritances, including strengths in particular industries. But we also have a strong social tradition, which is an asset on which we can and should build. One of the most important achievements of our Presidency so far, has been the progress we have made on the Youth Guarantee. We cannot hope to build a competitive European Economy, if we allow so many young people to remain unemployed. Bringing those people back into the productive economy is absolutely vital.
So, this is, I believe, an important moment for new ideas on how to build a more competitive European economy. Of course, it goes without saying, that implementing new idea, and some old ones, also requires political determination. Having made progress in achieving stability, what Ireland and Europe both need to do, is to drive on in taking the steps necessary to create more and better jobs.
Thank You