Tánaiste's remarks at the US Embassy on 50th Anniversary of the death of US President Kennedy
DFAT - 22/11/13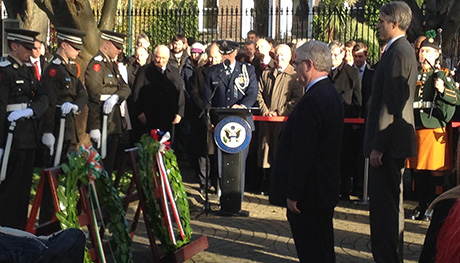 Tánaiste and US Chargé d'Affaires Stuart Dwyer laying wreaths at the US Embassy on the 50th Anniversary of the death of President Kennedy
Remarks by Tánaiste and Minister for Foreign Affairs and Trade, Eamon Gilmore T.D. at a wreath-laying ceremony to mark the fiftieth anniversary of the death of President John F. Kennedy US Embassy, Dublin
It is a particularly sad anniversary we mark here today.
When President Kennedy visited my home town of Galway on 29th June 1963, he foresaw that "though other days may not be so bright as we look towards the future, the brightest days continue to be those on which we visited you here in Ireland".
This morning we recall the very darkest of days, one etched indelibly in my own memory and that of all of my generation.
We remember that tragic day 50 years ago when the United States lost one its finest Presidents, Ireland lost a true friend and the world lost a great Statesman.
It is particularly sad for us as Irish people, given the special place which President Kennedy held in our hearts. Just a few short months prior to his untimely death, we had rejoiced together with him and his family during his memorable visit to these shores in June 1963. It was a visit that brought Ireland and the United States together in a rare and moving way. When President Kennedy declared at the end of his visit that, "this is not the land of my birth, it is the land for which I hold the greatest affection", it immediately captured the unique bonds of friendship and kinship which exist between our two peoples. These bonds have provided the foundations for the extraordinary strength and breadth of our bilateral relationship today.
The strength of the bonds between Irish people and the Kennedy family were evident for all to see earlier this year during the series of events held here in Ireland to mark the 50th anniversary of President Kennedy's visit. I was particularly delighted to host Caroline Kennedy and her family, Jean Kennedy Smith, and the many other members of the wider Kennedy family who travelled to Ireland for the occasion. The tremendous interest and support by Irish people for all the events was a further sign, if any were needed, of the enduring strength of the relationship.
Those celebrations were an opportunity to look to the next fifty years also and to find new inspiration. As Governor Martin O'Malley of Maryland said in the Kennedy Lecture which he delivered in Iveagh House on 19 June last, "President Kennedy's brief visit to Ireland connected our countries vividly, connected us vitally, connected us spiritually. From New Ross to Hyannis, from the Oireachtas to the White House, John F Kennedy planted a vision that would link us, not only to the past but to the deep, deep roots of the future". President Kennedy's visit was a milestone in Ireland's journey from independence to becoming the modern and self-confident nation that we are today.
Today's wreath-laying ceremony was a very moving occasion and a reminder of the unique honour that was bestowed on members of the 37th Cadet Class as they provided the honour guard at the graveside of President Kennedy in Arlington National Cemetery 50 years ago, at the request of First Lady Jacqueline Kennedy.
Subsequently, in her correspondence with President de Valera to express appreciation, she wrote " I do wish to thank you with all my heart for coming to my husband's funeral and for bringing with you the Irish Cadets who had moved him so a few months before in Ireland and who then moved the world at his grave".
I wish to acknowledge the presence here today of members of that 37th Cadet class, as well as their predecessors in the 36th Cadet Class whose honour guard so impressed President Kennedy during his visit.
President Kennedy was a visionary President who ignited the dreams of a generation. In his own inaugural address, he declared - "We observe today ...... a celebration of freedom – symbolising an end as well as a beginning – signifying renewal as well as change". And in concluding his address, he appealed to us as follows - "My fellow citizens of the world; ask not what America will do for you, but what together we can do for the freedom of man".
The world lost a statesman 50 years ago today, but his legacy endures.
So while the events of 22 November are a shared and profoundly difficult memory, let us reflect, as I believe President Kennedy and his family would wish, on our inheritance of his vision and ideals, as relevant today as 50 years ago. Those ideals include commitment to country and public service, and to making our world a better and fairer place.
Let us choose to remember the warmth and joy which the President brought not only to the American people, as President Obama reflected earlier this week at Arlington National Cemetery, nor only to the Irish people as we recall here today, but to all who strive for democracy and freedom.
Thank you