Tánaiste's remarks on the occasion of address by Congressman John Lewis
Tánaiste Eamon Gilmore - 23/4/14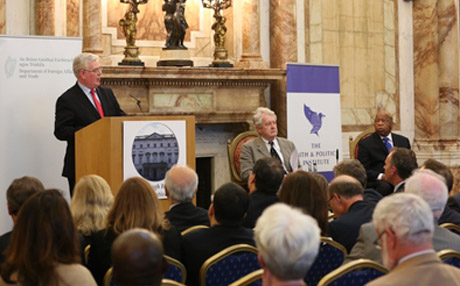 Address by Tánaiste Eamon Gilmore, T.D., introducing Congressman John Lewis to deliver the 4th Iveagh House Commemorative Lecture on the US Civil Rights Movement.
The Iveagh House Commemorative Lecture Series
Introductory remarks by Tánaiste and Minister for Foreign Affairs and Trade,
Mr. Eamon Gilmore T.D.
On the occasion of an
Address by Congressman John Lewis on
the US civil rights movement and its global legacy
Iveagh House, 23 April 2014
I wish to warmly welcome everyone to Iveagh House this evening. We are honoured to have with us Congressman John Lewis of Georgia as our Speaker in the Iveagh House Commemorative lecture series.
I also wish to welcome our other prominent US visitors, Senator Mazie Hirono and Governor Martin O'Malley, as well as all our US friends here this evening as well as representatives of American businesses in Ireland whom I am glad are able to join us for this occasion.
There is a special connection between Ireland and the US in the civil rights area, one long predating the 1960s.
I am of course referring to that unique relationship between our own great Liberator, Daniel O'Connell, and the iconic Frederick Douglass, whose statue you will have not failed to miss I am sure on your way into Iveagh House earlier !
I am delighted therefore that we are joined this evening by Nettie Washington Douglass, the great great granddaughter of Frederick Douglass, and Ann Quinlan, the great great granddaughter of Daniel O'Connell, whose relationship and friendship today mirrors that of their forebearers so many years ago.
The relationship between your forbearers helped to make history. Such conversations and friendships matter just as much today as we work with our friends in Congress to ensure that US immigration laws facilitate the flow of our young people in both directions and facilitate the exchange of ideas and inspiration that accompanies this.
I am also glad that we are joined by a range of civic and political leaders from Northern Ireland this evening and in particular I wish to welcome both Junior Ministers from the Office of the First Minister and Deputy First Minister, Jonathan Bell MLA and Jennifer McCann MLA.
I wish to thank you, John, for your agreement to moderate the event this evening; your continued support to the Iveagh House commemorative lecture series is much appreciated.
Congressman John Lewis belongs in the Pantheon of great leaders in the American Civil Rights Movement.He holds an honoured place in the great progressive tradition in American history. A tradition that, in good days and bad, has stood for the rights of working class men and women, for poor and oppressed people, for people without a voice who have been pushed to the edges and margins of society by racial hatred, by bigotry and by grinding poverty. John Lewis has stood for justice.
Edmund Burke, the great Irish Parliamentarian and writer, said that "whenever a separation is made between liberty and justice, neither is ... safe".
Martin Luther King believed this.
Frederick Douglass, the great abolitionist leader, believed it and struggled all his life to build a bridge between freedom and justice for African Americans.
The Civil Rights Movement in the United States in the 1960s should not be seen through any romantic or soft lens. The century since Emancipation and the ending of the Civil War had brought a measure of freedom but not true freedom to African Americans. Instead, brutal segregation; pervasive and deep discrimination in employment and in day to day life; voting disqualification and elections rigged through absurd "technical" requirements such as the so called literacy test or counting jelly beans in a jar: this was the lot of African Americans as the Second World War ended.
Lincoln, more than most, understood the injustice that African Americans would continue to face after Emancipation. He understood the "original sin" of American slavery. His second Inaugural address, only a few weeks before his assassination, assessed this with unflinching moral clarity.
Humiliation and degradation was the daily lot of African Americans when Martin Luther King, John Lewis and other Civil Rights leaders in the early 1960s said this was a moral stain and set out to challenge the conscience of America.
Known as the "Freedom Riders" they highlighted the evil of segregation in public transport and captured the imagination of the world. Many hundreds, including John Lewis, were arrested and jailed in Mississippi during the Freedom Rides. But they helped bring an end to segregation in public transportation.
Across the South, courageous men and women demanded their rights.
The Civil Rights movement in the United States did not have easy victories. The March on Washington for Jobs and Freedom in August 1963, and Dr King's "I have a dream" speech are now part of the story of America. But the struggle was harsh and difficult.
In March 1965, John Lewis, with Hosea Williams, led six hundred peaceful protestors across Edmund Pettus Bridge in Selma in what was intended to be a march from Selma to Montgomery. The scenes of violence and brutality against the marchers by Alabama State Troopers shocked America and the world and helped hasten passage of the Voting Right Act of 1965.
This year we mark the 50th anniversary of the Civil Rights Act. In so doing, we honour the leaders of the Civil Rights Movement for their courage and commitment even if, as Congressman Lewis has often reminded us, the journey remains far from finished.
A few weeks ago, President Obama launched the "My Brother's Keeper Initiative" in support of boys and young men of colour. Congressman Lewis has noted realities that should give us pause: young African American men and boys, for example, are six times more likely to be victims of gun violence than white boys. In the State of Georgia, only 49 per cent of African boys graduated from high school, compared to 65 per cent of white boys. Too many African American young men waste their best years in prison.
The work of building justice goes on.
John Lewis has lived a long journey from Parchman Penitentiary to "Bloody Sunday" in Selma to become a Congressional and political leader of great authority and moral weight.
The Civil Rights Movement in America had worldwide resonance, not least in Northern Ireland. It inspired young activists in the North to peacefully demand justice and change, confident in their conviction that injustice against one group in society cannot continue without endangering the entire fabric of society itself.
Civil Rights protestors in the late 1960s in Northern Ireland were inspired by, and identified themselves with, the US Civil Rights Movement and the struggle of African Americans: they sang "we shall overcome", they modelled their protest marches on the Selma-Montgomery march and they based their strategy on the American Civil Rights Movement strategy.
Many of the issues were the same: employment discrimination; housing; the grievance of being second class citizens that had built up over many years.
Above all, the Civil Rights leaders in the North, our Noble Peace Laureate John Hume chief amongst them, based their campaign on the same fundamental principle of non-violence that was the hallmark of the Civil Rights Movement in America.
Overcoming bitterness and division requires more than placing laws on the Statute book.
It means overcoming, in Alan Patton's words "the fear of bondage and the bondage of fear".
We in Ireland are still embarked on a journey to overcome division and to achieve "reconciliation, tolerance and mutual trust and to the protection and vindication of the Human Rights of all". The State Visit by President Higgins to the UK two weeks ago was an important milestone on that journey.
In 1876, Frederick Douglass, once a fugitive slave himself, spoke at the opening of the Freemen's Monument to Abraham Lincoln in Washington. In a measured and deeply honest appraisal of the war years, he said of Abraham Lincoln: "he did not hesitate, he did not doubt, he did not falter".
Neither did Martin Luther King, John Lewis nor the leaders of the Civil Rights Movement. We too must bear this in mind as we work to heal divisions on our own island.
In perhaps his greatest speech, Robert F. Kennedy addressed students in Cape Town, South Africa in June 1966 and spoke of his belief that "ripples of hope" spread each time a person stands up for an ideal or acts to improve the lot of others or strikes out against injustice. Together, Senator Kennedy said, these individual ripples of hope can help build a current which can sweep down the mightiest walls of oppression and resistance.
Martin Luther King also believed this. His dream, as Congressman Lewis said last year on the anniversary of the March on Washington, was "a nation and a world at peace with itself". Dr King opposed the Vietnam War although some in the Civil Rights Movement at the time urged caution and compromise. But Dr King did not believe the cause of justice could be separated neatly into different moral compartments.
Douglass, Lincoln, King, Kennedy and Hume were all torch bearers for the cause of liberty and justice for all, irrespective of rank, race or creed. John Lewis is of this pantheon.
John Lewis has devoted his life to extending the meaning and practice of freedom. From his work as Chairman of the Student Nonviolent Coordinating Committee to the halls of Congress, he has kept an unwavering eye on the prize.
And, this evening, I want to thank Congressman Lewis for the support given by the United States Congress to the work of reconciliation in Ireland – for its unwavering political support and for its longstanding practical support through the International Fund for Ireland.
In the prologue to his wonderful biography, "Walking with the Wind: a Memoir of the Movement", Congressman Lewis recounts a story from his childhood when his family and friends were forced to take shelter from a storm, whose ferocity was such that it threatened to lift their wood-frame house from the ground. Together they held hands and, moving from one part of the house to the other, succeeded in preventing the trembling house from lifting.
It is a story which has echoed throughout his life. Allow me then to introduce him with his own words:
"Children holding hands. Walking with the wind. That is America to me – not just the movement for civil rights, but the endless struggle to respond with decency, dignity and a sense of brotherhood to all the challenges that face us a nation, as a whole".
Ladies and Gentleman, I present to you Congressman John Lewis