Review of the Trade, Tourism and Investment Strategy
24 February 2014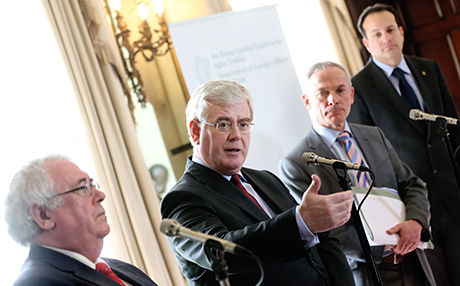 Remarks by Tánaiste at the Review of the Government Trade, Tourism and Investment Strategy
Remarks by Tánaiste at the Review of the Government Trade, Tourism and Investment Strategy
I'd like to welcome you all here today and I am delighted to be joined by Minister for Jobs Enterprise and Innovation, Richard Bruton, Minister for Transport, Tourism and Sport, Leo Varadkar and by Minister of State Joe Costello in launching this Review of the Government Trade, Tourism and Investment Strategy.
I would also like to welcome the other members of the Export Trade Council, which I chair – the CEOs of the State agencies, Julie Sinnamon of Enterprise Ireland, Niall Gibbons of Tourism Ireland, Martin Shanahan of Forfás and Professor Mark Ferguson of Science Foundation Ireland. We are also joined by representatives from the IDA, the Department of Agriculture, Food and the Marine, the Department of Education and Skills, the Revenue Commissioners and Council members from the private sector including Simon McKeever, Chief Executive of the Irish Exporters Association and Pat Ivory from IBEC.
The Council's primary responsibility is to ensure that we coordinate our national efforts across Government and the State agencies in boosting trade, winning investment and attracting tourists and international students. It is also our job to oversee the implementation of the Government Trade, Tourism and Investment Strategy, and to monitor its progress.
By way of background, the original Strategy was launched in the autumn of 2010 just a few weeks before the troika came to town and the rest, of course, is well-documented history.
That Strategy – Trading and Investing in a Smart Economy – set numerical targets to be achieved by the end of 2015 across five areas: jobs, exports, diversification of exports, tourism and inward investment.
I am happy to say that, despite the extremely difficult circumstances of the past few years, we are largely on track to meeting most of those targets. We still expect to have created 150,000 new jobs associated with exporting enterprises by 2015, we have seen our exports return to pre-crisis levels, and Bord Bia, Enterprise Ireland and the IDA all remain on track to hit their ambitious targets by the end of next year.
That is a remarkable achievement given all that has happened, and one that is reflected in the document we are launching here today.
At the beginning of last year the Government made a decision to carry out a mid-term Review of the Strategy, with a view to assessing those numerical targets and, crucially, and to ensure that we are both coordinating and leveraging the State's resources to the best possible effect.
Because we cannot stay static in this area – the key to success in boosting exports, securing inward investment and attracting tourists is flexibility and a constant willingness to adapt and diversify.
And we must never again find ourselves in a situation where overreliance on any one sector of the economy can essentially collapse the rest of it, as happened during the boom years.
This Review is an important part of that. We have used the review process to take stock of where we are making inroads into new markets, those sectors of the economy where we are developing that are helping to attract new investment, and where we need to be more flexible in our approach to exploring new market opportunities.
Software, for example, is a sector that is described in this document as being "in constant evolution" with "new business models, new technologies and new standards generating a wave of new opportunities".
Indeed, you will see in the Review that one sector in which we have taken advantage of changing global demands is computer services, which accounted for 40 percent of our total services exports in 2012 (the last year for which we have full figures available) and represent a whopping 49 percent growth in just five years.
Take also, for example, aviation services, where we have seen 30 percent growth in just five years with operational leasing accounting for 8 percent of our total services exports in 2012 to the point where Ireland is now responsible for half of the world's aircraft leasing.
In fact overall services exports now account for 50 percent of total Irish exports – growing by 11 percent in 2012 alone – which was just not the case when this Strategy was first published in 2010. That in itself was one reason why this mid-term Review of the Government's Strategy was so timely and important.
As I said earlier, among the key recommendations in the Review are that we maintain most of our numerical targets for growth in exports, investment and jobs to the period 2015. In many ways that in itself is an endorsement of the approach being taken by Government and the State agencies and recognition of the way in which we have faced down the difficult economic circumstances of recent years.
It also recommends that we set a new target for the international education sector, of €900 million by 2015, in recognition of its growing importance to the economy and the important international links it creates.
The Review also looks at our 'market focus,' and finds that our previous approach lacked that important flexibility I spoke about earlier. The 'new market approach' outlined in this document – under which our 27 priority markets are disaggregated for the first time – will allow for the State's resources to be directed towards exploratory and high-potential markets, while maintaining a focus on our high value and other established markets. For example, as the European Union continues to negotiate new trade deals, we will now be better able to respond in terms of what we classify as a 'priority market'.
In total, the Review will contribute to the first priority of this Government – creating more and better jobs for the people of Ireland – by ensuring that the resources of the State – both the embassy network and State agencies – are positioned to deliver maximum overall benefit for the economy, meaning good jobs for our people at home.
ENDS