Remarks by the Tánaiste at the launch of the digitisation of Ireland's Memorial Record
10 January 2014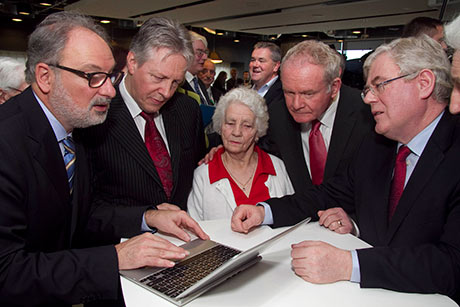 Remarks by the Tánaiste at the launch of the digitisation of Ireland's Memorial Record
First Minister, deputy First Minister, Excellencies, Members of the Houses of the Oireachtas and the Northern Ireland Assembly, Secretaries General, distinguished guests, ladies and gentlemen.
It is my pleasure to be here today to launch the digitisation of Ireland's World War One records at Google's European Headquarters in Dublin. I'd like to thank John Herlihy for his welcome and for his kind words of introduction.
Google is a world-leading company and an important partner in Ireland's jobs and growth strategy. As well as being a significant and important economic partner, I would like to thank Google on this occasion for being an important cultural partner also. Since this project was initially taken forward in 2012 by Éamonn Mac Aodha, Ireland's Ambassador to Belgium, the team at Google has been unfailing in its enthusiasm and drive to make it a success. I'd particularly like to highlight Bill Echkinson's tireless contribution to this work. Without Google's financial and technical support, this project could not have been completed in such a short period of time, and to the standard we see here today.
I would also like to express my sincere thanks to Piet Chielens and the In Flanders Field Museum for their cooperation in making these valuable historical documents available for digitisation and wider public access. The work of the In Flanders Field Museum in preserving carefully these records since 1920 and in ensuring that each new generation has the widest possible access to the information they contain is greatly valued.
I'd also like to recognise the valuable contribution of Brian O'Donovan and the Irish genealogical company Eneclann in the early stages of this ambitious project.
Shared approach
I am delighted that I am joined here this morning by First Minister Peter Robinson and deputy First Minister Martin McGuinness. The initiative that we mark jointly today offers us a deeper mutual understanding of the events surrounding the First World War, and of the narratives that were born from it on this island.
Thomas Kettle, the former Nationalist MP for East Tyrone who served as a Lieutenant in the 9th Royal Dublin Fusiliers and was killed at the Somme believed that:
"this tragedy of Europe may be and must be the prologue to the two reconciliations of which all statesmen have dreamed, the reconciliation of Protestant Ulster with Ireland, and the reconciliation of Ireland with Great Britain."
That it has taken so long to progress those reconciliations is a further tragedy – one that Tom Kettle could not have foreseen. We are making up for lost time. And we have come a long, long way in a comparatively short time.
Her Majesty Queen Elizabeth's visit to Dublin three years ago and the forthcoming State Visit by President Higgins to the United Kingdom are important milestones on this journey. But the work foreseen by Tom Kettle a century ago continues in quieter ways too. It continues in the work which Peter, Martin and the other party leaders in Northern Ireland are carrying forward on addressing the past, on flags and on parades. I know I speak for all here when I extend our wholehearted support and admiration for the role they play in this vital but challenging task.
History & Commemoration
We all know that over time with the telling and retelling of historical events that the richness and complexity of the story is often lost. Sometimes this is by design, to suit certain political or cultural narratives – and this phenomenon is certainly not unique to this island. But often it is simply because, with the passing of time, memories fade, the immediacy of the moment passes and the complexity is forgotten.
This is one commemorative event among many, not alone in this year, but in this decade of commemorations. Many of those commemorations will recall events that divided us.
This project is unique. Instead of one single broad historical narrative, what we have here are tens of thousands of individual stories, each captured in a few intimate details – a name, a date of birth and a place of death.
Here are the names of some who died in the final months of the war, between July and November 1918: Jane Bradley and Susan Peake from Dublin, Maud Elizabeth Twadell from Belfast, Kathleen Carroll from Termon in Donegal and Agnes McMahon from Sixmilebridge in Clare. All five women served with Queen Mary's Army Auxiliary Corps and are described simply as "workers".
This is a tremendous genealogical resource but even more important, it is an aid to remembering for the families of those who died and for those of us in public life who bear a responsibility for remembering and honouring these men and women.
And I think that it is particularly significant that this project corrects previously inaccurate data regarding the birth and death places of many soldiers.
The First World War was seen for many years as a divisive part of our troubled legacy. And because of this, there was a tendency to avoid any interrogation of Irish involvement. However, we have learnt that contending with the past, as we have done over a number years in relation to Ireland's role and contribution, has brought with it great opportunities to recognise in our reflections on the war our common humanity, our common cause, and our common heritage.
So I welcome this project and the challenge which it presents to our collective perceptions. We aim, through initiatives such as this, to address the past constructively.
Just as important as possessing this historical data is making the information publicly available and accessible to all. These records are now free to access, allowing all to explore their own family ties to the war.
As with the 1901 and 1911 census data, this helps to build our knowledge and, thereby, our understanding. It also complements the material that will be made available next week when the Military Pensions Archive is made available online.
History is an interpretation of the past, one that is all too often shaped to serve our own narrative and align with what we hold true. This project reminds us that there is no simple truth. Rather there are tens of thousands of individual stories now progressively being made available
As Tom Kettle wrote in his work Reason in Rhyme,
"And when you make your banquet, and we come, Soldier with equal soldier must we sit, Closing a battle, not forgetting it."
It therefore gives me great pleasure, with Peter and Martin today, to declare the launch of this website.
Thank you.
ENDS