Tánaiste's remarks at Mexico – Dublin Business Conference
01 May 2014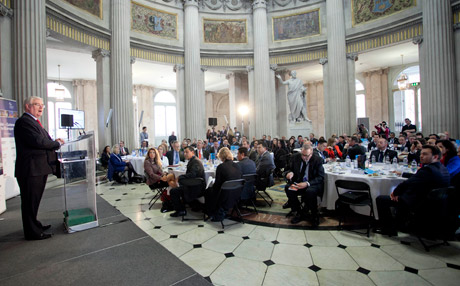 Pictured is Tánaiste Eamon Gilmore speaking on the first day of the Mexico-Dublin Business Conference at City Hall, Dublin.
Address by Tánaiste and Minister for Foreign Affairs and Trade Eamon Gilmore T.D.
Mexico – Dublin Business Conference
01 May 2014
Lord Mayor of Dublin, Councillor Oisín Quinn, Mr Francisco González, Chief Executive of ProMexico, Mr Ramiro Hernandez, Municipal President of Guadalajara, Ambassador García de Alba, Ambassador Sonja Hyland, distinguished guests, ladies and Gentlemen, amigos.
I am delighted to be present this morning and to have this opportunity to address the opening of the Mexico-Dublin Business Conference.
Lord Mayor, thank you for your energy and commitment in hosting this important event.
I am particularly delighted to see so many people here from Mexico. On behalf of the Government of Ireland, I would like to extend to all of our Mexican guests Céad Míle Fáilte which means, in the Irish language, a hundred thousand welcomes.
I am very pleased to welcome the Chief Executive of ProMexico, Mr Francisco Gonzalez. I am also delighted that Mexico's Federal Minister for the Economy will be joining the Conference tomorrow.
I would also like, on behalf of the Government, to acknowledge and welcome the presence here of distinguished guests from Dublin's digital twin city, Guadalajara.
We are greatly honoured that Mexico is showing its interest and support for the Ireland- Mexico relationship in the form of your presence here this week.
Last year in Chile, I had the honour of meeting with Mexico's President, His Excellency Enrique Peña Nieto, on the margins of a Summit of EU and Latin American and Caribbean leaders. We enjoyed a very positive conversation and spoke of Ireland and Mexico's relationship, past and present. We also looked to the future and agreed that our two Governments want to support concrete, positive developments in the period ahead.
This week's conference is one such development of significance. So too will be the increased business that we hope to see flowing in both directions as a consequence of this week's event.
Ladies and Gentlemen, this is an exciting time in the Irish-Mexican relationship.
Mexico has, I know, an extraordinarily rich and distinctive heritage. We in Ireland feel proud that there has been a strong seam of Irish connections at key points in Mexico's history.
During Mexico's colonial era, Irish adventurers, soldiers, traders, administrators and others travelled to Mexico. Amongst them was William Lamport from the south east of Ireland. It is said he was the inspiration for the legendary figure of "El Zorro." Though executed by the inquisition in 1659 for heresy, his real crime was that of being author of what is said to have been the first Declaration of Independence in what was then the Spanish Indies. The legacy of this Irishman must surely have contributed to the Mexican spirit of independence.
Other Irish people who stood shoulder to shoulder with Mexicans were the gallant St Patrick's Battalion – el Batallón de San Patricio. These brave men, most of whom were Irish, were led by John Reilly from Co. Galway, my home county. I know that their heroism on behalf of Mexico in the war of 1846 to 1848 is remembered in Mexico.
These and other historical ties have in turn contributed to the strong connection between Ireland and Mexico, its strength marked with the important visit of our President Michael D. Higgins to Mexico last October.
Ireland and Mexico clearly have very good form in working well together. Let us find new ways to do more together.
This morning I would like to focus in particular on our economic relationship.
We in Ireland know of Mexico's strengths. You have the fourteenth largest global economy in nominal terms. And, like Ireland, Mexico is one of the most open economies in the world, boasting trade agreements with 45 countries – including the countries of the European Union. The size of Mexico's economy, and its rate of growth, has captured international attention.
Mexico is an important partner for Ireland. Indeed, Mexico is our largest trading partner in Latin America and our bilateral trade in goods in 2013 reached just over 1 billion Euro.
Mexico has also been a strong focus for outward Irish investment in recent times, with leading Irish companies – in particular in the agri-food sector and in packaging, but also increasingly from other sectors such as aviation – looking to Mexico for the partnerships and joint ventures which are key to opening up new markets and developing new client bases and trading relationships in our twenty-first century world.
I know that Mexican companies are also increasingly looking outward and seeking new partners for investment and cooperation. I would like to think that, over the course of these few days, those of you who have travelled to Dublin will find that you have reached your destination, and that Ireland will be your Gateway to Europe.
Equally Ireland is seeking to expand and deepen our connections with the Latin American and Caribbean region. We see our excellent and expanding relationship with Mexico as a key element in this endeavour.
Ladies and Gentlemen,
Most of you will be aware of Ireland's recent economic history, and of the difficult and painful adjustments and sacrifices which the Irish people have made in order to return our economy to stability and growth. Today, I am happy to say that we are recovering strongly and ready to move forward. We have exited our EU/IMF programme successfully and without any precautionary credit line. Our debt is again rated as investment grade by all major ratings agencies and we have successfully returned to the international bond markets, with bond yields at historic lows.
Most importantly, we are seeing a sustainable and broadly-based recovery with major improvements in the numbers of people employed in our economy, and 5,000 new jobs now being created every month. Exports and inward investment have been key to this recovery, and Ireland and my Government are determined to maintain the policies and regulatory environment which have facilitated this outward-looking and creative approach, and which continues to make us, as Forbes magazine recently established, the best country in the world in which to do business.
Supporting this finding is the reality that over a thousand overseas companies have chosen Ireland as their strategic base in Europe. Eight of the top ten global ICT firms, nine out of the top ten global pharmaceutical firms, and all 10 of the largest online companies in the world are based in Ireland.
Other independent studies show Ireland ranking first in the world for the flexibility and adaptability of our workforce, third in the world for availability of skilled labour, and Dublin as the best city in the world for human capital.
These are just some of the strengths and abilities which Ireland, today, can offer Mexico. In turn, Ireland sees Mexico as a dynamic, like-minded economy and society, and one with which we see many possibilities for expanding our relationship.
I have already mentioned our strongly-growing merchandise trade but I am pleased to see a strong emphasis in this Conference also on services, on education and on tourism. These are all areas where we can certainly develop our engagement with Mexican partners more, and I am delighted Conference will explore how we can achieve this.
An important aspect of our relationship is in the development of ties between our third level educational institutions, both with a view to further collaborative research in the fields of science and technology, and also with regard to exchanges of international students and researchers. Already, some 1,600 Mexican students are studying in Ireland – a number which, I trust, will continue to grow. Each individual student forms an additional link in the chain of human connection which is so vital to the future of our relationship.
Ladies and Gentlemen,
Ireland and Mexico have much to offer each other. As Ireland seeks to deepen and sustain our economic recovery, we rely on our people and on what we do well – our dynamic and outward-looking export sector, our world-class agriculture, our creative industries, our strength in technology and innovation, aviation, financial services, and a dynamic, focused third level education sector.
But we also rely on finding partnerships and relationships on which we can rely. It is my strong belief that, over the next few days, those of you present this morning will, through the various networking and partnership building opportunities which the Conference is providing, also find the partners and relationships which your businesses and institutions need in order to continue to grow and develop and create employment and value for all our people, Irish and Mexican, as we move forward together in creating an ever deeper partnership.
Ladies and Gentlemen,
I spoke earlier of the contribution made by some gallant Irish people in the course of Mexico's history. I know that on Monday in Mexico, in the United States, and all over the world, Mexicans will be celebrating with great pride your rich and distinctive national history and identity. I feel sure that the work of this week's Conference, and the festivities leading to the Fifth of May in Ireland, will be happy and fruitful.
May I say to all of our Mexican visitors:
Welcome to Ireland and Feliz Cinco de Mayo!
Muchas Gracias!
Go raibh míle maith agaibh agus go n'eirí leis an obair.
Thank you.
ENDS