Launch of the Irish Anzacs Database at UCD
17 October 2014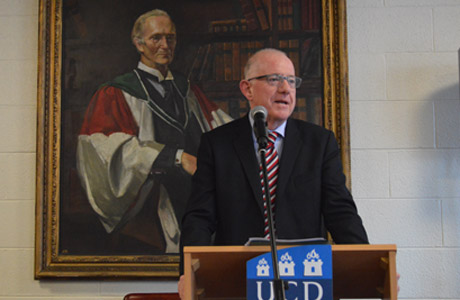 Minister Flanagan at the Launch of the Irish Anzacs Database at UCD, 17 October 2014
Remarks by Minister for Foreign Affairs and Trade, Charlie Flanagan, T.D.
Launch of the Irish Anzacs Database at UCD
17 October 2014
UCD President Andrew J. Deeks,
Australian Ambassador to Ireland, Dr. Ruth Adler,
Irish Ambassador to Australia, Noel White,
Professors Jeff Kildea and Ronan McDonald,
Friends from academia and the media,
Friends of Ireland and Australia,
Friends across time zones and generations,
I am delighted to join you this morning in celebrating the launch of the Irish Anzacs Database. This pioneering work by Project Chief Investigator, Professor Jeff Kildea was made possible through the generous support of the Global Irish Studies Centre of the University of New South Wales; the invaluable partnership of UCD; and a grant from the Irish government's Emigrant Support Programme.
It is a true tribute to the Irish Anzacs and a gift to researchers, family members of Anzac participants, and all us who possess an abiding interest in our history.
It is a true tribute to the Irish Anzacs and a gift to researchers, family members of Anzac participants, and all us who possess an abiding interest in our history.
Our shared history.
I emphasize "shared" in this company as one third of the Australian population boasts Irish ancestry.
In Australia's most recent census (2011), two million people proudly referenced their Irish roots on their census return, including some 500,000 Australians born to Irish parents.
Ongoing academic collaboration between UCD and UNSW, two superb institutions of learning, is representative of the strength of our people-to-people ties.
As I hope Ambassadors Adler and White may confirm on a daily basis, bilateral relations between Ireland and Australia are superb.
In 2016, we will celebrate the 70th anniversary of the opening of our resident embassies in Canberra and Dublin and next year will mark the 15th anniversary of our Consulate General in Sydney.
Irish officials consistently receive the warmest welcome from their counterparts in Australia.
Last month, my colleague from the Department of Jobs, Enterprise and Innovation, Minister Richard Bruton, led a trade delegation to Melbourne, Canberra, Sydney that involved the participation of 32 software and financial services companies.
Minister Simon Coveney travelled to Sydney, Melbourne, Brisbane, in 2014 to discuss our many shared agricultural and trade interests. Minister of Environment Alan Kelly was also welcomed in Perth this year and Minister of State Jimmy Deenihan is scheduled to travel with Enterprise Ireland in November.
Ireland is grateful for Australia's hospitality.
And as Ambassador Adler knows, we are not bashful in extending the welcome to visit our own beautiful island.
We are pleased that Australian tourists have heard and answered our invitation. Australians comprise the 7th largest contingent of holidaymakers to Ireland's shores, and that number is growing.
Our reciprocal working holiday agreement (417 visa) and commitment to student exchange are well-known, but we nevertheless wish to spread the word and expand the scope of our people-to-people exchange. All of you who are visiting us virtually now in Sydney, please come see Ireland in person!
While in Washington DC last month I had the honor of announcing this year's recipients of the Presidential Distinguished Service Award, which was established by the Government following the 2011 Global Irish Economic Forum to recognize outstanding, individual contributions to Ireland.
This award will be presented in the coming weeks by President Higgins and among the handful of recipients will be the prolific and talented Sydney-born author Thomas Keneally. In addition to his notoriety for his work Schindler's Ark, Mr. Keneally is also well-known and revered for his work to recognize Irish in Australia.
Tom Keneally wrote the foreword to Jeff Kildea's excellent book, Anzacs and Ireland (UNSW Press, 2007) and therein he calls Professor Kildea, who is a barrister, "a lawyer amongst historians". As a lawyer myself, I acutely appreciate this distinction as I stand before you now.
But Keneally goes further to recognize Jeff Kildea as a "historian amongst historians", and it is the strength of his work as a historian that brings us together today.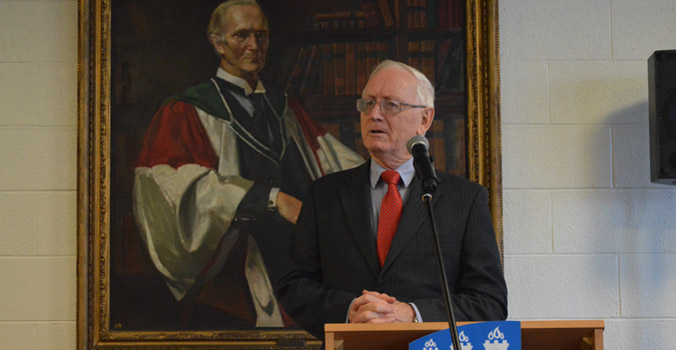 I would also like to recognize another great historian, UNSW's own Patrick O'Farrell. Professor O'Farrell had a huge influence on Irish Australian historical studies and is honoured each year through the Patrick O'Farrell Memorial Lecture.
O'Farrell ploughed a lone furrow on Irish studies in Australia at a time when the climate was less conducive to such scholarship.
It might be said that the bounty of contemporary research on the Irish in Australia comes from ongoing work in the fertile field in which Professor O'Farrell broke ground.
It might be said that the bounty of contemporary research on the Irish in Australia comes from ongoing work in the fertile field in which Professor O'Farrell broke ground.
I expressly mention Professor O'Farrell not only because of his legendary status within the academic community, but also because of his own insightful approach to history. He shared, 'My view of history is that it's also a basis for the future and should be future orientated… There is no future in nostalgia."
So how do we approach this decade of commemoration in a way that honours the past while remaining future-oriented?
As one of my first duties as Minister, I was called upon to address the Diplomatic Corps this July on our National Day of Commemoration.
Before the assembled, I recognized that this year, 2014, is the centenary of the outbreak of the First World War, and this war's tragic distinction as the one which claimed more Irish lives than any other[1].
We have a human duty to remember that experience, and that loss.
In Ireland, we have a national opportunity to understand those events better and to learn from them, and I think it is clear that our friends in Australia feel the same.
Together, we have a collective obligation in commemorating these lives in a way that leaves each of us with a greater knowledge of ourselves, and a greater appreciation of the perspectives of others, the importance of peace.
As Irish and Australians stood shoulder to shoulder in Gallipoli, at the Somme, how might we stand together today?
We are offered a model now, as we stand together in the field of research. As our children sit side by side in the classroom.
Some 200 years ago, American statesman John Adams wrote,
"I must study politics and war that my sons may have liberty to study mathematics and philosophy. My sons ought to study mathematics and philosophy, geography, natural history, naval architecture, navigation, commerce, and agriculture, in order to give their children a right to study painting, poetry, music, architecture, statuary, tapestry, and porcelain."
Students, don't misconstrue this as a call to change your degrees! And university administrators, having spent the past week with the budget, I am not keen to suggest any redistribution of funds.
Still, there is something to be said for appreciating tapestry.
For Irish and Australians, and certainly for the descendants of Irish Anzacs, this includes an intricate human tapestry.
With this in mind, I would like to recognize some family members of an Irish Anzac who represent other Irish and Australian citizens who may learn from and greatly contribute to the Irish Anzac database.
Descendants of Thomas Joseph Greenan of Omagh, County Tyrone are with us today.
Thomas Greenan emigrated to Australia in 1910 in the hope of greater economic opportunity.
He enlisted in the Australian Army at Melbourne in July 1915 at the age of 24.
A fine horseman who had developed his equestrian skills as a boy alongside his father Peter Greenan, Thomas Greenan was soon posted as a Gunner to the Brigade Ammunition Column, 4th FAB, and with this contingent of 900 men and 200 horses, he travelled first to Egypt and then onward to France.
He stood alongside his Australian mates before the Somme on the ridge of Pozieres and he died by their side in July 1916.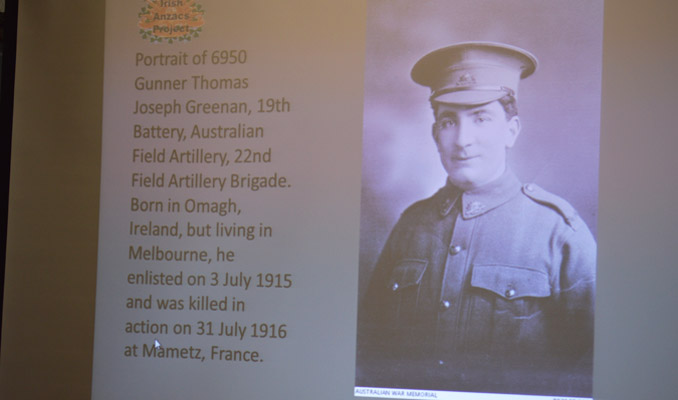 We thank Thomas Greenan for his sacrifice and his family for their interest in the Irish Anzac database and their own human tapestry. We appreciate Noreen's son, Joseph, who took the time to visit his great uncle's grave site in France.
It is right and good that we should respect and acknowledge our ancestors, our family, our friends, our loved ones.
It is right and good that we should also respect and acknowledge their progeny, which is to say, each other.
This call to action that has been taken up today through the Irish Anzacs database and through our shared commemorations.
To investigate the past through an objective lens.
To educate with the objective of improving the future.
Professor O'Farrell put it simply, 'If people don't know history, they don't know themselves.'
This is my first visit to my alma mater UCD in my capacity as Minister.
For this invitation, this warm welcome, and for this ongoing commitment to collaborative research, I thank the university. I thank UCD President Deeks and I also recognize the university's famous founder, John Henry Cardinal Newman, in whose honour the building in which we are assembled is named.
Here is how John Newman envisioned his country, Ireland, and his beloved university, UCD, as it was founded 150 years ago:
"I look towards a land both old and young... I am turning my eyes towards a hundred years to come, and I dimly see the island I am gazing on become the road of passage and union between two hemispheres, and the centre of the world…."
As we look back during this decade of commemorations, let us also turn our eyes towards the next hundred years to come.
By knowing our history, let us know ourselves.
And let us better ourselves and our world thereby.
ENDS
[1] More than 200,000 men and women from Ireland participated in the First World War. Additionally, there are estimated to have been some 6000 Irish-born members of the Australian Imperial Force (AIF), thereafter to be known as Irish Anzacs.