Minister Deenihan addresses Asia Pacific Ireland Business Forum
10 October 2014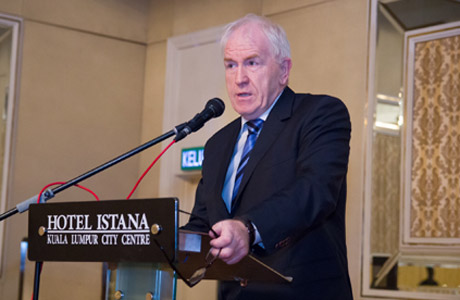 Minister for the Diaspora, Jimmy Deenihan T.D. addressing the Asia Pacific Ireland Business Forum, Kuala Lumpur, Malaysia
Asia Pacific Ireland Business Forum – Kuala Lumpur
10 October 2014
Address by Minister for the Diaspora, Jimmy Deenihan T.D.
I am delighted to be in Kuala Lumpur to address this year's Asia Pacific Irish Business Forum. This is an important event and an excellent example of the great work that the Irish diaspora are doing all over the world to grow Irish trade and assist in our economic recovery. I wish to thank the organisers for their kind invitation and also to congratulate the Malaysian Irish Business Network, and Ambassador Declan Kelly, on their hard work and dedication in organising today's Forum. It is heartening to see such a large gathering here this morning; it is a demonstration of the level of commitment of Irish companies to building business in Asia, and of the Government and the State Agencies to support that work.
Diaspora Engagement
The Diaspora is of enormous importance to Ireland. In my appointment as the first Minister for Diaspora Affairs, I will work to strengthen and deepen the multifaceted engagement between Ireland and the Global Irish, an engagement that I know goes far beyond the role of Government. Indeed, my appointment marks something of a step-change in the Government's engagement with Ireland's emigrants and the descendants of Ireland's emigrants across the globe and I hope that, in this new role, I can bring increased focus and energy to this important area.

Ireland is already a world leader in the area of Diaspora engagement. We may lag behind some – such as Israel and, possibly, India – but we are ahead of many others. So much so that there are regular visitors to Ireland to find out what we do and how we do it. That said, we need to get better. Where we currently do a number of good things, I want to ensure that we have an overall strategy – an overall sense of purpose that will guide the Government's efforts and ensure the best outcomes for both Ireland and its Diaspora. That is what I will continue to work on in the months ahead.
A key tool for the Government in Diaspora engagement since 2004, has been the Emigrant Support Programme, a funding programme run by the Department of Foreign Affairs and Trade. Since its inception, the Emigrant Support Programme has disbursed more than €100 million to projects all over the world. The bulk of that money was directed to welfare projects supporting and protecting the most vulnerable among our emigrant communities.
In addition to welfare, culture and heritage programmes, the Emigrant Support Programme is increasingly supporting Irish business groups and Irish business networks across the globe, recognising the excellent work that they do on behalf of Ireland and the Irish people in opening doors and creating opportunities. I am delighted, as I stand in front of you today, to note that this forum was in part supported through the Emigrant Support Programme and I am convinced that this forum will bring forward new ideas and serve to build pro-growth connections for the benefit of both the Irish at home and the wider Irish community throughout Asia.
Asian Gaelic Games
It is incredible that the Asian Gaelic Games regularly attracts over 900 players. It is inspiring that they travel here from all over Asia and the Gulf States and Australia. This is an extraordinary achievement and a great tribute to all concerned, especially the Orang Eire Committee in Kuala Lumpur. GAA is now taking root all over the world and as Liam O'Neill will no doubt agree, the GAA are now actively committed to encouraging and supporting all clubs and developing the GAA all over the world. I am informed that there are now some 439 GAA clubs established overseas,. While there are strong clubs in Britain, North America and to a growing extent in mainland Europe, GAA in Asia has really caught the public's attention and the Asian Games are a tremendous example of the Irish diaspora spreading our national games. The GAA and games such as these are a vital part of the glue that helps emigrants of all generations to maintain and foster their sense of "Irish-ness". Underlining this, Emigrant Support Programme funding to the GAA, since 2007 amounts to over €2.5m for their games development projects abroad. In 2014, 22 projects across the globe received support through global games development fund to develop and promote Gaelic games, 4 of these projects, receiving a total of €20,000 (50% from ESP – 50% from GAA) are based in the Asia region.
APIBF
Our speakers thus far this morning have provided us with some fascinating insights into a diverse range of topics covering areas such as Engineering, Construction, and Finance, as well as of course the GAA. I was very interested to hear from the Entrepreneur's Panel. The entrepreneurial spirit expressed today is very inspiring and I think everyone can learn from their experience. Innovation and calculated risk taking are traits that should be encouraged and I have no doubt will be crucial for Ireland to prosper into the future.
Asia is a fast growing region with huge potential for Irish businesses as we have heard. It was exciting to hear from leaders in sectors where Ireland has world class expertise. Food and Agribusiness are clearly sectors where we can export our national expertise. Also ICT, Real estate and renewable energy are very exciting industries with huge potential for Irish companies. From this morning's presentations it is clear that there are many opportunities that Irish companies can look to take advantage of.
Asia is firmly on this Government's agenda. Ireland is in the process of opening two new Embassies in Asia. One in Bangkok, Thailand which will open later this month and the other in Jakarta, Indonesia which opened in September and where our new Ambassador Kyle O'Sullivan is already on the ground, building relationships and beginning to lay the foundations of future success for Ireland there. We have also opened a new Consulate in Hong Kong in August 2014. This brings our representation in the region to 8 embassies and 2 consulates.
Ireland's Ambassadors and their teams in Asia are working extremely hard to boost trade, as well as cultural and other links. They have successfully found opportunities which exist within their countries of accreditation and are always on the lookout for others. We know that exports are the key driver of economic recovery. The Government is actively engaged in promoting exports to Asia.
In the past two years, there have been 9 Irish Ministerial visits to China alone with a number of others in the pipeline. The Government recognises the importance of this engagement with Asia and we are fully aware that doing business in Asia means investing time in building relationships.
Ireland's economic recovery
Ireland is well on its way to economic recovery. In the second quarter of 2014 our GDP grew at an annual rate of 7.7 per cent, the highest achieved in many years. Export growth has been a major driver of our economic progress. Export levels are at an all-time high, significantly higher than the pre-crisis peak in 2007. Our balance of payments remained in surplus for a fourth consecutive year in 2013.
As well as this, our domestic economy is strengthening. The Government has made job creation its number 1 priority over the last few years and this is bearing fruit. Although still unacceptably high, unemployment is falling, down from a peak of 15.1% in 2012 to 11.1% in September 2014. 61,000 additional jobs were created in Ireland in 2013. Since 2008, Ireland has implemented measures to yield a budgetary adjustment of nearly €30 billion, equivalent to 18.9% of GDP.
We are on course to bring the General Government Deficit down from over 30% of GDP in 2010 to below 5% of GDP this year and below 3% in 2015. This year, Ireland is forecast to have a primary budget surplus. Ireland has successfully made a full return to the bond markets, and our debt is rated as investment grade by all major ratings agencies. We have raised €7 billion in the bond markets so far this year - more than 87 percent of our total funding target for 2014 - in bond sales which were heavily oversubscribed by investors. Our 10-year bond yields have reached historically low levels.
Net job creation from inward investment in Ireland in 2013 was the highest for more than a decade. Forbes magazine ranks Ireland as the best country in the world for business. Independent studies have also ranked us 1st in the eurozone for ease of doing business, 1st in the world for the flexibility and adaptability of our workforce, and 1st in the world for the availability of skilled labour. 1,153 overseas companies have chosen Ireland as their strategic base in Europe. 8 out of the top 10 global ICT firms, 9 out of the 10 top global pharmaceutical firms, and all 10 of the largest online companies in the world are based in Ireland.
Irish Diaspora and Asian Markets
My own areas of responsibility of course relate to the diaspora and I would just like to take this opportunity to briefly describe the focus of activity in some of our key markets in Asia and especially in my own area of responsibility. Here in Malaysia there is a small but vibrant Irish community, most of whom are here this week. The St. Patrick's Society of Selangor has a long and distinguished history, and I understand that each year its St. Patrick's Day Ball is one of the highlights of the Kuala Lumpur social calendar. I would like to congratulate the Penang Irish society which last year hosted its first ever St. Patrick's Festival. The Kuala Lumpur GAA Club Orang Eire is going from strength to strength also and has men's, women's and children's teams. And they are not all Irish, our great games are spreading, with players of a wide range of nationalities and ages involved.
Ireland's relationship with China continues to develop and deepen. No better example of this than Irish food and drink exports to China, which have tripled in the last 3 years, growing 40% in 2013. This means that China is now Ireland's second largest market for dairy exports – of which infant formula is a significant element. Bord Bia tells us that China will be Ireland's second largest market in the world for food & drink within three years or so. As a long-established gateway to the European Union for world-wide investors, Ireland is working to secure inward investment from Chinese companies that are "Going Global". There remains huge opportunity for the promotion of Irish culture in China. Next month Riverdance returns to China for a 20th anniversary tour that will see 65 performances across 24 cities in China.
The relationship between Ireland and India is getting ever stronger and our challenge is to maintain this positive momentum, in particular in the areas of trade, investment, tourism and education. Korea has considerable potential for Irish owned companies who are experienced players in international markets. Because Korea is a modern, dynamic and consumer driven economy there is a wealth of opportunity for both Irish and Korean businesses to work together to generate mutually beneficial trade, investment and technology links.
The opportunities for Irish companies operating in Vietnam are diverse, ranging from education and information technology to the food industry and aviation. The last few years have seen companies such as PM Group and ESBI tap into a number of opportunities for infrastructure development, and the largest-owned Irish company in Vietnam, Glandore Systems, recently expanded to over 160 employees in Ho Chi Minh city working in the IT and software solutions sector.
Last year saw high level engagement between Ireland and Japan when the Japanese Prime Minister Shinzo Abe's visited Ireland in June 2013 and the Taoiseach Enda Kenny visited Japan in December. A Joint Declaration was agreed by PM Abe and the Taoiseach – entitled "Partnership for Innovation and Growth" –which sets out a number of economic opportunities for Ireland. These include boosting two way trade and investment, particularly in the areas of financial services, food, ICT, health-tech and eco-tech; pursuing deeper cooperation between Japan and Ireland in R&D and Innovation; and building "people to people" links, through tourism and education exchanges.
I also wanted to say a word on Myanmar/Burma. This country is opening up rapidly, with a strong Irish presence working there in telecommunications and infrastructure development. Although the poorest country in ASEAN, it is developing rapidly and there are business and trade opportunities in a range of sectors, including power generation and distribution, infrastructure and building materials, telecoms and aviation. 2014 saw the first ever public performance of Irish traditional music in the country, together with the first celebration of Bloomsday in Yangon. I know that a GAA club has recently been established in Burma – the Myanmar Celts.
We have always had strong educational linkages with Singapore and the Philippines. CRH – Ireland's largest indigenous multinational company opened a regional office in Singapore in 2013, focussing on opportunities throughout South East Asia. The Government are well aware of the huge economic potential of Indonesia, and I am sure that with the opening of our new Embassy in Jakarta, Ireland and Indonesia will continue to grow strong economic as well as cultural ties.
Conclusion
This is but a brief flavour of the strength of the diaspora in Asia and what our Embassies and our State Agencies are doing in cooperation with you, the business people actually out there, to drive exports and increase trade and investment links. The Government knows that doing business in Asia means investing time and resources in building relationships. It also means creating win-win situations, where we are seen to respond to the needs of our Asian interlocutors.
The Government will continue to do all it can through its Embassies and through its Agencies here in Asia to encourage and support Irish business to reach new markets and continue to drive the economic recovery of Ireland. I wish you all the very best in your important deliberations here today and thank you very much.
Go raibh mile maith agaibh go léir.