Minister Flanagan launches Top 250 Exporters Report
03 September 2014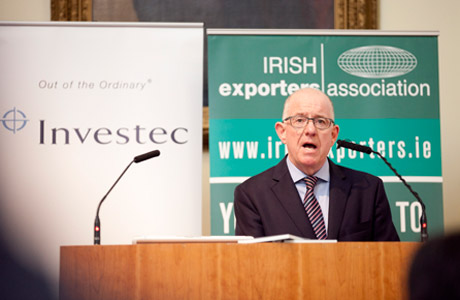 Minister for Foreign Affairs and Trade, Charlie Flanagan, T.D., at the launch of the Irish Exporters Association Top 250 Exporters publication in Dublin
Launch of the IEA's 'Top 250 Exporters' in Ireland and Northern Ireland Publication
Remarks by Minister Charlie Flanagan T.D., Minister for Foreign Affairs and Trade, 3 September 2014
Ladies and Gentlemen,
I would like to start by thanking the Irish Exporters Association (IEA) for inviting me to launch the 2014 Edition of the Top 250 Exporters in Ireland and Northern Ireland. I note that it has become something of a tradition for the Minister of Foreign Affairs and Trade to launch this important publication and I am very pleased to continue that practice.
I have long been very aware of the important role played by the IEA in supporting its members in expanding their exports into new and existing markets and also by providing export advice, assistance and technical services as they trade internationally.
The publication being launched this morning is further confirmation of the excellent performance of the top exporting companies on the island of Ireland. It provides a very good indication of the sectors which are contributing most strongly to Ireland's economic recovery.
It is no exaggeration to say that export growth has been the major driver of our economic progress. Export levels are at an all-time high, significantly higher than the pre-crisis peak in 2007. Our balance of payments remained in surplus for a fourth consecutive year in 2013. This has led to a strengthening in our domestic economy with a resultant fall in unemployment of almost 4% since 2012.
Our exporting companies, ably facilitated by the IEA, have played a pivotal role in this recovery. I know that my Department has a very close working relationship with the Association and we look forward to continuing to work with them and all those seeking to develop Irish export markets.
Supporting the efforts of Irish companies to expand trade in international markets is central to the work of my Department and to the Government's economic policy more widely. To this end, my Department continues to work closely with other Government Departments and State agencies, using our Embassy network to best effect to grow our international flows of trade, tourism and investment to their full potential.
The Export Trade Council which I chair, brings together a range of key economic actors, including other export-focussed Government Departments, State agencies and representatives of the private sector to implement and develop the Government's Trade, Tourism and Investment Strategy. Simon McKeever is, of course, an active participant in the ETC and I want to take this opportunity to thank him for his commitment and ongoing contribution to its work.
The Export Trade Council oversees the drive to grow Irish exports. Many of you will be directly aware of the key role my Department and the Embassy network plays in promoting Irish exports. In our twenty seven priority market countries Local Market Teams, chaired by the Ambassador, bring together the State agency representatives on the ground. These Teams work closely together to maximise trade, tourism and investment and to support firms, of all sizes, seeking to expand trade and grow their business overseas. Outside of these priority markets the Embassy is usually the only State presence on the ground working to support our trade and economic objectives and our diplomatic staff in these countries are ready to advise and support Irish businesses seeking to grow trade.
Earlier this year, my Department completed a Review of the Government Strategy for Trade, Tourism and Investment, the key framework for the Government's approach to export promotion in the period to the end of 2015. The Review confirmed our target for the creation of 150,000 new jobs directly associated with exporting enterprises and our objective of achieving a 33 per cent increase in the value of exports by State agency-assisted indigenous companies.
The Review also reflected the Government's determination that Ireland should be well equipped to take advantage of export opportunities arising in new and emerging markets. This was one of the major factors behind our decision to open eight new diplomatic missions overseas in 2014, including Embassies in Bangkok, Jakarta and Nairobi and Consulates in Hong Kong, Sao Paulo and Austin. Overseas trade missions and Saint Patrick's Day events, spearheaded by Government Ministers, are among the other important ways in which the Government supports Irish companies to increase export performance.
It is very challenging work, but I am confident that we now have a solid base, both at home and abroad, upon which we can further build our recovery so that it is experienced throughout society and by all of our people.
But today, we are here to honour Ireland's exporting companies which play such a vital role in driving Ireland's recovery. I want to acknowledge the contribution of each and every one of the companies represented here.
I applaud all the companies which feature in the list of Ireland's Top 250 Exporters for 2014. It is also with great pride that we can see Irish indigenous companies which have grown to be world-class operations known to be the best in their field, particularly in the food and drink sector.
I would particularly like to extend my congratulations to Google on being named the top export company in Ireland in 2014. Since opening in 2003 with 100 employees, Google's Ireland operation has grown to be its biggest outside the US, increasing its workforce twenty-fold and in the process becoming a core feature of the Irish export landscape. This growth is illustrative of an industry sector which was responsible for some €50bn in exports in 2012 and currently employs over 36,000 people.
Equally, it is testament to Ireland's global offer that so many of the largest and best-known companies in the world have chosen to make Ireland their hub for European operations, whether in areas such as ICT or the life sciences. This pattern looks set to continue with reports from the IDA that investment for the first half of 2014 has grown at its strongest pace yet, with over 100 investments secured in the first six months of 2014, compared to 70 at the same time last year.
To those who have recently located to Ireland, I would like to take this opportunity to welcome you and assure you of the Government's commitment to supporting you in your efforts to develop your business and contribute to Ireland's export performance.
Finally, I would again wish to congratulate the Irish Exporters Association on this excellent publication highlighting the superb work being done by Ireland's exporters in boosting Ireland's export-led recovery. It will, I am sure, serve as a useful reference for those involved in our export sector.
Through my Department and our Embassy network, I look forward to continuing to working to support the IEA and all those working to develop Irish export markets.
Thank you all very much.
ENDS