Minister Flanagan highlights potential for increased trade with Scotland
DFAT - 5/2/15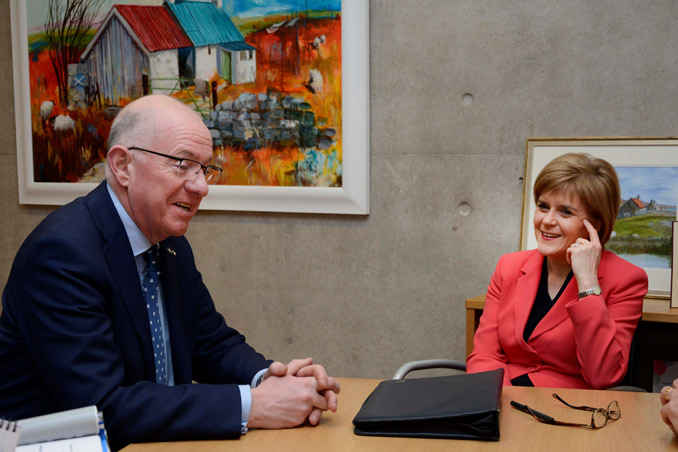 Minister Flanagan meeting with Scottish First Minister Nicola Sturgeon at the Scottish Parliament.
Irish-Scottish Relations: A New Chapter
Address by Minister for Foreign Affairs and Trade of Ireland Charles Flanagan, T.D.
The Europa Institute, University Of Edinburgh, Scotland
5 February 2015‌
My thanks to the Europa Institute and the University of Edinburgh for making tonight's event possible.
Special thanks to the Institute Director, Drew Scott; to Andy Kerr and our hosts here this evening at ECCI; and to Sir Tim O'Shea as Principal of this much-celebrated university.
Ladies and gentlemen,
I am delighted to address you here tonight on the occasion of my first visit to Scotland as Ireland's Minister for Foreign Affairs and Trade. I have visited Scotland many times over the years in a private capacity and I have great affection for this country. Indeed, my very hard working constituency secretary, Rose Williams nee Cleland, hails from Fife – her lilting Scottish accent provides a daily reminder that ensures that Scotland is never too far from my thoughts.
I am particularly pleased to be here at the Europa Institute, which, like the University of Edinburgh, enjoys strong links with Ireland. In particular, the Institute, the oldest centre of its kind in Scotland, has an ongoing and rich partnership with our Institute for International and European Affairs (IIEA) in Dublin.
Outside Ireland, Edinburgh University boasts the largest number of Irish historians at a research university worldwide. The University maintains excellent connections with Irish institutions like Trinity College and is a member of the Ireland-Scotland Academic Initiative.
As it happens, the initiative celebrates its 20th birthday this year. It was launched at the headquarters of my Department, Iveagh House, in Dublin in 1995 through seed money my Department provided and it is wonderful to see the returns on such strategic investment.
The Consulate General of Ireland works closely with Edinburgh University and other institutions in support of programmes such as the "Screening Irish History" series at Filmhouse; the Modern Irish History Seminar Series; and the Arbuthnott Lecture on British-Irish Relations to be delivered by Fintan O'Toole in June 2015.
Mr. O'Toole is well-known for offering us the award-winning History of Ireland in 100 Objects, a number of which demonstrate Ireland's historic connection to Scotland.
I might highlight just three examples of these 100 objects:
- The Book of Kells is probably Ireland's most prized national heirloom - , a stunning velum manuscript containing the four Gospels. The origin of the Book of Kells is generally attributed to the scriptorium of the monastery founded around 561 by St Colum Cille on Iona. The monks fled to Kells, Co. Meath following a Viking raid in 806. It is thought that the Book was produced in Iona and Kells. It is an artefact which exemplifies the beautifully interwoven cultural, intellectual, and human ties between our people across millennia;

- The Conestoga Wagon, representing the huge migration from Ulster to colonial America in the 18th century, with many of those 200,000 immigrants also having their roots in Scotland; and

- The shirt worn by James Connolly during the Easter Uprising in 1916. Connolly, one of the signatories of the Proclamation of Independence in 1916, was born in Edinburgh just a stone's throw away from here at Cowgate.

These are but a handful of many tangible illustrations of the breadth, depth and richness of our relationship.
So, Ireland and Scotland have a long, well-established, and excellent friendship. The title of my paper tonight is "A New Chapter" – in choosing this title, I am acknowledging that both of our countries have recently turned a new page and are now well placed to enhance our bilateral relationship, building on very strong foundations.

This new chapter in Irish-Scottish relations is prefaced by new economic grounding for Ireland; new political space for Scotland; renewed commitment and energy by our governments and our citizens; and our keen awareness of our place in Europe and our influence in a changing world.
With respect to Ireland, this new chapter opens with renewed confidence in our economic vitality. As you all know, in recent years Ireland plunged into an unprecedented economic crisis. When the current Government entered office, we inherited a bailout programme through which the Troika was funding the country. The Government was elected with a huge mandate to restore Ireland to economic growth. Over the last four years we have worked relentlessly to reform and stimulate growth and jobs. Huge sacrifices have been required by our people. But the results of the often painful change and the steady implementation of the Government's plan for growth is now bearing fruit. In 2012 we launched an annual Government-wide 'Action Plan for Jobs' with clear goals and targets. Since then, unemployment has fallen steadily for thirty-one consecutive months, dropping from over 15% to under 10.5% now with 86,000 of our citizens back at work. Our Government's goal is to deliver full employment by 2018. Forbes magazine has ranked Ireland as the top country in the eurozone and one of the top four in the world for business while independent studies have ranked Ireland 1st in the world for the flexibility and adaptability of our workforce, and 1st in the world for the availability of skilled labour. Ireland has entered a new chapter that we believe will positively contribute to the lives of our citizens and our partners.
Meanwhile, over the course of two years leading to the September 2014 referendum, Scotland has ushered in its own new chapter. It provided a model example of democracy in practice, and demonstrated a fast-growing and positive political activism that practising politicians of all persuasions must welcome.
In a post-referendum world, the Scottish people have moved forward with clarity, confidence, and vision.
Against this background, one of the most important factors in Ireland's relationship with its neighbouring island is the importance and strength of the Irish-British relationship as a whole. After meeting First Minister Sturgeon, Cabinet Secretary Hyslop and Secretary of State Carmichael today, I can assure you that we all share an energy and a determination to make the most of this new chapter.
As neighbours, friends and partners across political, economic, cultural, and many other spheres, relations between Ireland and Britain have never been stronger. We are committed to working with everyone across these islands to strengthen and deepen our connections.
Ireland's relationship with Scotland is of tremendous importance in this context. We want to see more two-way trade and investment; more tourism exchange; more research collaboration; more exchange of people and ideas.
Our two governments' commitment to this relationship can be seen by the high levels of political exchange between Ireland and Scotland. Fiona Hyslop alone will have visited Ireland three times between last October and the end of the month. In addition to my own visit this month, future visits to Scotland by Irish Ministers are planned in the coming weeks.
I am also pleased that Ireland will soon be increasing its presence in Scotland through the assignment of an additional diplomat to the Irish Consulate in Edinburgh. With budgets still tight, allocation of Ireland's resources must necessarily be directed toward relationships that we believe hold the greatest potential and Scotland hits that mark.
Ireland and Scotland in a Changing World
Two weeks ago, I launched Ireland's Foreign Policy Review, The Global Island: Ireland's Foreign Policy for a Changing World.
This review, the first of its kind in Ireland in almost 20 years, is designed to be clear, concise, and accessible, while offering a progressive and forward-looking vision of Ireland's foreign policy and our place in the world.
We outline five overarching and foundational priorities: our people, our values, our prosperity, our place in Europe, and our influence.
If you think architecturally, and in Edinburgh one is inclined to do so, these priorities define us from bedrock to rooftop. They define and determine the place we call home.
What I wish to say, here in the heart of Edinburgh, is that these priorities, in both theory and practice, are priorities that I believe Scotland shares with Ireland. They provide our foundation and will determine our future and I would like to look at our bilateral relations through this prism.
First, our people...
In as much as our ancestors have shaped history, our children and grandchildren will define our future. Not only Ireland but the world watched Scotland during the recent referendum and applauded the democratic spirit of its young people. Young people on these interconnected islands have hopes and ambitions and it is our responsibility to help realize them.
Northern Ireland is an important partner for us both. Both our peoples share deep ties of kinship and friendship with the people of Northern Ireland. One of the foundational agreements that re-established the power-sharing devolved institutions in Northern Ireland was signed at St Andrews in 2006. Devolution has been good for Northern Ireland and, by any measure, it is today a better place in which to live than at any time previously. However, the legacy of the Troubles weighs heavily on the power-sharing institutions and on the community more generally. If not managed and addressed, this legacy has the potential to cause community unrest and political deadlock.
Just before Christmas, I am pleased to say that the five Northern Ireland Executive parties and the UK and Irish Governments reached a new Agreement, the Stormont House Agreement, which we believe will help to unlock recent political impasses and finally put in place the right framework to deal with the corrosive legacy of the past in Northern Ireland. The dividends of peace and prosperity in Northern Ireland positively affect both our countries. Scotland and Ireland share an ongoing interest in further reconciliation and economic renewal in Northern Ireland.
Regional organizations like the British-Irish Council (BIC) also bring these islands together, purposefully and productively. Ireland and Scotland play active and important roles in the BIC and its work-streams and a number of important initiatives and projects have emerged from this cooperation, including in the renewable energy sector, drugs and alcohol policy, and in other economic and social areas. The BIC's focus on pressing issues like youth unemployment makes it an important forum for frank conversation and directed action.
The BIC Secretariat is based here in Edinburgh and I would like to thank its staff for their ongoing service to the Council's goals. The Taoiseach looks forward to hosting the BIC Summit in Dublin in June and to welcoming the Scottish Government team.
For those of Irish descent here tonight, I would underscore Article 2 of the Irish Constitution, which reminds us that, "the Irish nation cherishes its special affinity with people of Irish ancestry living abroad who share its cultural identity and heritage."
My government gladly and gratefully acknowledges the role played by the Irish diaspora in Scotland in promoting friendship and exchange and sustaining Irish heritage in Scotland.
Conradh na Gaeilge, which promotes the Irish language in Scotland, is celebrating the 120th anniversary of the establishment of its Glasgow branch in 2015.
Comhaltas Ceoltóiri Éireann promotes Irish traditional music. The All-Britain Fleadh was hosted in Coatbridge in 2014.
As we approach March 17, preparations are being made by the Irish Heritage Foundation and St. Patricks Day festival committees across Scotland to recognize and celebrate Ireland's patron saint. We are currently developing the Government's travel itinerary for St. Patrick's Day but it goes without saying that we will have a representative in Scotland on 17th March!
And of course, Scotland has its own rich Gaelic heritage, and as lovers of language and music we appreciate the variations on a shared cultural theme.
In as much as our Irish and Scottish diaspora have enriched the nations where they have emigrated, it may be said of both our countries that we have attracted immigrants who have vastly contributed to our social, economic, and political life.
Secondly, our values...
Ireland's foreign policy focuses on four core values: the promotion of a more secure, just, fair, and sustainable world.
I might highlight one area of keen common interest. As Scotland's first female First Minister, Nicola Sturgeon has clearly stated her government's determination to tackle all forms of inequality and we share a commitment to contributing to a fairer, more equal world.
Ireland recently launched its 2nd Annual National Action Plan on Women, Peace, and Security, which seeks in part to combat gender inequality. Ireland played an important role in the establishment of UN Women and we will stand for election to the UN Commission on the Status of Women for the 2018-2022 term.
Ireland is also committed to promoting the rights of lesbian, gay, bisexual, transgender, and intersex (LGBTI) individuals and EU Guidelines on the rights of LGBTI individuals were adopted during Ireland's EU Presidency in 2013.
These initiatives complement the domestic equality agenda of the Government which involves a suite of measures including a referendum on Same Sex Marriage in May and gender quotas which will apply to political parties contesting the next General Election. I would like to commend this university's ongoing examination of fundamental rights of men and women through the current Gifford lecture series on "The Basis for Human Equality".
Thirdly, our prosperity...
The UK is Ireland's most important trade partner, with two-way business valued at € 1 billion per week.
Within the framework of the British-Irish relationship, our links with Scotland are particularly important. Scotland is the most economically dynamic and innovative region in the UK outside of London. The Irish and Scottish economies have much in common. Our economies are open and diverse, and growth is closely linked to our performances in terms of exports and tourism. We thus share an interest in free trade and competition.
The level of business exchange between Ireland and Scotland is robust and growing. Irish companies such as AIB, Bank of Ireland, Glennon Brothers, Sisk, Roadbridge and many others are heavily engaged in generating business and jobs in Scotland.
Cantrell and Cochrane has become the latest major Irish investor in Scotland with its acquisition of the Tennants lager brand. Mercury Engineering was the lead contractor for mechanical engineering solutions at the new state-of-the-art general hospital in South Glasgow.
In all, more than 250 indigenous Irish companies are exporting goods and services to Scotland. In Ireland, Scottish-based companies like SSE - Scottish and Southern Electricity - which owns Airtricity, are making an enormous contribution to our economy.
Going forward, I believe that we will see the new chapter in our business relationship being written in sectors that align with our values.
It is therefore appropriate that I should be delivering this lecture in the Edinburgh Centre for Carbon Innovation. The Low Carbon economy is very much a part of Ireland's bilateral agenda with Scotland and I expect to see particular growth in trade, investment, and collaborative research in this area.
My colleague, Minister for Energy Alex White, will lead a business mission to Scotland later this month to attend the Low Carbon Scotland Conference. There is great potential synergy between the business sectors of Scotland and Ireland in the fields of renewable energy, clean-tech, water and waste treatment, and other sustainable technologies.
I firmly believe that there is scope and demand for greater research collaboration across our university sectors and linking higher education institutions with industry. Work is ongoing to explore and identify concrete ways in which Ireland and Scotland can collaborate in the context of the EU's Horizon 2020 programme, building on the strong connections between our research communities.
Ireland, Northern Ireland, and Scotland are partners in the EU-funded Interreg programme. Interreg encourages collaboration and innovation in areas such as renewable energy, sustainable transport, environmental conservation, and research and innovation.
For instance, the Interreg-funded ISLES project is a flagship effort that encourages the development of networks to promote marine renewable energy between Scotland, Northern Ireland, and Ireland.
Interreg has also supported collaborative projects such as Access 6, encouraging Scottish and Irish food and drink enterprises to grow their businesses and to access new markets across the globe.
As anyone who has ever attended a Burns Night Supper or a Bord Bia event will know, Ireland and Scotland are deliciously singular in our approach to Food and Beverage. And with reference to beverage, I emphasize singular but not single-malt!
Ireland has launched a hugely ambitious and effective sustainable food and agriculture programme, Origin Green, which is acknowledged as the most cutting-edge initiative of its kind in the world.
Tourism is another sector that holds vast potential for Ireland and Scotland, all the more if we resolve to partner together more effectively. For instance, the Common Visa now facilitates travel for prospective tourists from China and India who wish to travel in and across these islands on a single visa. Joint tourism offerings abound: golfers, gastronomes; music lovers; art collectors; history buffs; newlyweds and golden anniversary celebrants – we both offer something for everyone. Ireland and Scotland provide offerings like nowhere else in the world – lakes, loughs, and sea-scapes; hills, mountains, and Highlands.
Finally, our place in Europe...
Ireland's Foreign Policy Review prioritises our place in Europe. Our EU membership has shaped and amplified our foreign policy since 1973.

My colleague, Minister Paschal Donohoe addressed the Europa Institute a little more than a year ago on this subject; and I recently had the pleasure of visiting the European Council of Foreign Relations in London to outline our country's position on Ireland, Britain, and Europe.
As we consider the quality and the depth of the bonds between Ireland and Scotland, we must not overlook the role our common membership in the EU has played in bringing us even closer together.
Being in the EU - together - has facilitated commercial links between our two countries. It has helped our respective businesses forge sustainable and enduring relationships with one another, to the benefit of both of our economies. The EU has boosted tourism and travel, making Ireland and Scotland better connected while simultaneously opening us to the world beyond.
But the advantages of EU membership extend beyond improving relations between the Irish and Scottish people.
In Ireland, the EU has simply been a force for good, in economic, social and political terms. It has also played a critical part in the wider British-Irish relationship, which is now – as I have described – at a new zenith of positivity. And it has exerted an especially positive influence on Northern Ireland, helping to both encourage peace and reconciliation as well as contributing jobs and growth to its people.
That is not to say we are blinkered when it comes to assessing the utility and effectiveness of the EU. We know it is not perfect and that there is plenty of room for improvement. It is simply that - from our experience - the net benefits of membership far outweigh any perceived negatives.
It will come as no surprise to you, therefore, to hear me say that we in Ireland want the UK to remain firmly within the EU. The Taoiseach and I, and our colleagues in the Irish Government have been clear and upfront in expressing this position over the last number of months.
I know that Scotland values EU membership and that it recognises its particular importance in the context of the Scottish-Irish relationship. Cabinet Secretary Hyslop made that point very candidly when she was in Dublin last week, and I am grateful to her for doing so.
There will undoubtedly be much more debate, both in Scotland and across the UK, on the merits of the EU and the UK's place in it. Ireland has made clear where it stands on this debate.
Like no other platform, like no other community, the EU amplifies our voice, our values, and our influence in the world.

Our influence
As I reminded Ireland's diplomats recently: our influence, our global reputation, our brand, if you will, comes as a direct result of a longstanding demonstration of professionalism, integrity, and effectiveness.

Among our diplomatic network, I must acknowledge Consul General Pat Bourne's exceptional work here in Edinburgh, and Ambassador Dan Mulhall's phenomenal service in London. It is no accident, perhaps, that it was Dan who opened the Consulate in Edinburgh in 1998.
We also cannot overstate the importance of cultural engagement and exchange and the tremendous contributions of our cultural figures and institutions to our success and reputation.

2015 heralds the 150th birthday of W.B. Yeats and I look forward to opening an exhibition on his life and work later this evening. 2015 is also recognized as the Year of Irish Design, with high profile events planned across these islands and internationally to promote and celebrate Irish design.

In addition to having been named a World Design Hub, Dublin is also a UNESCO City of Literature. Ireland is home to Wilde, Joyce, Beckett, Yeats, and Heaney. Our cities of Galway and Cork are world-renowned for music, performance, and artistic expression.

Like Ireland, Scotland boasts Cities of Culture within a Country of Culture. Edinburgh and Glasgow are iconic in the cultural world, home to the Edinburgh Festival (now directed by an Irishman), the Edinburgh Fringe Festival, the Edinburgh Book Festival, and the Celtic Connections and Aye Write Festivals in Glasgow.

Through sports, we influence each other and the world, at times to the point of ecstasy or tears – in March, Ireland and Scotland may be facing each other to decide the fate of the RBS 6 Nations championship at Murrayfield. Perhaps as an ongoing test of this new chapter in our relations, Ireland and Scotland will compete in a Euro 2016 football qualifier in Dublin in June. It would be an apt irony if the winning goal was scored by an Irish player of Scottish descent or by a Scot of Irish descent. Such are the affinities between our two countries. And you'll note that, as a diplomat, I have just suggested a scenario wherein we all win!
And, of course, we share strong ties and equally strong teams when it comes to of our popular native games of Gaelic football, hurling, and camogie. I was pleased to learn that plans are well-advanced for a major new investment in GAA facilities in Scotland in the period ahead.

Ireland and Scotland: In Dreams Begin Responsibilities...
Ireland and Scotland's new chapter will focus on expanding and deepening all of the engagement and partnership that I have described. It will require optimism and energy. It will require vision. It will require innovation. It will require hard work. It will require all of us.
W.B. Yeats began a volume of poetry published in 1914 with the epigram, "in dreams begin responsibilities".
Tonight, I have briefly outlined some of our hopes and dreams for this new chapter in Irish-Scottish relations. It is clear that our two governments are aware of our responsibilities and determined and equipped to act upon them. The potential is there and so is the political will.
I must also note my gratitude for the work that is being done outside government to support Irish-Scottish relations and Irish-British relations. I commend the scholars, lawyers, business leaders, artists, journalists, and so many others who share the vision of making the partnership between Ireland and Scotland even stronger.
Among all these friends, it has been a particular pleasure to address an event presided over by Principal O'Shea, a proud son of Kilkenny and therefore, I've no doubt, a dab hand at shinty!
Thank you all – go raibh maith agaibh!