Minister Flanagan's address to the All-Island Civic Dialogue
02 November 2016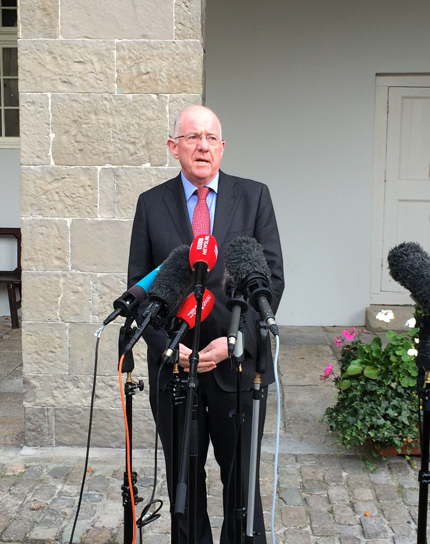 Minister Flanagan's address to the All-Island Civic Dialogue
All-Island Civic Dialogue
2 November 2016, Royal Hospital Kilmainham
Closing address by Charlie Flanagan T.D., Minister for Foreign Affairs and Trade
Check Against Delivery
Thank you Tom – and a sincere thank you to all facilitators, panellists and contributors.
For me and for the entire government, this has been a hugely valuable day. This conference is only the start of the civic dialogue process and I want to use these closing remarks to look ahead to the next steps.
This morning, the Taoiseach set out the government's comprehensive response to the evolving situation following the UK decision to leave the EU. Our goal for today was for participants and those following proceedings online to hear as many voices as possible from across the island. I am pleased that throughout the day we heard the views of opposition and government political leaders, community leaders north and south, small and large employers, trade unions, educators, tourism leaders and so many others.
Indeed, many groups and individuals have been contributing to the debate long before today and indeed long before the June referendum. I have received many excellent submissions on Brexit from all across the island and from Britain, covering such varied issues as cross-border health work, the Irish community in Britain, the future of airports on the island and student mobility - to name but a few.
These are all practical, real-life issues of direct relevance to everyone. What was evident in these submissions – and so evident here today as well – was a welcome focus on proposing solutions - as opposed to simply listing out problems and hoping that someone, somewhere will do something about them.
This focus on making progress and finding solutions is truly the Irish spirit in action, at its very best when faced with a major strategic challenge such as this. We faced such challenges before, not least with the recent economic crisis when every single citizen played their part in responding to it.
This is truly an all-island issue, and of course an EU-wide issue. As negotiations formally start – and our expectation is that this will be in the first part of next year - we will need to draw on all of the political, economic, social, diplomatic and technical expertise available to us to ensure the best outcome for the people of this island.
As I said in recent weeks when speaking to Sinead McLoughlin and her colleagues in the Derry Chamber of Commerce, we are very clear about the Irish Government's obligations as they relate to Northern Ireland in the context of Brexit.
As a co-guarantor of the Good Friday Agreement, it is our solemn duty to ensure that all aspects of that international agreement are fully respected in the new arrangements between the EU and the UK. Ireland will use its seat at the EU table to the full, in the best interests of the whole island.
And while of course we will remain close to our British friends and neighbours in every possible way, we are equally clear on Ireland's future at the heart of the European Union – a body which will no longer have the UK as a member, but must remain strong and carry out its global work on the basis of partnership, peace and prosperity.
And so, after today's discussions, what happens next?
I think today has four outcomes – four areas for action and follow-up.
First Outcome – the government will take your messages from today to Brussels, to London and across the EU, further strengthening our case as we put it again and again to EU partners and to our UK counterparts.
Since June, I have spoken to every one of my 27 EU opposite numbers at least once – between now and Christmas, these intensive contacts will continue, as will contacts by the Taoiseach and other Ministers.
I am also finalising a restructuring in the Department of Foreign Affairs and Trade, strengthening our Brexit-focused diplomatic and official teams at home and abroad, including in Brussels, London, Paris and Berlin.
Second Outcome – the need for an all-island dimension to responding to Brexit is crystal clear and has been constantly articulated during the day. I look forward to joining the Taoiseach, my cabinet colleagues, First Minister Foster, deputy First Minister McGuinness and their ministers in Armagh on 18 November as we work together within the North South Ministerial Council. I agree with the First Minister that the NSMC is hugely important in coordinating a joined up response by the Government and the Northern Ireland Executive.
Third Outcome – we will continue this all-island civic dialogue of ours, of which today is only the start. As a government, we will reflect on exact next steps but I can already tell you this:
-We will invite you all to meet again early next year with a focused agenda.
-In the meantime, there will be civic dialogue events on a sectoral basis, focused on specific themes including some raised today.
-Also, as Tom mentioned earlier – and reflecting the fact that not everyone had a chance to speak today - everyone here and the public at large are welcome to send written contributions to us. For those happy to have their submissions published, we will do so on the government's dedicated EU-UK page on www.merrionstreet.ie
And finally, the Fourth Outcome is this: everyone in this room and many, many more outside it – government, opposition, civic society as a whole – have a concrete role to play….
Suggesting solutions to problems and challenges.
Bringing our attention to specific issues not raised until now.
Acting on that opportunity to protect jobs or create new ones, north and south.
Working in the community to promote a constructive response to the challenge of Brexit.
Informing and engaging our citizens – because this issue is so important and we need that positive and resolute civic spirit at work over the period ahead.
Ladies and gentlemen, the conversation can continue now over some hard-earned refreshments.
As I conclude, I want to extend my thanks to you all for your active participation in this debate, and to the officials from my own Department and from the Taoiseach's Department – along with everyone here at the RHK, the OPW and all involved in every way - in making today's conference so valuable.
Thank you.