Disarmament and Non-Proliferation
Ireland has been a leading voice for decades on disarmament and non-proliferation issues.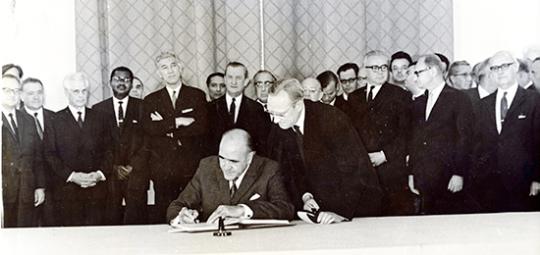 In honour of Ireland's pioneering role in paving the way for the NPT, Ireland's Minister for External Affairs Frank Aiken was invited to be the first to sign the new Treaty in 1968.
In 1958 Ireland introduced at the UN the first of what became known as the "Irish Resolutions". This initiative culminated in the adoption of the Nuclear Non-Proliferation Treaty (NPT) and Ireland was the first country to sign the NPT in 1968. Almost half a century later, the NPT remains at the heart of international efforts to achieve a world free of nuclear weapons. The next NPT Review Conference will be held in New York in 2015.
As a pioneer of the NPT, Ireland has been a leading voice for decades on disarmament and non-proliferation issues. We have pressed hard for nuclear weapons disarmament and the prevention of further proliferation of nuclear weapons capability. We have also promoted a ban on the use of cluster munitions, the elimination of chemical and biological weapons and greater controls on the arms trade.
The adoption of the Arms Trade Treaty at the UN in April 2013 was a landmark achievement for the international community. The ATT is the first legally-binding agreement to govern the global trade in conventional arms. On 2 April 2014 Ireland was one of 18 Member States to deposit their instruments of ratification with the UN. 50 Member States are expected to have ratified by the end of this year, thereby bringing the ATT into force and thwarting the uncontrolled flow of illegal arms to conflict regions.
The Cluster Munitions Convention, agreed at a diplomatic conference which Ireland hosted in Dublin in 2008, prohibits all use, production, transfer and stockpiling of cluster munitions. We were among the first countries to sign and ratify the Convention, which entered into force in 2010.
Disarmament and non-proliferation issues are considered by the General Assembly's First Committee at its annual session in October and November. The UN in Geneva, however, is the main forum for multilateral negotiation on these issues.