Women, Peace and Security
Our mission actively promotes UNSCR 1325 and the Women, Peace and Security agenda.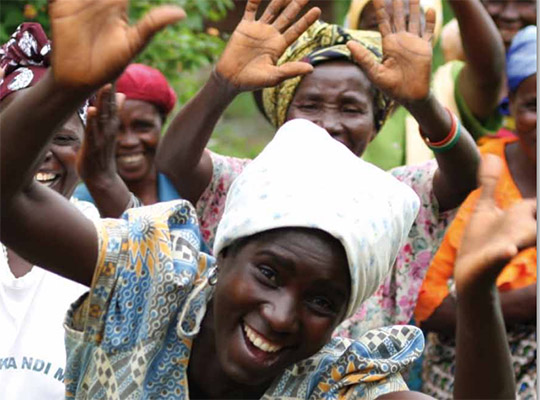 Ireland has been a particularly strong advocate of implementation of Security Council Resolution 1325 and the subsequent set of associated resolutions. This resolution calls for increased participation of women in peacemaking and peacebuilding; for greater protection for women and girls in armed conflict; and for a gender perspective to be incorporated into peacekeeping and peacebuilding. At the UN and elsewhere, Ireland is working hard to ensure greater international implementation of this resolution, with particular reference to the strengthening of women's participation and leadership.
Ireland is an active member of a group of UN member states that promotes the women, peace and security agenda covered by UNSCR 1325. We are increasing our financial support for efforts to achieve the objectives of Resolution 1325, including through UN Women. We have also contributed funding of €240,000 to the UN Trust Fund to end Violence against Women, managed by UN Women.
In 2010 Ireland sponsored a "cross-learning" initiative to enable lessons to be learned from the involvement of women in peace processes in Northern Ireland, Liberia and Timor Leste. The results of this initiative were presented to the UN Secretary-General. They also informed Ireland's own National Action Plan for the implementation of 1325 (2011-14); work is underway on a successor plan.
The mission also hosts events at the UN to highlight specific aspects of the women, peace and security agenda. In April 2014 we hosted an event on conflict-related sexual violence in Burma / Myanmar, and an event on progress made by Sierra Leone on gender equality and women's empowerment.
UN Special Envoy Mary Robinson's ground-breaking work from March 2013 to August 2014 in reaching out to grassroots women's groups and civil society in the Great Lakes is also relevant to the area of women, peace and security. We have offered strong political and financial support for this work.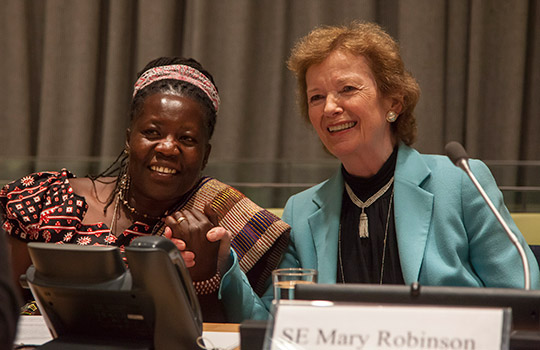 The then UN Special Envoy for the Great Lakes region Mary Robinson with Ugandan women's rights activist Lina Zedriga at a panel discussion hosted by Ireland in 2013 on Women and Peacebuilding in the Great Lakes region.