In festival spirit Edinburgh celebrates Yeats and Irish Design
The Consulate General of Ireland in Edinburgh hosted an evening reception on 15 August 2015 to celebrate two exciting Irish initiatives – the 150th anniversary of the birth of W.B. Yeats and the Year of Irish Design 2015.
Consul General Bourne welcomed guests from the Irish community, media, and cultural and business spheres to the Consulate, and spoke of the excellent reception of Irish artists and productions at all three of the Edinburgh festivals this year.
CG Bourne then introduced Ambassador Dan Mulhall, who spoke passionately about the life and legacy of poet W.B. Yeats, reflecting in particular on the value of the great span and diversity of Yeats' work.
The Ambassador recalled Yeats' importance as an observer of historical events, whose work chronicles the trajectory of Irish history from the 1913 Lockout to Easter 1916 to the Civil War, starkly portrayed in The Stare's Nest By My Window.
Consul General Bourne then invited Robyn Marsack, Director of the Scottish Poetry Library to launch a new WB Yeats teaching resource developed by the Library and Consulate team to celebrate the great poet's sesquicentenary. The poster contains information on Yeats' life and work, along with three of his most loved poems, and will be available for use by secondary schools across Scotland.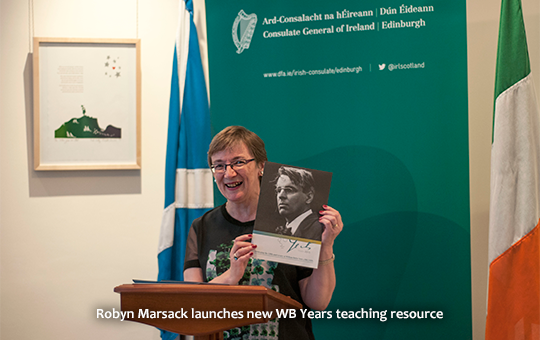 Finally, Donna Marie O'Donovan of Irish Design 2015 launched Irish Design's travelling Connections exhibition, which is currently displayed at the Consulate of Ireland. Connections showcases the wealth of creative talent in Ireland, both from the past and the present. The exhibition forms part of Irish Design 2015, a year-long initiative that explores, promotes and celebrates Irish design both throughout Ireland and internationally.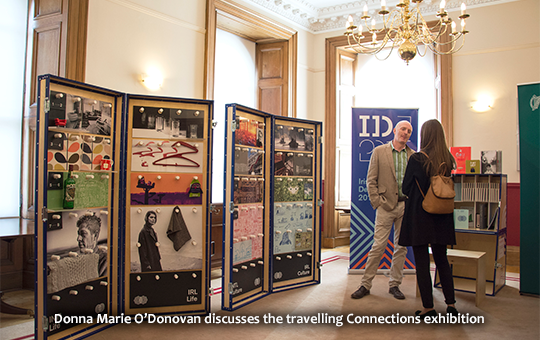 Donna Marie also spoke of plans to hold a collaborative event with Scottish partners in November 2015, in advance of Scotland's Year of Innovation, Architecture and Design in 2016.
Photo credit: Grace Avery, www.graceaveryphotography.co.uk