First reading of Robert Rae's Citizens Rehearse performed at the Consulate
Fresh from successes across the Edinburgh festivals, nine acclaimed Irish and Scottish actors, and three equally renowned musicians, came to the Consulate to perform a reading of Robert Rae's 'in-development' play Citizens Rehearse on 27 August.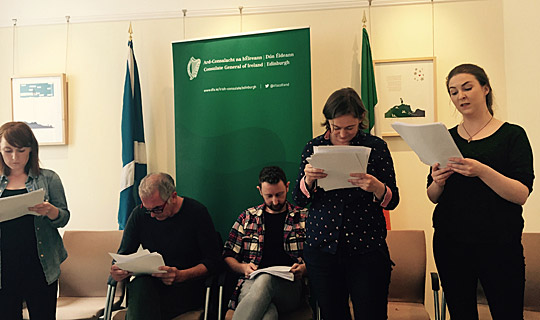 Citizens Rehearse is set in 1916 and follows the Irish Workers Dramatic Company as they rehearse James Connolly's play Under Which Flag against the backdrop of the Great War and the lead up to the Easter Rising.
The project, supported by Creative Scotland, is part of an international programme of events planned to commemorate the events of 1916.
The invited audience included representatives of the Scottish Government, Creative Scotland, a number of theatre groups and Irish community organisations, as well as historians, dramatists and playwrights.
Consul General Bourne opened the event by welcoming Rae and his cast to the Consulate, noting that the reading marked the first time that such an event had been held in the Irish Consulate since its establishment. He remarked on the significance of the play and its portrayal of James Connolly, in light of the 2016 commemorations.
Robert Rae then addressed the audience and explained that he had hoped to explore James Connolly's motivations for involving himself in the Easter Rising by writing the play. The centenary of the Rising is an opportune moment to revisit Connolly's legacy at a unique time in the histories of both Scotland and Ireland.
The cast read expertly through the play and breathed life into the characters of Connolly and his contemporaries, accompanied by wonderful traditional Irish music.
Robert Rae and his colleagues were delighted with the audience reaction to the reading. The work on developing the production now moves into a new and exciting phase.