Visit of President of Ireland Michael D. Higgins to Scotland
The Consulate was delighted to host a recent visit to Scotland by President of Ireland Michael D. Higgins and Sabina Higgins. The visit included a number of engagements in both Glasgow and Edinburgh from 27 – 30 June. The President was accompanied during his visit by the Minister for Diaspora Affairs and International Development, Joe McHugh TD.
Following their arrival in Glasgow, the President and Sabina Higgins first travelled to Govanhill Neighbourhood Centre to meet with members of Glasgow's Irish community. The President and Sabina were treated to wonderful performances from the young musicians of Comhaltas Ceoltóirí Éireann and the Irish Heritage Foundation's traditional musicians' programme, as well as a first class rendition of 'Peigín Leitir Móir' by students of Conradh na Gaeilge in Glasgow.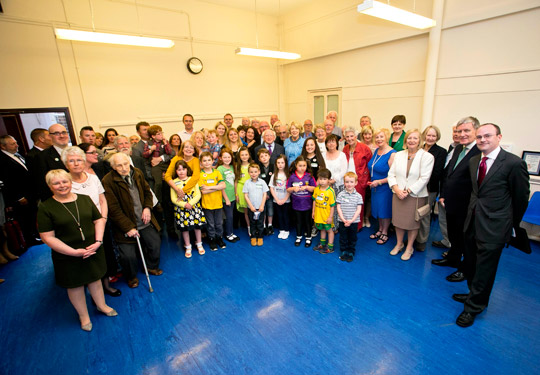 President and Sabina Higgins meet with members of the Irish community in Govanhill
In his speech to members of the Irish community at Govanhill, President Higgins recalled the deep historical relationship between Ireland and Scotland, and thanked all present for their contribution to building the warm and enduring friendship and understanding that now exists between the people of our two countries. Click here for the full text of President Higgins' speech.
Later in the afternoon, the President met with First Minister of Scotland, Ms Nicola Sturgeon MSP, before travelling to Glasgow's Royal Concert Hall to attend Ceangal, a concert specially commissioned to celebrate the strong and diverse cultural and artistic ties between Ireland and Scotland. Supported by both Culture Ireland and Creative Scotland, the concert featured a number of prominent artists and musicians including Eddi Reader, pipers Ross Ainslie and Jarlath Henderson and the Alan Kelly Quartet.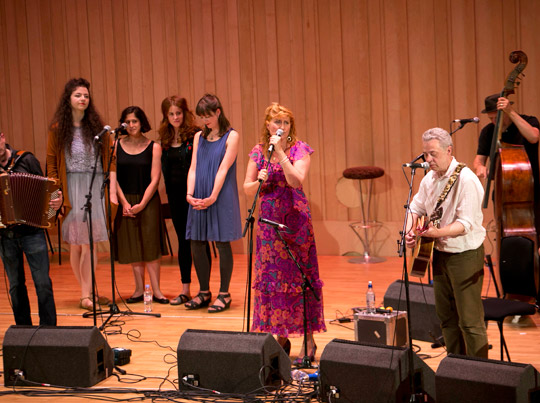 Eddi Reader, Alan Kelly and Landless perform at Glasgow's Royal Concert Hall
The concert was preceded by a reception jointly hosted by First Minister Sturgeon and Ambassador of Ireland to Great Britain Dan Mulhall, during which President Higgins had the opportunity to meet with representatives of both Irish and Scottish community and cultural organisations.
On 28 June, President Higgins was conferred with an Honorary Degree of Doctor of Laws from the University of Edinburgh. The conferring ceremony, held at Edinburgh's Usher Hall, was attended by more than 2,000 people including graduating students and their families. President Higgins' speech to graduates is available here.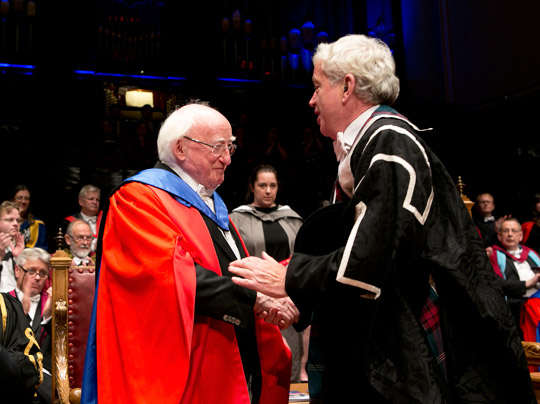 President Higgins is conferred with an honorary degree by Vice-Chancellor Prof Sir Tim O'Shea
President Higgins became the first European Head of State to address members of the Scottish Parliament on 29 June, and was welcomed to Holyrood by Presiding Officer of the Parliament Mr Ken Macintosh MSP. Speaking in the aftermath of the EU referendum, the President emphasised the importance of elected representatives governing 'co-operatively, collaboratively, with respect'. President Higgins' speech can be read in full here.
After his address, the President and Sabina Higgins attended a reception hosted by the Presiding Officer where they met with Members of the Scottish Parliament and representatives of the Irish community in Edinburgh.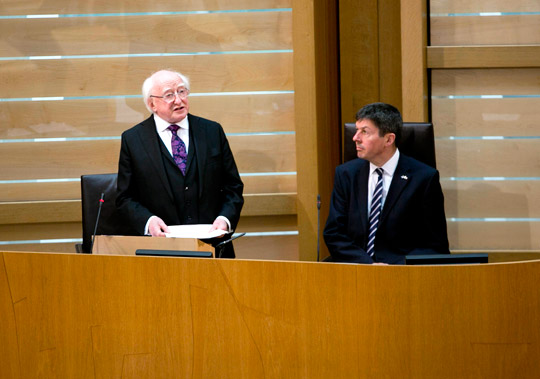 President Higgins addresses a meeting of Members of the Scottish Parliament
On the afternoon of 29 June, President Higgins returned to the University of Edinburgh where he participated in an academic symposium on the life and legacies of James Connolly, organised by the University's School of History, Classics and Archaeology in cooperation with the Moore Institute at NUI Galway.