Consul General Jane Connolly
Jane Connolly is the Consul General of Ireland in Sydney with accreditation to the state of New South Wales.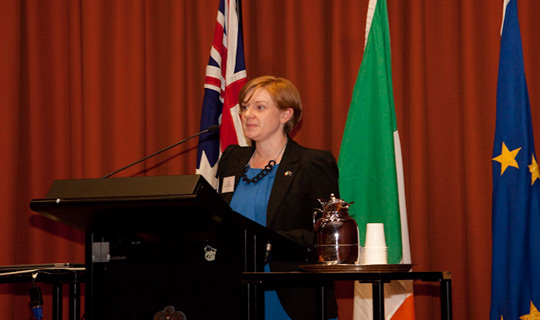 Curriculum Vitae
Born in Dublin in 1977. Received a BA Moderatorship in Ancient History, Archaeology and Italian from Trinity College in 2000 and a Masters in International Relations from Dublin City University in 2004.
Joined the Irish Civil Service in November 2000 as an Executive Officer in the Department of Social and Family Affairs.
Joined the Department of Foreign Affairs as a Third Secretary in January 2002.
January 2002 to September 2002: Third Secretary: Consular Division
September 2002 to December 2004: Desk Officer: Political Division: Eastern Europe, OSCE and Council of Europe Section
January 2005 to March 2008: Third Secretary: Embassy Warsaw
March 2008 to August 2011: Assistant Chief of Protocol (First Secretary): State and Official Visits
August 2011 to August 2014: Head of the Irish Community and Cultural Affairs Section in the Embassy in London and Chair of the Emigrant Services Advisory Committee.
Since September 2014: Consul General of Ireland in Sydney.
Ard-chonsal Jane Connolly
Is í Jane Connolly Ard-chonsal na hÉireann in Sydney le creidiúnú do stát New South Wales.
Curriculum Vitae
Rugadh i mBaile Átha Cliath í i 1977. Bhain sí céim BA amach i Modhnóireacht i Stair Ársa, céim Seandálaíochta agus Iodáilise ó Choláiste na Tríonóide i 2000 agus iarchéim mháistreachta i gCaidreamh Idirnáisiúnta ó Ollscoil Chathair Bhaile Átha Cliath i 2004.
Chuaigh sí isteach i Státseirbhís na hÉireann i nDeireadh Fómhair 2000 mar Oifigeach Feidhmiúcháin sa Roinn Coimirce Sóisialaí.
Chuaigh sí isteach sa Roinn Gnóthaí Eachtracha agus Trádála agus ceapadh í mar Thríú Rúnaí in Eanáir 2002.
Ó Eanáir 2002 go dtí Meán Fómhair 2002: Ceapadh í mar Thríú Rúnaí: Rannán Consalaigh.
Ó Mheán Fómhair 2002 go dtí Nollaig 2004: Ceapadh í mar Oifigeach Deisce: Rannán Polaitíochta: Oirthear na hEorpa, OSCE agus Rannóg Chomhairle na hEorpa.
Ó Eanáir 2005 go dtí Márta 2008: Ceapadh í mar Thríú Rúnaí: Ambasáid Vársá.
Ó Mhárta 2008 go dtí Lúnasa 2011: Ceapadh í mar Cheann Cúnta Comhghnáis (Céad Rúnaí): Cuairteanna Oifigiúil agus Cuairteanna Stáit.
Ó Lúnasa 2011 go dtí Lúnasa 2014: Ceapadh í mar Cheannaire de Rannóg an Phobail Éireannaigh agus Gnóthaí Cultúrtha san Ambasáid i Londain agus mar Chathaoirleach Choiste Comhairle na Seirbhíse Imircigh.
Ó Mheán Fómhair 2014 anuas: Ceapadh í mar Árd-chonsal na hÉireann i Sydney.