Visit by President Michael D Higgins and Sabina Higgins to Sydney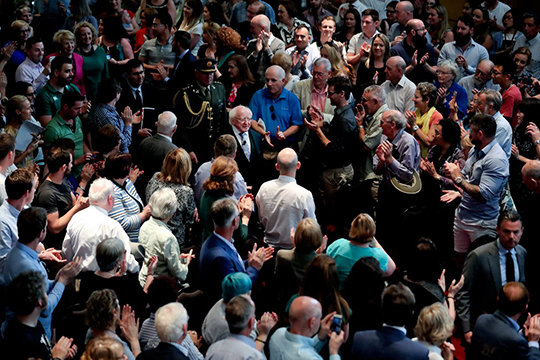 As part of their State Visit to Australia, the President, Michael D Higgins and Sabina Higgins visited Sydney from 17 – 21 October. The President was accompanied throughout the programme by the then Tánaiste and Minister for Business, Enterprise and Innovation, Frances Fitzgerald, T.D.
Their programme opened on Tuesday 17th October with the Enterprise Ireland business lunch, which included the participants of the Enterprise Ireland trade mission and their contacts, held in the Sydney Opera House. Following the lunch, the President and Sabina Higgins paid a short courtesy call on the Governor of New South Wales at his residence.
OnWednesday 18th October,the President and Sabina Higgins visited the Australian Monument to the Great Irish Famine where they met the Premier of New South Wales, Gladys Berejiklian and the Leader of the Opposition in the State Parliament, Luke Foley. Both joined the President in laying flowers at the Monument and then accompanied him while he met with some of the guests who attended the event.
The President and Sabina Higgins also visited Hyde Park Barracks and the State Library of New South Wales and had the opportunity to see artefacts and papers detailing Ireland's long historical connections with New South Wales.
The President and delegation then attended a lunch at the new High Performance Centre for Rugby Australia (formally Australian Rugby Union) which was co-hosted by the Lansdowne Club.
On Thursday 19th October, the President and Sabina Higgins visited the offices of SiteMinder, an IDA client company who employ 90 people at their offices in Galway. That afternoon, the President delivered a keynote address at the University of New South Wales, following which, he and Sabina Higgins were guests of honour at a reception for the Irish Community in New South Wales held at Paddington Town Hall.
On Friday 20th October, the President and Sabina Higgins attended a lunch hosted by Tourism Ireland at the Botanic Gardens. That evening, the President was guest of honour at a dinner hosted by the Ireland Funds, Australia at the Australian Museum.
On Saturday 21st October,the President visited the premises of the Irish Support Agency and had the opportunity to meet with members of the Cara Club for older Irish emigrants.
You can watch a highlights video of the President's visit to Australia at https://youtu.be/JEPP9-1TOOU. Videos of the President's speeches can be viewed at www.youtube.com/user/presidentofireland/videos.