Irish Culture
By showcasing Ireland's rich cultural heritage we can reap long-term and positive benefits for Ireland's reputation and its relationship with the people of Australia. We can also work to connect people with their Irish heritage.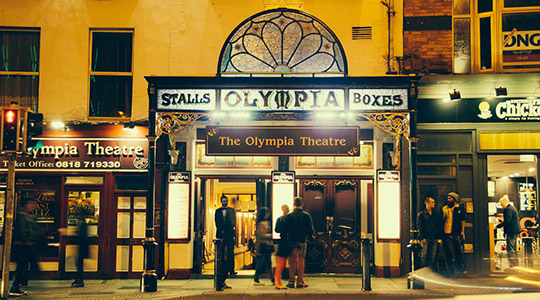 Our culture
Ireland's culture is a unique national strength and a source of particularly strong links between Australia and Ireland. It's one of our greatest competitive advantages, acting as a "door opener" that converts into jobs, trade, investment and tourism. It's also our most effective way of connecting with the Irish community.
What we do
We're involved in a broad range of cultural activities, which raise awareness of Ireland and also enhance our ties with Australia. We promote cultural relations through a number of initiatives. For example, the Consulate supports a range of cultural initiatives throughout the year, through collaboration with other groups in music, the spoken word and design. For more information on the cultural events being supported by the Consulate see our news and events page.
Get involved in Irish community activities
Over the years, generations of Irish people have made invaluable contributions to all aspects of life in their new homes, in politics, the arts, business and sport. Their patriotism coexists with the contribution they have made in their new communities.
Learn more about our engagement with Irish communities abroad:
Irish Cultural Groups in Australia
There are many groups and organisations in Australia which promote and enjoy Irish culture.
If you are interested in learning more about Irish dance, the Australian Irish Dancing Association is a good place to start.
Comhaltas Ceoltóirí Éireann promotes Irish traditional music in Ireland and beyond, and organises Irish music and dance sessions and classes.
The quality and breadth of academic research in Australia and New Zealand in the field of Irish Studies is impressive. The Global Centre for Irish Studies was established in the University of New South Wales in 2010 and is the only Irish studies centre in Australia. The Irish Studies Association of Australia and New Zealand (ISAANZ) organises regular conferences and publishes a Journal of Irish Studies. Visit their Facebook page at https://www.facebook.com/irishstudiesaustralianewzealand/
Tinteán is the magazine of the Australian Irish Heritage Network and carries articles on the Australian Irish identity. The Australian-Irish Heritage Association is an inclusive organisation which encourages and promotes an awareness of Australia's Irish heritage.
There are many festivals around Australia which showcase the best of Irish music, language, poetry, art and dance. Two of the largest celtic festivals are The National Celtic Festival and the Koroit Lake School of Celtic Music Song and Dance.
Gaelic football is played, by men and women, in many locations across Australia. Hurling is played in Sydney, Melbourne and Perth. The Gaelic Football and Hurling Association of Australasia are the people to contact for details.
The Irish language is alive and well in Australia. If you would like to learn, or to practice, click on the link for the Irish Language Association of Australia / Cumann Gaeilge na hAistráile.
Learn more about Ireland
If you want to learn more about Ireland, you can read Ireland in Brief.
Our commitment
We are committed to strengthening our relationship with the Irish people and people of Irish descent worldwide and to promoting what is best about our country.
In working together, we will ensure the continued respect and admiration in which Irish people and our culture are held worldwide.