President Heinz Fischer visits Ireland
The Federal President of the Republic of Austria, H.E. Dr Heinz Fischer and Ms Margit Fischer, visited Ireland from 6-8 October 2014 to meet the Irish government and to promote trade links.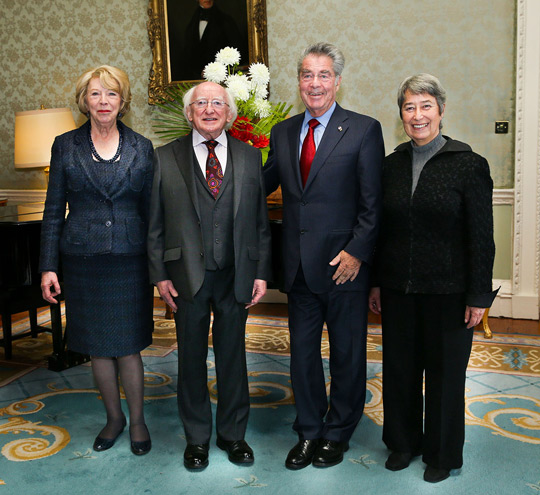 President Michael D. Higgins hosted an official dinner in honour of the visit by the Federal President of Austria, Dr Heinz Fischer, to Ireland. In his speech, President Higgins reflected upon both the deep historical ties and the contemporary links between our two countries. President Fischer was also invited to plant an Irish oak tree in the garden of the Áras to mark his visit.
Full Text of President Michael D. Higgins' Speech
President Fisher also met the Taoiseach, the Ceann Comhairle and Cathaoirleach of the Seanad. He also undertook a cultural programme including a visit to Trinity College, Marsh's Library, and the National Gallery.
Irish-Austrian Business Forum
On 7 October, the President of Austria, Dr Heinz Fischer and Minister for Foreign Affairs and Trade, Charlie Flanagan, TD, opened an Irish Austrian Business Forum in Dublin, highlighting the business opportunities in both countries.
Speaking ahead of the event, Minister Flanagan said:
"The visit of President Fischer will strengthen the excellent relationship between Ireland and Austria, both bilaterally and as members of the EU. The Government is determined to increase the number of Irish firms doing business in Austria, where our total trade last year was valued at nearly €1.5 billion. Enterprise Ireland has 250 client companies in Austria and my Department and our Embassy in Vienna are working to increase that number.
"The performance of our export industries has been a major driver of economic growth in Ireland and exports to Austria increased almost 14% last year, particularly in the field of pharmaceuticals, essential oils, chemical materials, office machinery and manufactured articles. I hope to see more companies looking to Austria as a potential market for their products.
"Ireland and Austria share long historical ties, strengthened by an ongoing commitment to fund an Irish Studies programme and Irish language teaching in the University of Vienna. This initiative is an excellent opportunity to bring Irish culture and literature to a wider audience in Austria."