Cultural Campaign #IrlandaInspira
Event
30 July 2020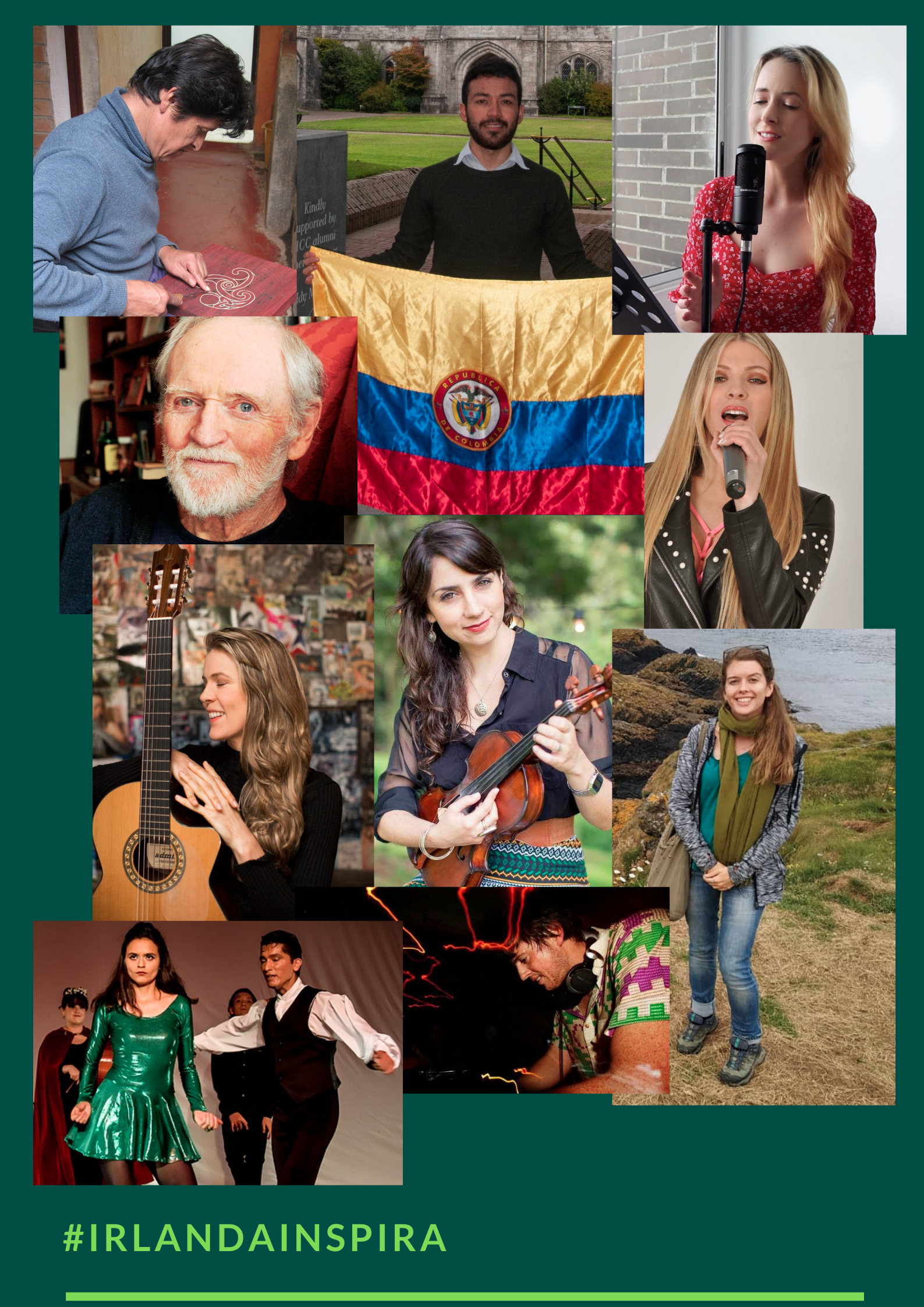 A selection of videos from our cultural campaign #IrlandaInspira
At the beginning of summer 2020, the Embassy invited Irish artists in Colombia, and Colombian artists in Ireland, to submit short performance pieces, which we then shared on our social media during lockdown. We're delighted to leave you these videos to enjoy again below, along with the social media accounts of the artists.
Al principio del verano de 2020, la Embajada invitó a los artistas irlandeses en Colombia, y los artistas colombianos que hayan estudiado en Irlanda, a mandarnos cortos vídeos con actuaciones suyas, los cuales compartimos por medio de nuestras redes sociales durante la cuarentena. Nos agrada dejarles nuevamente estos vídeos publicados para que los disfruten de nuevo, junto con las redes de los artistas.
Katie James
This fabulous artist, Katie James, born on the Isle of Inisfree, #Donegal, came to Colombia at two years of age. Katie sings two inspirational songs from each of the places she calls home.
Esta fabulosa artista, Katie James, nació en la Isla de Inisfree, #Donegal y llegó a Colombia a los 2 años. Katie canta dos canciones de cada uno de los lugares que ella llama hogar.
Twitter: @KatieJamesMusic
Daniel Broderick
Dani Broderick brought something totally different to the #IrlandaInspira programme. He combined Seamus Heaney with Techno. Dani, born in Colombia of Irish descent, studied in Dublin in the 90s.
Dani Broderick trajo algo totalmente diferente al programa #IrlandaInspira, combinando a Seamus Heaney con Techno. Dani, nacido en Colombia y de descendencia irlandesa estudió en Dublín en los 90s.
Twitter: @Aliasdaniboom
Mairead Kavanagh
Irish poet Mairead Kavanagh shared her own inspired words for the #IrlandaInspira campaign.
La poeta Mairéad Kavanagh compartió palabras de su propia inspiración para la campaña #IrlandaInspira.
Domingo Cuatindioy
Domingo Cuatindioy, a Colombian-Irish musician and visual artist who spent 10 years in Ireland and now lives in Putumayo, the same region where Roger Casement was active, shared a song and an art display.
El shaman y artista, colombo-irlandés Domingo Cuatindioy compartió muestras de su arte y una canción de los espíritus de la selva de Putumayo - la misma región donde Roger Casement trabajó por los derechos humanos.
Rebecca Winckworth
Irishwoman Rebecca Winckworth made headlines with her beautiful balcony-singing in Medellín. Here she sings "An mhaighdean mhara".
La irlandesa Rebecca Winckworth estuvo en las noticias por sus conciertos en su balcón en Medellín. Aquí canta "An mhaighdean mhara".
Twitter: @RWinckworth
Joe Broderick
Australian-born actor/writer Joe Broderick, performed in this video a monologue from Beckett's "First Love" in Spanish.
Joe Broderick, ciudadano irlandés nacido en Australia, nos entregó en este video un monólogo de "primer amor" de Beckett en español.
Daniela Sandoval
This video features the dancing talents of Daniela Sandoval, who studied dance in Ireland, honed her skills with Riverdance, and now runs a Celtic dance academy in Bogotá, Fuego Celta.
Este video nos presenta los talentos de baile irlandés de Daniela Sandoval, quien perfeccionó sus habilidades en Irlanda, y con Riverdance y ahora dirige una academia de baile celta en Bogotá, Fuego Celta.
Twitter: @fuegoceltaco
Carolina Arango
Violinist Carolina Arango is a member of Celtic bands Luinn and Aire Irlandés. She's also a graduate of Music Performance at the University of Limerick and has even set up a Comhaltas branch in Medellín.
La artista de este video es la violinista Carolina Arango, miembro de las bandas celtas Luinn y Aire Irlandés. Carolina se graduó del programa de Música en la Universidad de Limerick y es directora de la sede de Comhaltas en Medellín.
Twitter: @luinnmusic
Daniel Erazo
This video showcases the talents of flute-player Daniel Erazo, who studied in UCC and also plays as part of Bogotá band Los Iankovers.
Este video presenta los talentos del flautista Daniel Erazo, quién estudió en UCC y también forma parte de la Banda Los Iankovers de Bogotá.
Twitter: @Iankovers
Louise James
This #IrlandaInspira video is by musician Lu James, who was born on Inishfree, and was raised in Colombia, and also studied in Cork & Limerick. Here is a classic song as well as an original composition written especially for these times.
Este video de #IrlandaInspira es de la artista Lu James, nacida en Inishfree y criada en Colombia. También estudió en Cork y Limerick. Aquí una canción clásica y una composición original escrita especialmente para esta época.
Twitter: @Louise73489593
|