Ambassador Damien Cole
Message from the Ambassador: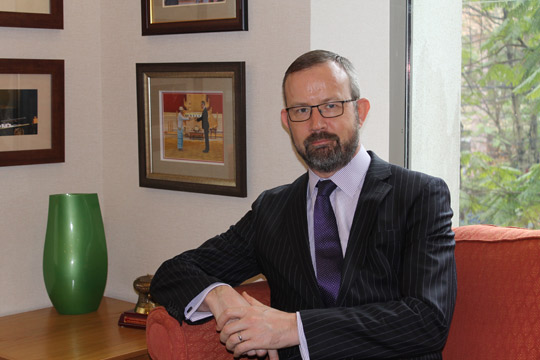 Dear Friends
It is a great honour and pleasure to represent Ireland as Ambassador to a number of countries in the Middle East and North Africa (MENA) region. The Embassy in Cairo is responsible for relations with the Arab Republic of Egypt, the Hashemite Kingdom of Jordan, the Republic of Lebanon and the Arab Republic of Syria.
While these have been challenging times in the region, the Embassy has maintained and developed relations with the countries to which we are accredited. In order to advance our relationships, we have organised a number of high-level Irish visits to these countries, including recent visits by President Higgins, the Taoiseach Enda Kenny TD, and the Minister of Foreign Affairs and Trade, Charlie Flanagan TD.
A key priority for the Embassy is promoting trade and business links between Ireland and our countries of accreditation. I would encourage any Irish companies interested in working in the region to contact the Embassy. We also provide consular support and services to Irish citizens, along with our Honorary Consuls. In addition, we support the work of our peacekeepers in the region, who have a long and distinguished record of service in the cause of peace.
Finally, we have undertaken a number of cultural and promotional activities, including 'Greenings' of the Giza Pyramids and Sphinx; Petra in Jordan; the Citadel in Amman, Jordan; and Nejmeh Square/Place de l'Etoile in Beirut, Lebanon.
my very best
Damien Cole
Ambassador of Ireland
---
A chairde,
Is mór an onóir agus an chúis sásaimh dom ionadaíocht a dhéanamh ar Éirinn i mo cháil mar Ambasadóir chuig roinnt tíortha i réigiún an Mheánoirthir agus na hAfraice Thuaidh. Tá an Ambasáid i gCaireo freagrach as an gcaidreamh le Poblacht Arabach na hÉigipte, le Ríocht Haisimíteach na hIordáine, le Poblacht na Liobáine agus le Poblacht Arabach na Siria.
Cé cur cuireadh dúshlán na réigiún seo le tamall anuas, tá an Ambasáid tar éis caidreamh a chothabháil agus a fhorbairt leis na tíortha dá bhfuilimid creidiúnaithe. D'fhonn ár gcaidreamh leo a chur chun cinn, d'eagraíomar roinnt cuairteanna Éireannacha ardleibhéil chun na tíortha sin, lena n-áirítear cuairteanna le déanaí a thug an tUachtarán Ó hUiginn, an Taoiseach Enda Kenny TD, agus an tAire Gnóthaí Eachtracha agus Trádála, Charlie Flanagan TD.
Príomhthosaíocht de chuid na hAmbasáide is ea ceangail trádála agus ceangail ghnó a chothú idir Éire agus ár dtíortha creidiúnaithe. Más suim le haon chuideachtaí Éireannacha a bheith ag obair sa réigiún, spreagaim iad chun teagmháil a dhéanamh leis an Ambasáid. Cuirimid tacaíocht chonsalachta agus seirbhísí consalachta ar fáil do shaoránaigh Éireannacha freisin, in éineacht lenár gConsail Oinigh. Ina theannta sin, tacaímid leis an obair a dhéanann ár lucht síochánaíochta sa réigiún, a bhfuil teist fhada dearscna acu ag fónamh ar son na síochána.
Ar deireadh, thugamar faoi roinnt gníomhaíochtaí cultúrtha agus gníomhaíochtaí promóisin, lena n-áirítear Glasú a dhéanamh ar Phirimidí Giza agus an Sfioncs; Petra san Iordáin; an Dúnfort in Amman na Iordáine; agus Cearnóg Nejmeh/Place de l'Etoile i mBéiriút na Liobáine.
Le gach dea-ghuí,
Damien Cole
Ambasadóir na hÉireann
About the Ambassador
Damien Cole joined the Department of Foreign Affairs and Trade in 1995. His last posting was as Ambassador to the Socialist Republic of Vietnam. His previous postings included Moscow, and the Permanent Mission of Ireland to the United Nations in New York. He has also worked in various roles in HQ, including Director for Bilateral Programmes in Irish Aid, as well as in Political and EU Divisions. He was educated at University College Cork, and is married with two children.