Farewell Letter from Ambassador Maeve Collins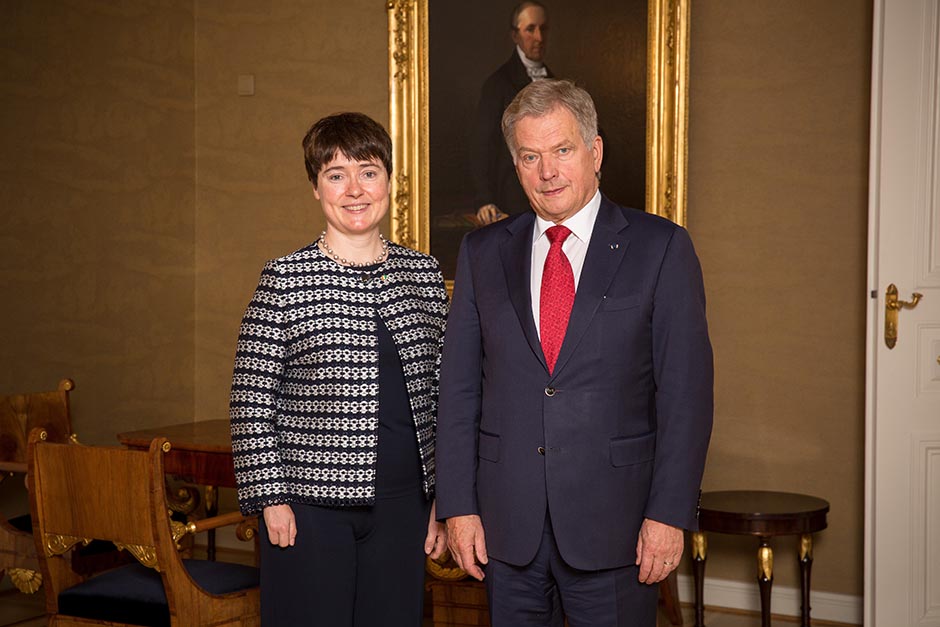 Dear friends,
After two exciting and busy years in Finland, I will be moving to Brussels in September to my next posting in the Permanent Representation of Ireland to the European Union. It has been a privilege to serve in Finland during this important time. Finland is a key partner for Ireland as well as an old friend. I am delighted that cooperation between our governments is going from strength to strength and that cultural, business and tourism links are flourishing. In these uncertain times, Ireland and Finland share a commitment to the rules-based global order and to working together in the EU and UN on common challenges and responsibilities such as climate change, promotion of human rights, peacekeeping and conflict resolution. The importance of Finland to Ireland is reflected in the many high level visits to Finland during my time here, including a visit by the Taoiseach in November 2018 and by the Tánaiste in September 2018.
It has been a pleasure to experience the deep appreciation of Irish culture in Finland, in particular the Irish Festivals of Oulu, Kangasala, Salo and Kalajoki. It has been a privilege to meet the vibrant Irish community here, and the equally active Finnish groups developing and maintaining connections between Ireland and Finland, including the Irish Cultural Association, the Helsinki Harps GAA club, the Irish Business Club, the Finnish Society of Celtic Studies, Friends of Irish Whiskey, the Finnish-Irish Society and the Irish Dance Companies. My sincere thanks to you for all the work you do on a voluntary basis to promote Irish-Finnish ties.
I was fortunate to arrive in time to celebrate the 100th anniversary of Finland's independence and to explore the many parallels between our countries' journeys to statehood. I have been able to experience the cultural life of Helsinki through the Embassy's participation in events such as Helsinki Design Week, Helsinki International Film Festival, DocPoint and Restaurant Day. I am also delighted to have had the opportunity during my time here to visit many different parts of Finland, from Lapland to Joensuu, from Porvoo to the Åland Islands, and to develop a better understanding of how this resilient and open society functions. I will miss my Finnish, Irish and other friends here, the beautiful, tranquil landscapes and the rich cultural life of Finland.
In my next role, I will continue to work closely with Finland on building a strong and united European Union for all its citizens, but I will look forward to returning to Finland as a tourist to continue exploring its many attractions.
Slán go fóill!