Welcome message from Ambassador Maeve Collins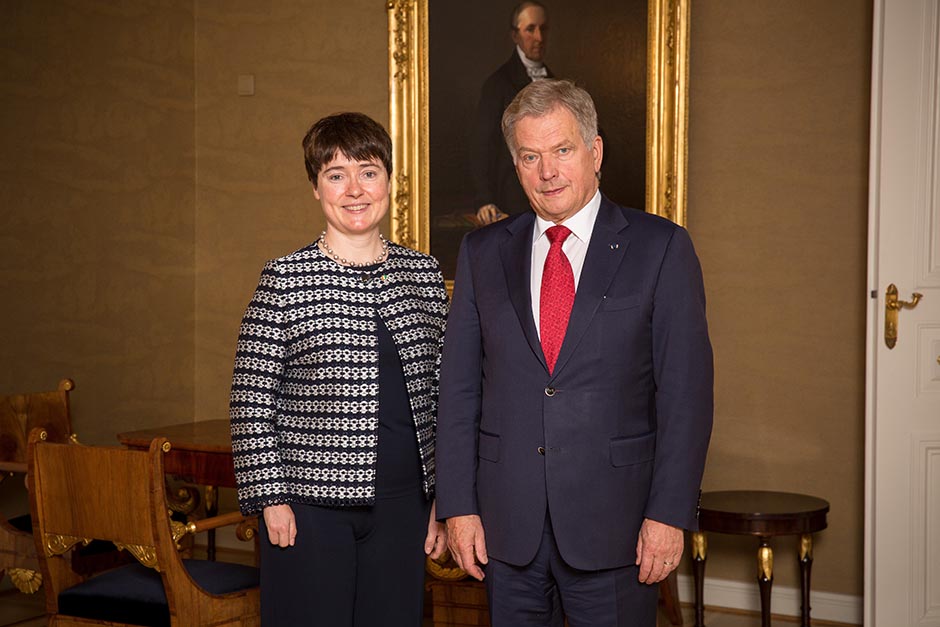 Fáilte go dtí suíomh gréasáin Ambasáid na hÉireann Heilsincí - Welcome to the Embassy of Ireland Helsinki website
Tervetuloa Irlannin Helsingin suurlähetystön kotisivuille - Välkommen till Irlands ambassads hemsida i Helsingfors
I arrived in Helsinki on 2 October 2017 and presented credentials to President Niinistö on 5th October 2017. I am honoured to represent Ireland in Finland, as we both begin our second century of statehood.
Ireland and Finland are firm friends with much in common. There are many parallels between Irish and Finnish history and both nations are proud of our achievements as sovereign European states. In Ireland we celebrated the 100th Anniversary of the Easter Rising in 2016, the beginning of the events which led to statehood, while in 2017 Finland celebrates a century of independence.
Ireland and Finland both joined the United Nations in 1955 and have promoted similar values in the organisation ever since. We have worked together on UN peacekeeping and peace support operations. Currently both countries contribute troops to UNIFIL in the Lebanon and rotate a command there.
As members of the European Union and the Eurozone, the two countries together support an EU approach that promotes job creation and social inclusion. We are very like-minded on overseas development, human rights, the digital agenda, and much more. We work closely together in the Nordic EU Battlegroup designed to support peacekeeping and humanitarian tasks.
Our Embassy in Helsinki was opened in 1993 and since then has worked to strengthen and develop this friendship with Finland at every level. Our job is to ensure good communication between the two Governments and to foster economic, cultural, educational, tourism and social links between the people of our two countries. Building on the excellent work of my predecessors, I am committed to ensuring that our friendship with Finland thrives and prospers for years to come.
Ireland and Finland are high tech, advanced, open economies with a strong service sector. The Embassy in Helsinki works with our State Agencies (the IDA, Enterprise Ireland, Bord Bia and Tourism Ireland) on promoting business and trade activity between Ireland and Finland. We always happy to hear from Irish citizens or companies doing business in Finland or exploring new opportunities, so please do get in touch.
A key priority for the Embassy is to provide a service to Irish citizens in Finland. I encourage all our citizens in Finland to make sure their Irish passports/passport cards are up to date and to register with the Embassy or through the TravelWise App – we will be delighted to send you our newsletter and to put you in touch with the active Irish networks in Finland. The cultural links between our two countries are strong and are celebrated in the annual Irish Festival of Finland, organised by the Finnish-Irish Society, and in the Irish Festival of Oulu. Irish sporting traditions have an active presence in the Helsinki Harps, Jyväskylä and Oulu Elks GAA clubs. Part of the Embassy's role is to foster these cultural, community and business links and I am delighted that some funding is available to do this. I strongly encourage Irish cultural, community and business groups and organisations to contact us for information on the criteria and how to apply.
You can follow @IrishEmbFinland on Twitter for updates on our activities and developments in Ireland. If we can assist you in any other way, please do not hesitate to contact us by email or by phone on +358 9 682 4240.