The Embassy
Practical information about who we are, where to find us and when we are open.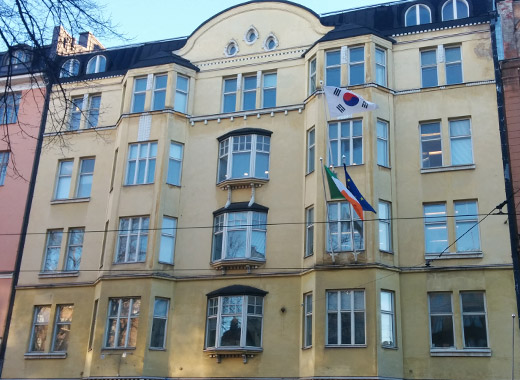 Location
Location
Visitor address:
Erottajankatu 7 A
00130 Helsinki
Please press the buzzer on the right side of the door and the staff will let you in. The Embassy is located on the third floor of the building.
The Embassy can be reached by taking tram number 10 to the stop 'Kolmikulma', which is located right next to the Embassy. For further directions on how to get to the Embassy using public transport, the route planner Reittiopas can be used.
Postal Address:
Embassy of Ireland
PL 33
00131 Helsinki
Opening Hours
Opening Hours
The Embassy is open to the public and for phone calls from Monday - Friday: 9:00 - 12:00 and 14:00 - 17:00.
The Visa Office is open mornings only.
Outside office hours, in case of a genuine consular emergency for Irish citizens in Finland, please call the Embassy's main phone number on +358 9 6824240 and follow the voicemail message to obtain the mobile phone number of the Duty Officer.
Alternatively, the Duty Officer at the Department of Foreign Affairs in Dublin can be contacted at +353-1-408-2000.
Closure Dates
Closure Dates
Embassy Closure Dates
Friday 6th January
Epiphany
Friday 14th April
Good Friday
Monday 17th April
Easter Monday
Thursday 1st May
May Day
Thursday 25th May
Ascension Day
Monday 5th June
Irish Public Holiday
Friday 23rd June
Midsummer Eve
Monday 30th October
October Irish Bank Holiday
Wednesday 6th December
Independence Day
Monday 25th December
Christmas Day
Tuesday 26th December
St. Stephen's Day