Irish Culture
By showcasing Ireland's rich cultural heritage, we can reap long-term and positive benefits for Ireland's reputation and its relationship with the people of Finland. We can also work to connect people with their Irish heritage.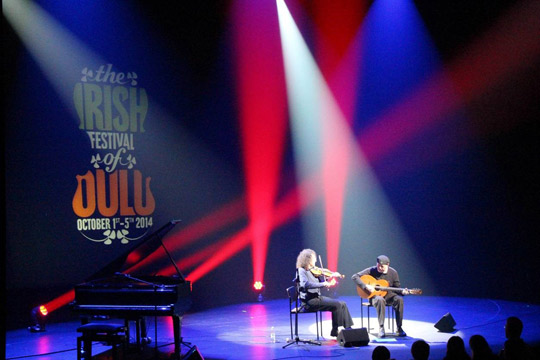 Our culture
Ireland's culture is a unique national strength and a source of particularly strong links between Finland and Ireland. It's one of our greatest competitive advantages, acting as a "door opener" that converts into jobs, trade, investment and tourism. It's also our most effective way of connecting with the Irish community. And above all, it is something to be immensely proud of.
What we do
We're involved in a broad range of cultural activities, which raise awareness of Ireland and also enhance our ties with Finland. We promote cultural relations through a number of initiatives:
Embassy cultural initiatives
For more information on the cultural initiatives which the Embassy supports throughout the year, including in the fields of music, literature, the spoken word, history or the visual arts, see the Embassy's news and events.
Your Irish Heritage
Some 70 million people around the world claim Irish roots. If you are one of them, there are a number of ways you can celebrate your heritage and discover more about where you come from. Please contact us to find out more.
Get involved in Irish community activities
Over the years, generations of Irish people have made invaluable contributions to all aspects of life in their new homes, in politics, the arts, business and sport. Their patriotism coexists with the contribution they have made in their new communities.
There are many Irish people living and working in Finland who make a positive contribution to our country, whether contributing to our economic development, raising awareness of our culture or creating a positive image of Ireland in Finland. Many Finnish friends of Ireland are also very active in promoting our culture.
The Finnish-Irish Society celebrated its 60th anniversary in 2014 and continues to promote Irish culture through its regular events.
The Irish Festival of Oulu and other events organised by the Irish Music Society of Oulu ensure the Irish flag is flown proudly in the north-west of Finland and indeed has a reach far beyond Oulu with its internationally recognised festival.
The Salo Irish Festival, Kangasala Irish Festival, and Arctic Celtic Gathering are other popular events celebrating Finland's warm connections with Irish culture.
The Finnish Society for Celtic Studies also organises regular talks and events.
There are numerous dance schools throughout Finland which offer Irish dancing classes for all ages and levels.
For fans of Irish whiskey in Finland, the thriving Friends of Irish Whiskey society is growing from strength to strength.
The growing GAA community in Finland is putting Gaelic games firmly on the map and is also an important social forum for many Irish in Finland.