Ireland-Finland Relations
The Embassy plays an important role in fostering the strong and close relationship between Ireland and Finland.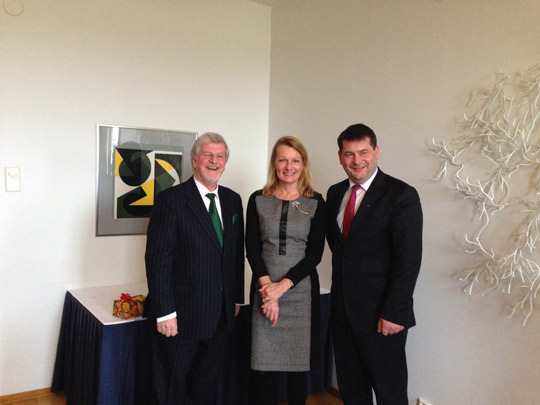 Ireland established diplomatic relations in Finland in 1962 on a non-residential basis covered from Moscow and subsequently Stockholm. Finland opened a resident Embassy in Dublin in 1989, and Ireland opened an Embassy in Helsinki in 1993.
An Taoiseach Enda Kenny visited Helsinki on 7 June 2013, meeting with President Niinistö and Prime Minister Katainen.
As another small country on the periphery of Europe, Finland is a like-minded partner for Ireland on a number of issues, particularly at EU level.
Ireland has had a very good and close working relationship with Finland on a number of recent UN-mandated peacekeeping missions, both in UNIFIL II in Lebanon and in Chad.
Finland has been an active supporter of the peace process in Northern Ireland. In 1995, former Finnish Prime Minister, the late Harri Holkeri, together with Senator George Mitchell and General John de Chastelain, were appointed by the Irish and British Governments to the International Body tasked with providing an international assessment of decommissioning. Holkeri went on to serve as one of the Co-Chairs of the Multi-Party Talks which concluded with the Good Friday Agreement in 1998.
In 2000, former Finnish President, Martti Ahtisaari, and former Secretary General of the ANC, Cyril Ramaphosa, were tasked with carrying out a number of inspections of IRA arms dumps. In 2007, Martti Ahtisaari was nominated as international advisor to the Consultative Group on Dealing with the Past jointly chaired by Archbishop Robin Eames and Denis Bradley. In 2008, Ahtisaari was awarded the Nobel Peace Prize "for his important efforts, on several continents and over more than three decades, to resolve international conflicts".
Bilateral Trade
In 2018, Finland and Ireland had merchandise trade valued at €444m, and trade in services was worth €2,390m.
A Double Taxation Agreement was signed in 1992.