Ireland-France Relations
The Embassy plays an important role in fostering the strong and close relationship between Ireland and France.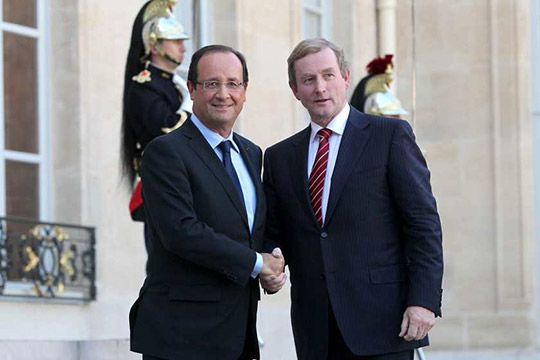 Ireland and France share many deep historical and cultural links. Today, the two countries are close partners in the European Union, enjoying strong economic, political and cultural links. The richness and warmth of these links is seen in the thousands of friendships, school exchanges, town twinning, businesses working together and the many political visits between our two countries every year. French is the most popular foreign language for Irish students to learn. We visit each other in huge numbers, with Irish people visiting France in ever larger numbers. Ireland remains an exceptionally popular destination for French tourists (France is Ireland's fourth largest tourist market in the world). Recent high-level Irish visits to France have included two visits by President Higgins, including for the opening of a major cultural festival, the Festival Interceltique in Lorient.
Our shared attachment to human rights, fundamental freedoms and international justice is seen in our joint participation in peace keeping and other international missions. Ireland's flag is an echo of the French republican tricolour. It was brought by Irish patriots from the revolutionary barricades in Paris. Over the centuries, France has frequently extended support and encouragement to Ireland and many Irish men and women have contributed to France's development, in the political, military, business, cultural and other spheres. The patron Saint of Ireland, Saint Patrick, trained in France before coming back to Ireland to spread the message of Christianity in the 5th century. Irish religious found liberty in France to pursue priestly training and Irish colleges were established throughout France for this purpose. The site of the Irish College in Paris (which dates from 1578) is today the home of Ireland's cultural centre, in the heart of the Latin Quarter on the Rue des Irlandais. A beacon of Irish culture in France, it brings the very best of contemporary Irish arts to French audiences. The Centre Culturel Irlandais is Ireland's largest cultural centre overseas.
Trade links continue to strengthen and develop in new and innovative technologies. Many French enterprises participate in and share the benefits of Ireland's economic development in recent decades. Dublin's urban trams were supplied by one major French company, while another French concern manages the operation of the tram system. By the same token, Irish companies invest in France, creating thousands of jobs for French people. Irish people consume large quantities of high quality food and beverages from France, while France is Ireland's main market in the world for seafood and lamb and second largest market for beef and whiskey.