Ambassador Collins
Ambassador Collins became Ambassador of Ireland to Germany in August 2013. He presented his credentials to Federal President Dr. h.c. Joachim Gauck on 6th September 2013.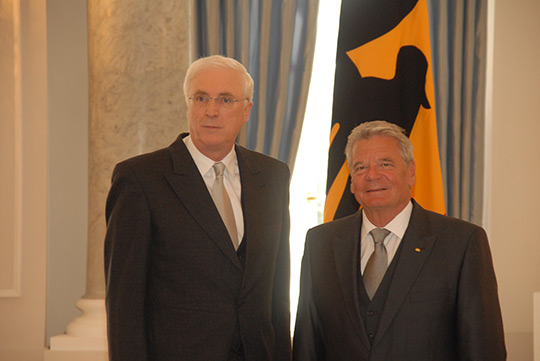 Message from Ambassador Collins
Dear Friends,
Welcome to our website which I hope will ensure a greater appreciation of the relationship between Ireland and Germany and the services that the Embassy provides.
It is a great privilege to represent one's country as an Ambassador but it is a particular honour to represent Ireland in Germany. Together with my Embassy colleagues we are committed to promoting and advancing Ireland's interests in Germany and ensuring that our two countries continue to develop in closeness and friendship. Ireland and Germany are countries that are different in population and scale but we have grown to know one another well in recent years and the future is sure to be one of ongoing and active engagement and cooperation.
Our interests are considerable and growing the whole time. As a committed member of the EU and sharing the Euro with the other Member States of the eurozone, we work side by side with Germany and our European partners. Together we wish to see our Union succeed and contribute to the wellbeing, prosperity and safety of all of our citizens.
Our trade with Germany is thriving and growing the whole time making Germany today our fourth most important trading partner. Germany is also a very important source of inward investment for Ireland and Germans are visiting Ireland in increasing numbers. Team Ireland also comprises Enterprise Ireland and Bord Bia (Dusseldorf), IDA Ireland (Frankfurt) and Tourism Ireland (Frankfurt). These State agencies are responsible for promoting Ireland's exports, inward investment and tourism activities in Germany.
Many Germans see and know Ireland through the medium of our culture. It is gratifying to see the level of awareness and interest in our literature, in our music and in our dance. The Embassy is committed to promoting the cultural links between our countries and welcomes your interest in the many events that we host throughout the year. Please follow our cultural activities and Embassy events through "Das Irische Monatsbuch" .
Central to our Embassy's responsibilities is our commitment to serve our citizens and community throughout Germany. Our Embassy team is committed to ensuring that we offer the best and most efficient level of service working closely with our Honorary Consulates currently located in Cologne, Munich, Hamburg, Stuttgart and Frankfurt.
With best wishes, le gach dea-ghui, mit freundlichen Grüßen
Michael Collins
Ambassador
Ambassador's Biography
Michael Collins became Ireland's Ambassador to Germany in August 2013.
A native of Dublin, Ambassador Collins was born in 1953 and was educated at Blackrock College and Trinity College, Dublin. He entered the Department of Foreign Affairs as a Third Secretary in 1974.
Prior to arriving in Berlin, Ambassador Collins served for six years as Ireland's Ambassador to the United States thus becoming the longest serving Ambassador of Ireland to occupy this position in the modern era. As Ambassador to the US, Ambassador Collins strongly focused on supporting the Irish community as well as Irish business and economic development. He also spoke extensively on contemporary Ireland, Europe and the Northern Ireland peace process. Ambassador Collins was named "Diplomat of the Year" by the Los Angeles World Affairs Council in May 2008 and was the recipient in 2013 of the American Ireland Fund's Public Service Award for his contribution to relations between Ireland and the United States. His work as Ambassador was also commended by President Obama in the White House in March 2013.
Prior to his Washington appointment, Ambassador Collins worked for six years, on secondment from the Department of Foreign Affairs, as Second Secretary General at the Department of the Taoiseach (Prime Minister of Ireland). In that capacity he worked closely with the then Taoiseach, Prime Minister Blair and the Northern Ireland political parties on the Northern Ireland peace process. Between 2001 and 2007 he was a participant at all the major peace process events that culminated with the 2006 St Andrews Agreement and the re-formation of the Northern Ireland Executive on 8 May 2007.
During his time at the Department of the Taoiseach, Ambassador Collins was also responsible for European Union issues, including Ireland's EU presidency in 2004 as well as all UN and international affairs. He was also a member of the Board of the Royal Irish Academy (International Affairs). He travelled extensively with the Taoiseach on his official overseas engagements and most notably on major trade promotion visits to China (2005), India (2006) and the Gulf (2007).
Ambassador Collins served as Ireland's Ambassador to Saudi Arabia from 1995-99 during which time he was also Ireland's Ambassador to Bahrain, Kuwait, Oman, Qatar and the United Arab Emirates.
Ambassador Collins served from 1999-2001 as Ambassador to the Czech Republic and Ukraine.
Ambassador Collins served as Counsellor, Embassy Washington (1993-95), First Secretary, Consulate General New York (1982-86) and Third Secretary, Embassy Rome (1975-77).
Ambassador Collins was the Head of Press and spokesman for the Department of Foreign Affairs from 1990 to 1993. While serving in Dublin in the late 1980s, he also worked on international arms control and disarmament issues and represented Ireland at numerous international meetings, including at the United Nations in New York and the International Conference on Disarmament and Development in 1989.
Ambassador Collins is married to Marie and they have three adult sons.