Ambassador Kilkenny
Ambassador Kilkenny became Ireland's 10th Ambassador to Greece in August 2014. He presented his credentials to His Excellency, Mr. Karolos Papoulias, President of the Hellenic Republic, on 14 October 2014. In addition to his assignment to Greece, Ambassador Kilkenny is also accredited to Serbia and Albania.
Ambassador Kilkenny retired on 21st December 2016.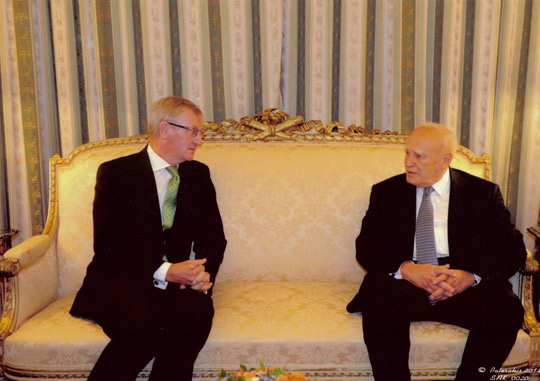 Message from the Ambassador
A Chairde, Friends,
Welcome to the new website of the Embassy of Ireland to the Hellenic Republic. I hope the site will be a useful gateway for information about Ireland and the work of the Embassy.
Ireland and Greece enjoy a close and warm relationship. While the Embassy has been here since 1978, the history of contact between our peoples goes back many centuries. Today we work together bilaterally and in the European Union. We also collaborate closely in other international organisations to project our shared values into the wider world.
While our friendship has never been stronger, my Government attaches great importance to renewing and reinforcing Ireland's links with Greece. The Embassy is active in promoting the diversity and vibrancy of our relationship. We work to develop business and trade between our countries; enhance tourism links; promote education in Ireland; foster academic relations; institute cultural exchanges; and build a mutual appreciation for our traditions and customs. The Embassy is also here to help any Irish residents in Greece or Irish visitors to this country.
Our countries have faced considerable economic and social difficulties over the last number of years; however, by working together to find common solutions, we are emerging stronger than ever. That experience demonstrates that we are interlinked in important new ways and must craft a collective path towards future prosperity. Now more than ever, it is crucial for Ireland and Greece to ensure that our voices are heard in Europe and the wider world.
Our Embassy team spares no effort in meeting the continuing challenges and is always ready to help. If you have an idea about a new project or venture involving Ireland, I would encourage you to get in touch with us. We are committed to doing everything possible to ensure that the connections between Ireland and Greece continue to blossom.
Σας ευχαριστώ πάρα πολύ για την επίσκεψη.
Le gach dea-ghui,
Noel Kilkenny
Ambassador
---
A chairde,
Fáilte chuig suíomh gréasáin nua Ambasáid na hÉireann sa Phoblacht Heilléanach. Tá súil agam go mbeidh an suíomh ina gheata úsáideach isteach chuig eolas faoi Éirinn agus faoi obair na hAmbasáide.
Is cairdiúil agus is croíúil é an caidreamh idir Éire agus an Ghréig. Cé gur sa bhliain 1978 a bunaíodh an Ambasáid anseo, síneann an teagmháil idir ár bpobail siar na céadta bliain roimhe sin. Sa lá atá inniu ann táimid ag obair le chéile go déthaobhach agus san Aontas Eorpach. Bímid ag obair as lámha a chéile in eagraíochtaí idirnáisiúnta eile freisin chun na luachanna atá againn araon a chur in iúl sa domhan mór.
Cé nach raibh an cairdeas eadrainn riamh ní ba láidre ná mar atá anois, leagann mo Rialtas tábhacht mhór le hathnuachan a dhéanamh ar naisc na hÉireann leis an nGréig agus iad a threisiú. Tá an Ambasáid ag obair go gníomhach chun éagsúlacht agus beocht ár gcaidrimh a chur chun cinn. Bímid ag obair chun an gnó agus an trádáil a fhorbairt idir ár dtíortha; naisc thurasóireachta a fheabhsú; an t-oideachas in Éirinn a chur chun cinn; caidreamh a chothú idir an lucht acadúil; malartuithe a thionscnamh i réimse an chultúir; agus tuiscint a chothú eadrainn i dtaobh ár dtraidisiún agus ár gcuid nósanna. Is ann don Ambasáid freisin chun cabhrú le hÉireannach ar bith a bhfuil cónaí air nó uirthi sa Ghréig nó le cuairteoirí Éireannacha chun na tíre seo.
Bhí deacrachtaí móra geilleagracha agus sóisialta le sárú ag ár dtíortha le blianta beaga anuas. Trí bheith ag obair le chéile chun teacht ar chomhréitigh, áfach, táimid ag teacht chun cinn agus muid níos láidre ná mar a bhí riamh. Léiríonn an taithí sin go bhfuil naisc cothaithe eadrainn ar bhealaí tábhachtacha nua agus nach mór dúinn cosán i dtreo an rathúnais sa todhchaí a ullmhú le chéile. Anois níos mó ná riamh, tá sé ríthábhachtach d'Éirinn agus don Ghréig a chinntiú go bhfuil ár nguthanna le cloisteáil san Eoraip agus sa domhan mór.
Bíonn foireann na hAmbasáide ag obair gan staonadh chun na dúshláin leanúnacha a shárú agus bíonn sí seasta réidh chun cabhair a thabhairt. Má tá smaoineamh agat faoi thionscadal nó fiontar nua a bhaineann le hÉirinn, ba mhaith liom thú a spreagadh chun dul i dteagmháil linn. Táimid meáite ar gach rud is féidir a dhéanamh lena chinntiú go mbeidh borradh leanúnach ar na naisc idir Éire agus an Ghréig.
Le gach dea-ghui,
Noel Kilkenny, Ambasadóir na hÉireann.
Ambassador's Biography
Ambassador Kilkenny took up duty in Athens in August 2014. Prior to his Athens appointment, he was Ireland's Consul General in New York.
Ambassador Kilkenny was born in Co. Clare, Ireland, in 1951. He graduated University College Dublin (UCD) Law School in 1974. He worked at the Department of Justice between 1974 -77 and entered the Department of Foreign Affairs and Trade in 1977.
| | |
| --- | --- |
| 2010-August 2014 | Consul General, New York |
| 2008-10 | Head of Human Resources, DFAT |
| 2004-08 | Ambassador to Estonia and Moldova, resident in Tallinn |
| 2001-04 | Deputy Head of Mission, Embassy of Ireland, London |
| 1999-01 | Director of Finance and Planning, DFAT |
| 1997-99 | Deputy Director for Central, Eastern and South Eastern Europe, DFAT |
| 1996 | Head of European Union Monitoring Mission, Sarajevo |
| 1991-95 | Embassy of Ireland, Washington, Spokesman |
| 1989-91 | Deputy Spokesman, DFAT |
| 1985-89 | Deputy Head of Mission, Embassy of Ireland, Beijing |
| 1982-85 | Private Secretary to Minister for Foreign Affairs |
| 1979-82 | Third Secretary, Embassy of Ireland, The Hague |
| 1977-79 | Third Secretary, Bilateral Economic Relations Sections, DFAT |