Ambassador Ó Floinn
Ambassador Colm Ó Floinn arrived in Italy in September 2017 to take up the post of Ambassador of Ireland. He presented his credentials to President Sergio Mattarella on 04 October 2017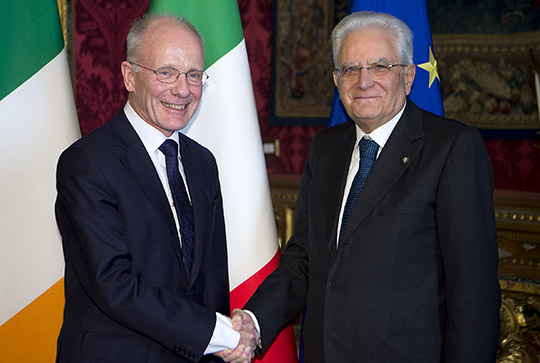 Prior to his arrival in Rome, Ambassador Ó Floinn served as Ambassador of Ireland to Finland. He was previously Director General of the Trade and Promotion Division of the Department of Foreign Affairs and Trade and a member of its Management Advisory Committee (Board) from 2010-2015. From 2008 to 2010 he was the Irish Joint Secretary of the British-Irish Intergovernmental Secretariat in Belfast.
Ambassador Ó Floinn joined the Department of Foreign Affairs (as it was then called) on 8 November 1976, having graduated from Trinity College Dublin with a First Class degree in History and Political Science. Much of his career has been concerned with relations between Ireland and the United Kingdom and he has served in a variety of roles in the Department's Anglo-Irish Division in Dublin and Belfast and as Deputy Head of Mission in the Embassy of Ireland, London from 1999-2004. He was involved in the negotiation of both the Anglo-Irish Agreement 1985 and the Good Friday Agreement 1998.
Early in his career, Ambassador Ó Floinn was posted to the Embassy of Ireland to the Holy See and to the Permanent Representation of Ireland to the UN, Geneva. More recently he has also served as Deputy Political Director and Director for International Security Policy. He is married to Madeleine Ó Floinn and has five children.