Latvian-Irish Relations
The Embassy plays an important role in fostering the strong and close relationship between Ireland and Latvia.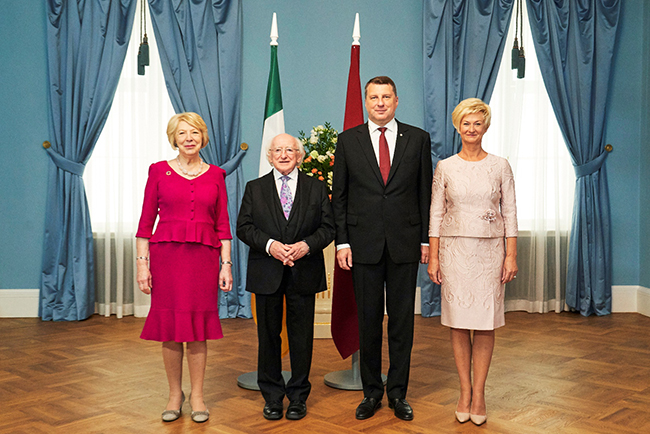 ‌
After a shared history of occupation, resistance and independence, the Irish and Latvian states took their places on the world map in 1918. Within a few years, both countries had joined the League of Nations where they cooperated until the League's formal dissolution in 1946.
Over the years Irish/Latvian bilateral links have developed. Ireland was one of the countries which did not recognise the occupation of Latvia by the USSR, and moved quickly to re-establish diplomatic relations at Latvia's restoration of independence in 1991.
Since the reestablishment of diplomatic relations, there has been a steady pattern of cooperation between our two countries, including State visits by the Presidents of both states.
Latvia opened a resident Embassy in Dublin in 2003, and Ireland was honoured to welcome Latvia into the European Union during our 2004 EU Presidency. In 2005 the Irish Embassy opened in Rīga. It is now situated in a historic building on Alberta iela, in the heart of Rīga's Art Nouveau district.
In recent years the connection between our two countries has increased as many Latvians have moved to Ireland to work and to live.