Ambassador David Noonan
Ambassador David Noonan became Ambassador of Ireland to Lithuania in September 2014. He presented his credentials to Her Excellency President Dalia Grybauskaite on 17 September 2014. The Ambassador is also accredited to Belarus on a non-residential basis.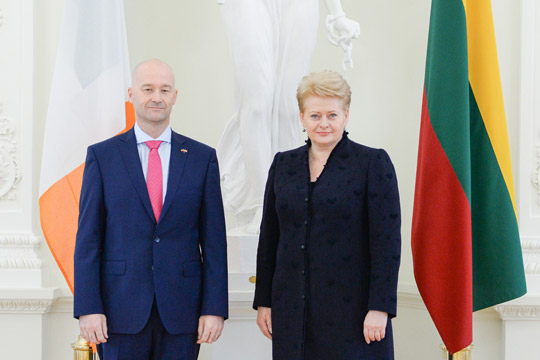 Ireland and Lithuania share a great deal. We work together in the European Union to develop our societies as places in which citizens can live to their full potential. Since 1 January 2015 we share membership of the Eurozone, the countries which use the Euro as their currency. Culturally, we also share a great deal with a common love of song and story.
The role of the Embassy and the Ambassador is to recognise these commonalities and to find ways in which we can use them to build closer relations – economically, culturally and otherwise. Here at the Embassy we are committed to working with our friends and partners in Lithuania to the benefit of both countries.
The presence of a substantial number of Lithuanian citizens in Ireland gives an additional, distinctive feature to our bilateral relationship, one which can only strengthen the bonds between the people of Ireland and Lithuania in the future.
If we can help you, please use the Contact Us page to get in touch.
---
Is mór an chosúlacht atá idir Éire agus an Liotuáin. Bímid ag obair le chéile san Aontas Eorpach chun ár gcuid sochaithe a fhorbairt mar áiteanna inar féidir le saoránaigh barr a gcumas a bhaint amach sa saol. Ón 1 Eanáir 2015 i leith, táimid araon inár mbaill de limistéar an euro, na tíortha a úsáideann an euro mar airgeadra. Is ionann cuid mhaith gnéithe dár gcultúir freisin, agus is mór ag ár ndá thír an amhránaíocht agus an scéalaíocht.
Is é an ról atá ag an Ambasáid agus ag an Ambasadóir na cosúlachtaí sin atá eadrainn a aithint agus bealaí a aimsiú inar féidir linn leas a bhaint astu chun caidreamh níos dlúithe a chothú eadrainn – ó thaobh an gheilleagair, an chultúir agus ar bhealaí eile. Anseo san Ambasáid, táimid tiomanta do bheith ag obair lenár gcairde agus ár gcomhpháirtithe sa Liotuáin chun sochair donár dá thír.
De bharr go bhfuil líon nach beag de shaoránaigh na Liotuáine in Éirinn, baineann gné shainiúil bhreise leis an gcaidreamh eadrainn, ceann nach bhfuil amhras ar bith faoi ach go neartóidh sé an ceangal idir muintir na hÉireann agus muintir na Liotuáine amach anseo.
Más féidir linn cabhrú leat, bain úsáid as an leathanach Déan Teagmháil Linn chun scéala a chur chugainn.