Ambassador Hyland
Ambassador Hyland became Ambassador of Ireland to Mexico in August 2013. She presented her credentials to President Enrique Peña Nieto on 8 November 2013.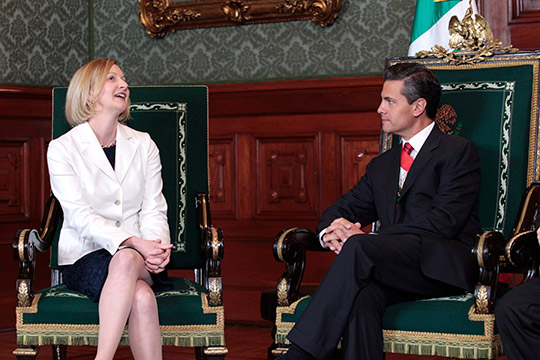 On behalf of the Embassy in Mexico City, I would like to welcome you to our website and hope that you will find it both interesting and useful.
Ireland and Mexico have many shared experiences, including colonial histories and a rich cultural diversity in both our countries. Both of us have had to deal with the problem of large scale emigration. Over the centuries, Irish people have had an important relationship with Mexico.
During the era of New Spain, many Spanish representatives in Mexico were descendents of Irish exiles to Spain. William Lamport (Guillén Lombardo) of Wexford brought radical ideas of racial equality, representative government and national independence to Mexico in the 17th century. Juan O'Donojú, the last Spanish Viceroy and the man who recognised Mexico's independence, was of Irish descent. The story of the Irish soldiers who fought for Mexico against the US invasion, as part of the St. Patrick's Battalion at the Battle of Churubusco in 1847, is well known to all Mexicans. We are also proud of the Irish heritage of some of Mexico's most renowned cultural figures, such as architect Juan O'Gorman and the painter Pablo O'Higgins.
Today, Ireland and Mexico enjoy a strong and growing relationship, with increasing cultural, tourist and economic cooperation. In 2013, Mexico was Ireland's 19th largest merchandise trade partner, with total trade valued at €1.006 billion. Exports were worth €690m and imports were €316 million.
The Embassy in Mexico City also represents Ireland in Cuba, El Salvador, Costa Rica, Nicaragua, Venezuela, Colombia and Peru and works to promote cordial relations and foster mutual understanding between the Government and people of Ireland and each of these countries.
The Consulates of Ireland in Cancún (Mexico), Guatemala City (Guatemala), San Salvador (El Salvador), Panama City (Panama) and Bogotá (Colombia) are headed by Honorary Consuls who maintain close contact with the Embassy and who assist Irish citizens in consular matters.
While the Embassy is located in Mexico City, we aim to be accessible in all of the countries to which we are accredited. So wherever you are, we are here to assist you with any queries you may have.
Finally, if you have any suggestions for ways in which we can improve our website, please let us know. To sign up for our ezine please contact us. You can also follow us on Twitter at @IrishEmbMexico
Sonja Hyland
Ambassador
---
Thar ceann na hAmbasáide i gCathair Mheicsiceo, ba mhaith liom fáilte a chur romhat chuig ár suíomh gréasáin. Tá súil agam go gcuirfidh tú suim ann agus go mbainfidh tú tairbhe as.
Tá an-chuid cosúlachtaí idir Éire agus Meicsiceo, lena n-áirítear an stair choilíneach agus an éagsúlacht shaibhir chultúrtha atá ag an dá thír. B'éigean dúinn araon déileáil le fadhb na himirce ar scála mór. Thar na céadta bliain, bhí caidreamh tábhachtach ag muintir na hÉireann le Meicsiceo.
I rith ré na Spáinne Nua, bhí go leor ionadaithe Spáinneacha i Meicsiceo ar de shliocht na nÉireannach a chuaigh ar deoraíocht chun na Spáinne iad. Thug William Lamport (Guillén Lombardo) as Loch Garman smaointe radacacha i dtaobh comhionannas ciníoch, rialtas ionadaíoch agus neamhspleáchas náisiúnta leis go Meicsiceo sa 17ú haois. Ba de bhunadh na hÉireann é Juan O'Donojú, Fear Ionaid an Rí deireadh na Spáinne agus an té a thug aitheantas do neamhspleáchas Mheicsiceo. Is maith mar is eol do gach duine de mhuintir Mheicsiceo an scéal faoi na saighdiúirí Éireannacha a throid ar son Mheicsiceo i gcoinne ionradh na Stát Aontaithe, mar chuid de Chathlán Naomh Pádraig ag Cath Churubusco in 1847. Táimid bródúil freisin as oidhreacht Éireannach roinnt de na daoine is mó cáil i Meicsiceo i dtaobh an chultúir, cosúil leis an ailtire Juan O'Gorman agus an péintéir Pablo O'Higgins.
Sa lá atá inniu ann, tá caidreamh láidir idir Éire agus Meicsiceo, agus is caidreamh é a bhfuil borradh faoi. Tá méadú ag teacht ar an gcomhoibriú eadrainn i dtaca le cúrsaí cultúir, cúrsaí turasóireachta agus cúrsaí geilleagracha. Sa bhliain 2013, bhí Meicsiceo sa 19ú háit i measc chomhpháirtithe trádála earraí na hÉireann, agus b'fhiú €1.006 billiún an trádáil iomlán sin. B'fhiú €690m na honnmhairí agus b'fhiú €316m na hallmhairí.
Déanann an Ambasáid i gCathair Mheicsiceo ionadaíocht ar son na hÉireann freisin i gCúba, sa tSalvadóir, i gCósta Ríce, i Nicearagua, i Veiniséala, sa Cholóim agus i bPeiriú agus bíonn sí i mbun oibre chun caidreamh croíúil agus comhthuiscint a chothú idir rialtas agus muintir na hÉireann agus gach ceann de na tíortha sin.
Tá Consalachtaí na hÉireann i gCancún (Meicsiceo), i gCathair Ghuatamala (Guatamala), i San Salvador (An tSalvadóir), i bPanama (Panama) agus i mBogotá (An Cholóim) faoi cheannas Consail Oinigh a bhíonn i ndlúth-theagmháil leis an Ambasáid agus a chabhraíonn le saoránaigh Éireannacha in ábhair chonsalachta.
Cé gur i gCathair Mheicsiceo atá an Ambasáid, is mian linn fáil éasca a bheith orainn i ngach ceann de na tíortha dá bhfuil muid creidiúnaithe. Mar sin, cibé cén áit ina bhfuil tú, táimidne anseo chun cabhrú leat le ceist ar bith atá agat.
Mar fhocal scoir, má tá aon mholtaí agat faoi bhealaí inar féidir linn an suíomh gréasáin seo a fheabhsú, inis dúinn iad le do thoil. Más mian leat d'ainm a chlárú chun ríomhiris a fháil uainn, déan teagmháil linn le do thoil. Is féidir leat muid a leanúint ar Twitter freisin ag @IrishEmbMexico
Sonja Hyland
Ambasadóir