Commemoration of the Saint Patrick's Battalion
The annual commemoration of the Saint Patrick's Battalion is to take place on the morning of 12 September at Plaza San Jacinto at 10am.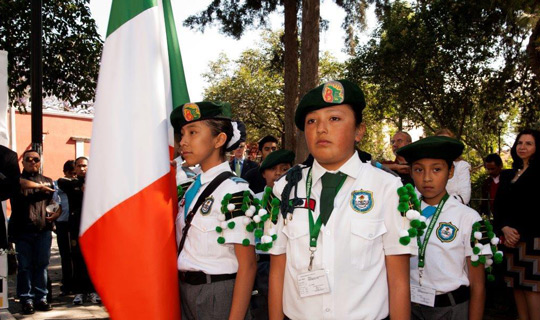 The Batallón de San Patricio was a group of soldiers from Ireland and other European countries (including England, Scotland, Poland and Germany) who fought in the US-Mexican war of 1846-48. The Batallón first fought as a recognized Mexican unit in the Battle of Monterrey on 21 September 1846, as an artillery battery commanded by John Riley of Clifden, one of many who had deserted from the US army.
The soldiers of the Batallón are still viewed as heroes in Mexico today. They are celebrated for their bravery in battle as well as the solidarity shown to their Mexican comrades, fellow Catholics, having recognised the parallels with the then situation in Ireland.
The San Patricios were finally defeated at the Battle of Churubusco on 20 August 1847. The fate that awaited most of the captured San Patricios was that of traitor: death by hanging. En masse hangings for treason took place on 10 September 1847 at San Jacinto and 13 September at Chapultepec. Those who had left military service before the official declaration of war on Mexico (Riley among them) survived but were whipped and branded deserters.
Every year, on 12 September, a ceremony is organized at Plaza San Jacinto in the south of Mexico City were many of the San Patricio's were executed. A bust of John Riley, a gift from the Embassy of Ireland to the people of Mexico, stands opposite a plaque which lists the names of 71 foreigners (48 with Irish surnames) who had served in the battalion. The plaque reads:
"In memory of the Irish soldiers of the heroic San Patricio Batallion, martyrs who gave their lives for the cause of Mexico during the unjust US invasion of 1847".
Other commemoration ceremonies in honour of the San Patricio's are held annually in Monterrey and Saltillo, sites of famous battles, and at the Museo de las Intervenciones in Coyoacán. A ceremony is also held annually in Clifden, Co. Galway, the birthplace of John Riley.