Development Cooperation
Since opening an aid office in 1996, Ireland has worked to reduce poverty and inequality in Mozambique through the Irish Aid programme. Our support is directed at enhancing livelihoods improving health, nutrition and education, supporting improved governance and accountability to citizens. Ireland supports national-level programmes, and has a particular focus on two of the poorest provinces in Mozambique: Inhambane and Niassa.
Improving health, nutrition and education services
At a national level, our priority in Mozambique is to support improvements in education and health, with a focus on nutrition.
Ireland has been a strong supporter of primary education, with a focus on building schools, training teachers, providing textbooks, developing a new curriculum and protecting girls from sexual harassment in school. We have also provided support to strengthen the monitoring and assessment of education results.
Ireland is supporting the health sector's efforts to address severe challenges through a programme which champions maternal and child health. Irish Aid support includes the training of the health workforce, expansion of community-based health services and improving efficiencies in the purchase and distribution of medicines and supplies. Ireland's partnership with the Clinton Health Access Initiative (CHAI) aims to provide financial and technical support to the Government of Mozambique in its fight against HIV and AIDs and maternal mortality and to help strengthen national health systems.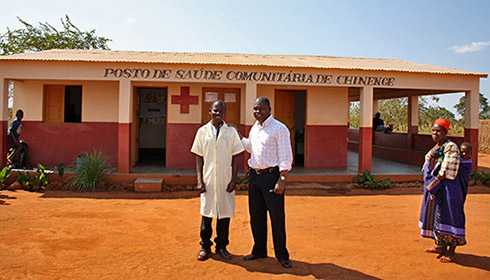 Ireland also supports research on nutrition, including research on Vitamin A-rich sweet potato through the International Potato Centre (CIP) and on behavioural practices which influence what people eat.
We support the capacity of the local government authorities to deliver key social services to rural communities. These include basic community-based health services, education and agriculture. In Inhambane, we assisted the development and implementation of a strategy for home-based care. The improved services are now benefiting almost 2,000 people with chronic illnesses such as HIV, by providing essential health, nutrition and livelihoods support. We are also supporting improvements to the rural water supply in the province and working with the most vulnerable households in drought prone districts.
Reducing vulnerability and enhancing livelihoods
The Irish Aid programme is targeting vulnerable groups under a social protection programme across Mozambique through UNICEF and the Ministry for Social Action. We are also supporting a nationwide fortification programme which aims to fortify flour and oil with much needed essential nutrients.
As part of a private sector strategy, Ireland has a three pronged approach to Local Economic Development in Mozambique, supporting organisations like the farm enterprise, Mozambique Organicos, which offers farmers advice and support on crop planning, organic fertilisers and new farming technology, ensuring increased opportunities for small holder farmers, especially women, by improving their skills, and by improving access to markets and resources such as water and land and finally through working with the Ministry of Industry and Commerce to enhance the enabling environment for small businesses.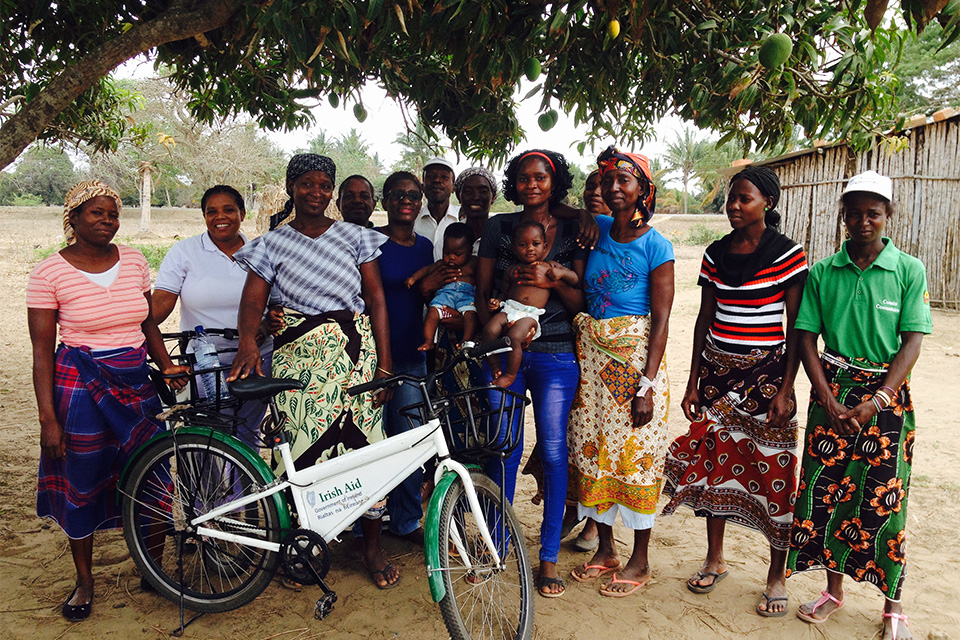 Supporting improved accountability to citizens
It is important that citizens can participate in decision-making processes that affect their lives, and that they can hold the Government to account at both national and local levels. The Irish Aid programme supports the strengthening of domestic accountability in Mozambique in a number of ways.
We are building the capacity of local and national Government to be more accountable. We work with the Ministry of Planning and Development so that it is better able to plan, monitor and budget its resources. We also support the implementation of Mozambique's national decentralisation programme, which is helping to improve the ability of local bodies and agencies to manage public resources in a transparent way.
Our support for the establishment of the Institute for Social and Economic Studies (IESE) to undertake research on socio-economic issues ensures that information is available and helps stimulate debate about public policy. We also support a wide range of civil society organisations to demand improved delivery of services and to monitor the performance of Government.
With Irish support, there has been encouraging progress in getting Mozambique's national social protection system onto a firm footing: a more comprehensive policy framework and many of the necessary building blocks now in place.