The 2018/2019 Roger Casement Fellowship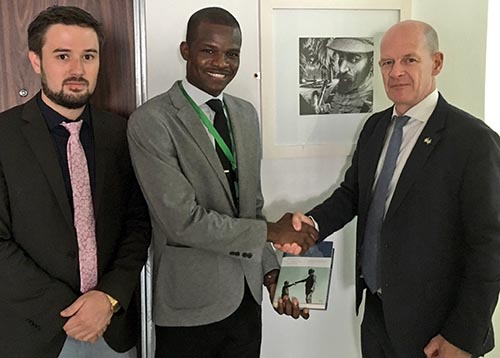 In 2016, the Embassy commemorated Irish human rights champion and activist, Roger Casement, who spent his early years working in Old Calabar, Oil Rivers Protectorate in present day Nigeria.
The Roger Casement Fellowship was announced by Ambassador Seán Hoy, during an exhibition on Casement's life and legacy. The Fellowship provides one year of all expenses paid support for a Nigerian national to undertake post-graduate studies at the master's level in specific Human Rights related fields in Ireland. The primary aim of the Fellowship is to provide experienced, talented and motivated candidates with the opportunity to avail themselves of the world-class faculty and facilities in Ireland in order to contribute to the future development of Nigeria. The Casement Fellowship Programme typically covers: full tuition, return airfares, stipends to cater for accommodation and subsistence costs, health insurance and other allowances, coupled with assistance in making the necessary entry arrangements such as medical examination and visa.
The first year of the fellowship attracted large numbers of high quality applications from human rights practitioners throughout Nigeria. The first recipient of the fellowship, Aliyu Usman, is a serving officer with the Nigeria Police Force. Aliyu is currently pursuing a Master's in Human Rights in Criminal Justice at the University of Limerick. He shared his experiences as a Roger Casement Fellow in the following words:
'' My selection as the Inaugural Roger Casement Human Rights Fellow came as an ecstatic surprise that filled my heart with joy. The fellowship has strengthened my aspiration of becoming an efficient, well-trained and highly productive public servant that will work on improving Human Rights and Criminal Justice in Nigeria. On arrival to Ireland, I discovered how lucky I was to find myself in a Fellowship that is fashioned and administered by experts who strive to guarantee the production of competent fellows with unsurpassed quality. Although home is quite warmer than here, the numerous rewarding experiences that followed could not allow me to notice the tough time I was going through with the weather. At my host Institute, the University of Limerick, I became exposed to new life perspectives and broad range of valuable academic experiences.
The blend of Irish culture and learning supported with a well-stocked library, well-equipped study spaces, modern sports arena and other state-of-the-art facilities are all fashioned in a way that assures qualitative production of high performing graduates that can keep pace with rapidly growing world. Having these resources at my disposal further challenged me to be focused and to develop critical thinking and autonomous learning skills for a fruitful academic journey. UL also has an open interface that ensures students and lecturers interact regularly and informally for advice and exchange of ideas. Within short span of time, I made great friends with both students and staff and really enjoyed the lively atmosphere around the campus. Finally, I cannot be more thankful to Irish Embassy Nigeria and its staff for making this invaluable fellowship a success '' .
For further information about the fellowship including how to apply, kindly visit: https://www.irishaidfellowships.ie/casement-fellowship