Ambassador O'Donoghue
Ambassador O'Donoghue became Ireland's 6th and first woman Ambassador to the Republic of Korea in August 2013. She presented her credentials to President Park, Geun-hye on 22 November, 2013.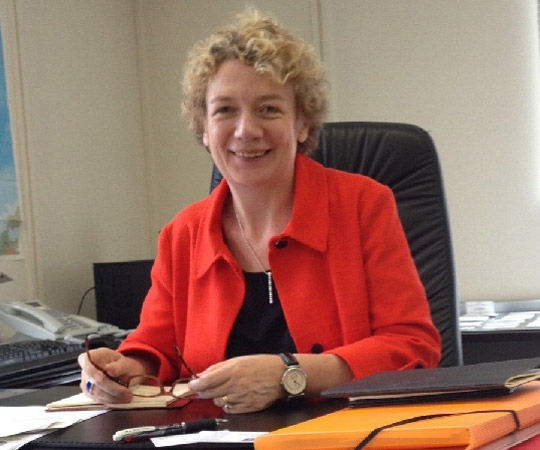 Message from the Ambassador
Dear Friends
Welcome to our new website. I hope that you will find it useful to keep in touch with what is happening in Irish Korean relations and with Ireland related events in Korea.
This is my first Ambassadorial post and it is a great honour for me to represent Ireland overseas. My aim, during my time here, is to strengthen the economic, political and sectoral relations between the two countries and support greater trade and investment links. Our team here at Ireland House – Embassy, Enterprise Ireland and IDA – are working hard to promote Ireland's interests in Korea.
The Irish community in Korea is a very important part of the relationship whether you are here as teachers, in business or in the religious life. A key role for the Embassy is to provide consular services and support for Irish citizens in Korea and this is an aspect of the job I take very seriously. If you are an Irish citizen in Korea please take the time to register with the Embassy.
To all the friends of Ireland in Korea I encourage you to keep in touch via this website and if you are interested in receiving regular updates about our activities please sign up to our newsletter.
Le gach dea-ghui
Aingeal O'Donoghue
Ambassador
---
A Chairde,
Fáilte go dtí an suíomh gréasáin nua dár gcuid. Tá súil agam go mbeidh sé ina chúnamh duit maidir le coinneáil suas leis an méid atá ag tarlú i dtaobh an chaidrimh idir Éire agus an Chóiré agus le himeachtaí a bhaineann le hÉirinn sa Chóiré.
Is é seo mo chéad phost i gcáil Ambasadóra agus is mór an onóir dom ionadaíocht a dhéanamh ar son na hÉireann thar lear. Le linn mo chuid ama anseo, tá sé ina chuspóir agam neartú a dhéanamh ar an gcaidreamh geilleagrach, polaitiúil agus earnálach idir an dá thír seo agus na naisc thrádála agus infheistíochta eadrainn a neartú. Tá ár bhfoireann anseo in Áras na hÉireann – an Ambasáid, Fiontraíocht Éireann agus GFT Éireann – ag obair go crua chun leasanna na hÉireann sa Chóiré a chur chun cinn.
Tá an pobal Éireannach sa Chóiré ina ghné an-tábhachtach den chaidreamh eadrainn, cibé an bhfuil sibh anseo mar mhúinteoirí, i mbun gnó nó sa bheatha rialta. Ról lárnach de chuid na hAmbasáide is ea seirbhísí consalachta agus tacaíocht a chur ar fáil do shaoránaigh Éireannacha sa Chóiré agus is gné den phost é sin a bhfuil cur chuige an-dáiríre agam ina thaobh. Más saoránach Éireannach sa Chóiré thú, cláraigh leis an Ambasáid le do thoil.
Spreagaim cairde go léir na hÉireann sa Chóiré chun a bheith i dteagmháil linn tríd an suíomh gréasáin seo, agus más suim leat an scéala is déanaí a fháil faoinár gcuid gníomhaíochtaí cláraigh d'ainm i gcomhair na nuachtlitreach uainn le do thoil.
Le gach dea-ghui
Aingeal O'Donoghue
Ambasadóir na hÉireann
Ambassador's Biography
Aingeal O'Donoghue arrived in Seoul on 9 August 2013 to take up duty as Irish Ambassador to the Republic of Korea.
From 2008-2013 she served as Institutions Counsellor at the Permanent Representation of Ireland to the EU, with a major focus of her work on Ireland's EU Presidency in the first half of 2013. Previously as head of the North/South Section in the Department's Anglo Irish Division she worked on various aspects of the Northern Ireland peace process including the development of North/South cooperation on the island of Ireland.
Having joined the Department of Foreign Affairs in 1986 she has had a range of other postings Madrid (1989-1992), New Delhi (1995-1999) and Washington (1999-2002). Other assignments at HQ have included periods in EU Division and Political Division.
Aingeal O'Donoghue was born in Cork, Ireland in 1962 and was educated at UCC and Kings Inns where she qualified as a barrister-at-law. She is married to Peter R Bullen and they have one daughter.