Emergency Preparedness
The incidence over recent years of North Korean nuclear tests and missile launches has created tension on the Korean Peninsula and beyond. The level of anxiety can increase and decrease, depending on circumstances, but for any Irish citizens visiting Korea, and, in particular, for those of you living here, it would be useful to be aware of the advice and procedures, including those of the Korean authorities, that have been developed over time.
It should be stressed that the purpose of this information is not to discourage travel to Korea – the Department's travel advice for the Republic of Korea remains, as it has been for a long time, to exercise normal precautions – but rather to have access to information on emergency procedures on a precautionary basis.
It would be prudent to take account of a number of a practical points to make your visit safe as well as enjoyable, or if you are living here, to reacquaint yourself with some local procedures.
The first thing the Embassy would encourage, in particular for tourist visitors, is to keep a close eye on the Department of Foreign Affairs and Trade travel advice.
We also strongly recommend Irish citizens in Korea to follow developments and to ensure that they are registered with the Embassy by completing the online registration form through the Department's website.
If you are in contact with other Irish citizens, we would ask that you encourage them to register also.
In the event of a crisis, of whatever nature, the Embassy will also post updates on its twitter account @IrishEmbKorea.
Korea has a long-established history of regular emergency exercises. However, there a couple of sirens that would ring in the event a crisis requiring an urgent need to take shelter. These sirens are:
3 MINUTES CONSTANT SOUND which means WARNING / SEEK SHELTER 1 MINUTE
CHANGING SOUND which means AIR ATTACK WILL START / STAY IN SHELTER
There is a network of shelters, including underground passes connected to the metro, and it would be advisable to check which is the nearest one to one's home and place of work or study. The symbol below is for a shelter.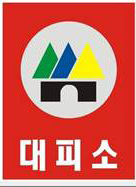 The Korean authorities have an app, Emergency Ready app, which provides information in English on procedures in an emergency. If you are living here, it would be very useful to download this.
It is also possible to identify your nearest shelter online. However, this website is available in Korean only so you might wish to ask a Korean-speaking colleague or friend to assist in this instance, or indeed download a translation app, if you do not speak Korean - https://www.safekorea.go.kr/idsiSFK/57/menuMap.do?w2xPath=/idsiSFK/wq/sfk/cs/contents/civil_defense/SDIJKM1402.xml - In terms of the website itself, when you enter the webpage the first box asks for your city/province, the second box for your district (Si/Gun/Gu) and the third box for your local area (Eup/Myun/dong). But the most practical choice may be to check with one's fellow Korean building residents, neighbours, fellow students or co-workers.
Should you be at home and the sirens ring, it is advised that you stay there and await updates on national media. It would be a good precaution to ensure that you maintain an adequate supply of long-life food and water in your house or apartment, as well as a reserve of cash and a first aid kit, and ensure that your passports and that of your family are to hand. You should also have emergency numbers stored, including those for police (112), fire and ambulance (119), Embassy (02 721 7200), Department of Foreign Affairs and Trade (+353 1 408 2000). You should also make yourself aware of the plans of your children's schools.
While the Embassy and the Department would also post updates, there is wide range of media and sources of information for updates in Korea including;
TBS eFM (English Radio Station)

SEOUL

BUSAN

GWANGJU

FM101.3 MHz

FM90,5 MHz

FM98,7 MHZ

AFN (American Forces Korea Network)

SEOUL

OSAN

PYONGTAEK

UIJEONGBU

DONGDUCHON

WONJU

CHUNCHON

DAEGU

BUSAN

POHANG

GWANGJU

GUNSAN

FM: 102.7 MHz / AM: 15.30 KHz

FM: 88.5 MHz / AM: 13.59 KHz

FM: 88.3 MHz / AM: 14.40 KHz

FM: 88.5 MHz / AM: 11.61 KHz

FM: 88.3 MHz / AM: 11.97 KHz

FM: 88.3 MHz / AM: 14.40 KHz

FM: 88.5 MHz / AM: 14.40 KHz

FM: 88.5 MHz

FM: 88.1 MHz / AM: 12.60 KHz

AM: 15.12 KHz

FM: 88.5 MHz

FM: 88.5 MHz / AM: 14.40 KHz

Arirang TV and Radio

JEJU

SEOGWIPO

DAEJEONG

FM88.7 MHz

FM88.1 MHz

FM101.9 MHz

Korean authorities' websites in English language

MINISTRY OF THE INTERIOR AND SAFETY

KOREA NATIONAL POLICE AGENCY

MINISTRY OF FOREIGN AFFAIRS

NATIONAL EMERGENCY MEDICAL CENTER

http://www.mois.go.kr/eng/a01/engMain.do

http://www.police.go.kr/eng/main.do

http://www.mofa.go.kr/eng/index.do

http://www.e-gen.or.kr/english/main.do
We should stress again that this information is for precautionary awareness. If circumstances change, this will be flagged in the Department's travel advice and in the Embassy's website and Twitter and Facebook accounts. We would be happy to be contacted at any point on the issues in this message.