New to the Kingdom of Saudi Arabia?
Are you an Irish Citizen who has recently moved to Saudi Arabia, or is planning to? Then the following information may be of use to you.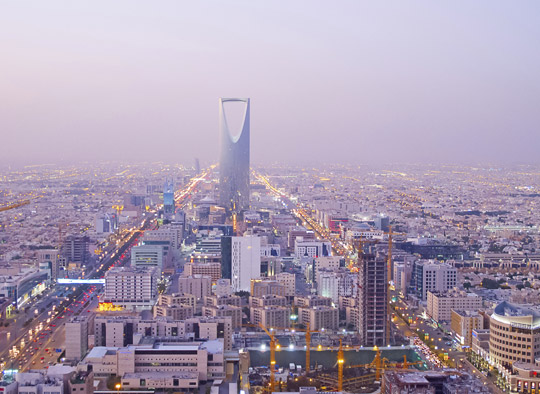 For general information on Saudi Arabia, you may find the official website of the Ministry of Foreign Affairs of Saudi Arabia useful.
Travel Advice for Saudi Arabia
If you are travelling to Saudi Arabia, our travel advice and updates gives you practical tips and useful information.
Entry to Saudi Arabia
Irish citizens require a visa to enter Saudi Arabia and should contact the nearest Embassy of Saudi Arabia for further information on the process.
Living and working in Saudi Arabia
The Kingdom of Saudi Arabia is a welcoming and hospitable country with many unique traditions. Islam pervades all aspects of life in Saudi Arabia and is the official religion of the country. While the private practice of religion is allowed, the public display of non-Islamic religious articles such as crosses and Bibles is not permitted. Irish nationals in the Kingdom who maintain a respect for local customs can expect a rewarding and enriching experience.
Nearly all Irish citizens working in Saudi Arabia are guest workers, under the sponsorship of their employer. It is the sponsor who obtains work and residence permits for the employee and any of their family members, and must give permission before the employee is allowed to leave the country. To change employers in Saudi Arabia may require the permission of the previous employer, which is discretionary. Any dispute with a sponsor is adjudicated according to Saudi law. In such disputes the Embassy can provide a list of local lawyers and request fair treatment according to Saudi law, but it cannot interfere with the legal process.
The Saudi Ministry of Labour is currently developing a website in English to provide information for expatriate workers (http://www.laboreducation.gov.sa/). There are also a number of expatriate web forums which Irish citizens may find useful.
Irish Societies
There are a number of Irish Societies active in the region.
Riyadh Irish Society
The Riyadh Irish Society is a long standing and vibrant Society whose aims are; to bring together the Irish community; promote Irish culture, giving locals and ex-pats the opportunity to experience the richness and diversity of Irish heritage; and provide a source of entertainment for the Riyadh Irish Community throughout the year.
Surplus funds raised at each event are allocated for charity organisations at home in Ireland and occasionally for disaster relief events worldwide.
The vibrant and active committee gives it time freely to organise and manage these events every 6-8 weeks between October and May each year.
If you are interested in joining the Society and/or hearing more about life in Riyadh please email Riyadhirishsociety@yahoo.co.uk.
Naomh Alee Riyadh GAA Club
Established in 1994, Naomh Alee GAA Club in Riyadh, is the longest established affiliated GAA Club in the Middle East Region. A founding member and active participant in the Middle East GAA programme, the Naomh Alee GAA club runs twice weekly training sessions for men and women in Riyadh, between August and May.
The club contests the Middle East League (MEL) and Championships with Men's and Women's teams traveling to the surrounding Middle East regions of Dubai, Oman, Sharjah, Kuwait, Bahrain, Al Ain and Abu Dhabi to compete with our regional rivals, for Middle East honours.
Naomh Alee has an active Juvenile GAA section that convenes Juvenile training camps, typically monthly for 5 to 14 year old boys and girls. The 2015/16 programme commenced in October, with 15 events running to May 2016.
The club has also aligned with DCU to develop and deliver a 'Parent and Child GAA Programme', so Mum and Dad can now get involved as well.
And of course, there is the the typical Irish 'Craic', with social as well as sporting events inside and outside of the Kingdom, coupled with special guests and celebrities joining us in the Kingdom from time-to-time. Recent guests include GAA President Aogan O Fearghail and football legend Pat Spillane.
New members are always welcome. Training venues, club details and club membership forms can be obtained by email from our Club Secretariat at naleegaa@gmail.com or at the club website on https://sites.google.com/site/riyadhgaa/home.
Irish Business Network
The core objective of the IBN-SA is to support Irish businesses and Irish business professionals in their entry, development and growth in the Saudi market. We hope to forge stronger commercial ties between Ireland and the Kingdom of Saudi Arabia, becoming a recognised business network entity within KSA, respected by Saudi business and governmental institutions.
To achieve our core objective, networking and communications are fundamental. The IBN-SA will strive to create opportunities for business personnel to meet like-minded individuals, with the common goal of business success. Our website contains all the latest information, upcoming events, membership details and lots more!
This Irish Business Network- Saudi Arabia is a not-for-profit group, comprising committee members who give their time freely for the benefit of the Irish community and associates here in the Kingdom of Saudi Arabia. Please contact us at info@ibn-sa.org
There are also other Irish societies in the gulf Region;
The website of the Bahrain Irish Society is: http://www.bahrainirishsociety.com.
Details of the Oman Irish Society can be found on Facebook: https://www.facebook.com/pages/Oman-Irish-Society/396065597131585?sk=info&tab=page_info.
Maintain a reasonable level of security
In view of security incidents in recent years, Irish citizens in Saudi Arabia are reminded of the importance of maintaining a reasonable level of personal security at all times. In this respect, it is advisable to keep an eye on the Department's Travel Advice for Saudi Arabia, which is updated regularly. You may also wish to register your contact details with the Embassy and a Citizen's Registration link to do so is available on the right hand side of the Travel Advice page.