Embassy of Ireland supports response to Wellington Fire Tragedy
Press release
12 January 2022
The Embassy of Ireland in Sierra Leone has provided €100,000 in funding to Irish NGO Concern Worldwide to respond to the ongoing needs of victims of the Wellington fuel tanker explosion.
In the immediate aftermath of the fire, drawing on their experience during the Ebola pandemic, Concern assisted government and municipal authorities in the burial of victims, provision of medical supplies and transporting of DNA samples to identify remains.
The support from the Embassy of Ireland enables Concern to continue their work and respond to the needs of burn patients and their families. In particular, this partnership is facilitating Concern to provide nutritional support to patients, hygiene and other equipment to key hospitals in order to help them maintain quality and safe healthcare, and has enabled financial support to be provided to the family of victims to subsidise burial costs.
On pledging their support, the Irish Ambassador to Sierra Leone, Her Excellency Claire Buckley said: "I was shocked and saddened by the events of 5 November in Wellington, a tragedy which has had such a devastating impact on hundreds of already vulnerable families here in Sierra Leone. The victims of this tragedy require our intensive support as they adapt to life-changing injuries. Ireland is glad to support our long-standing partners Concern Worldwide in delivering their meaningful work to the victims and their families, as well as the wider communities of Sierra Leone."
Concern's Country Director for Sierra Leone Mr Austin Kennan said: "The oil tanker fire disaster in November was a huge shock to us all – affecting hundreds of families, including some of our own staff colleagues. We are extremely grateful to the Embassy of Ireland and the Irish public for their generous and timely support to Concern Worldwide's response which we hope can help to alleviate the trauma and suffering of survivors and the families affected by this tragedy. Concern Worldwide has worked in Sierra Leone since 1996 and we hope that the experience and the relationships we have developed over the last 25 years will assist us help those impacted by this tragedy."
Ireland is one of a number of EU Member States to join the Team Europe response in supporting the Wellington victims. Italy, Germany, France were among those to contribute a variety of essential services in the aftermath of the fire including provision of burn specialists, support towards rehabilitation care and enhancing the capacity of the health sector in Sierra Leone.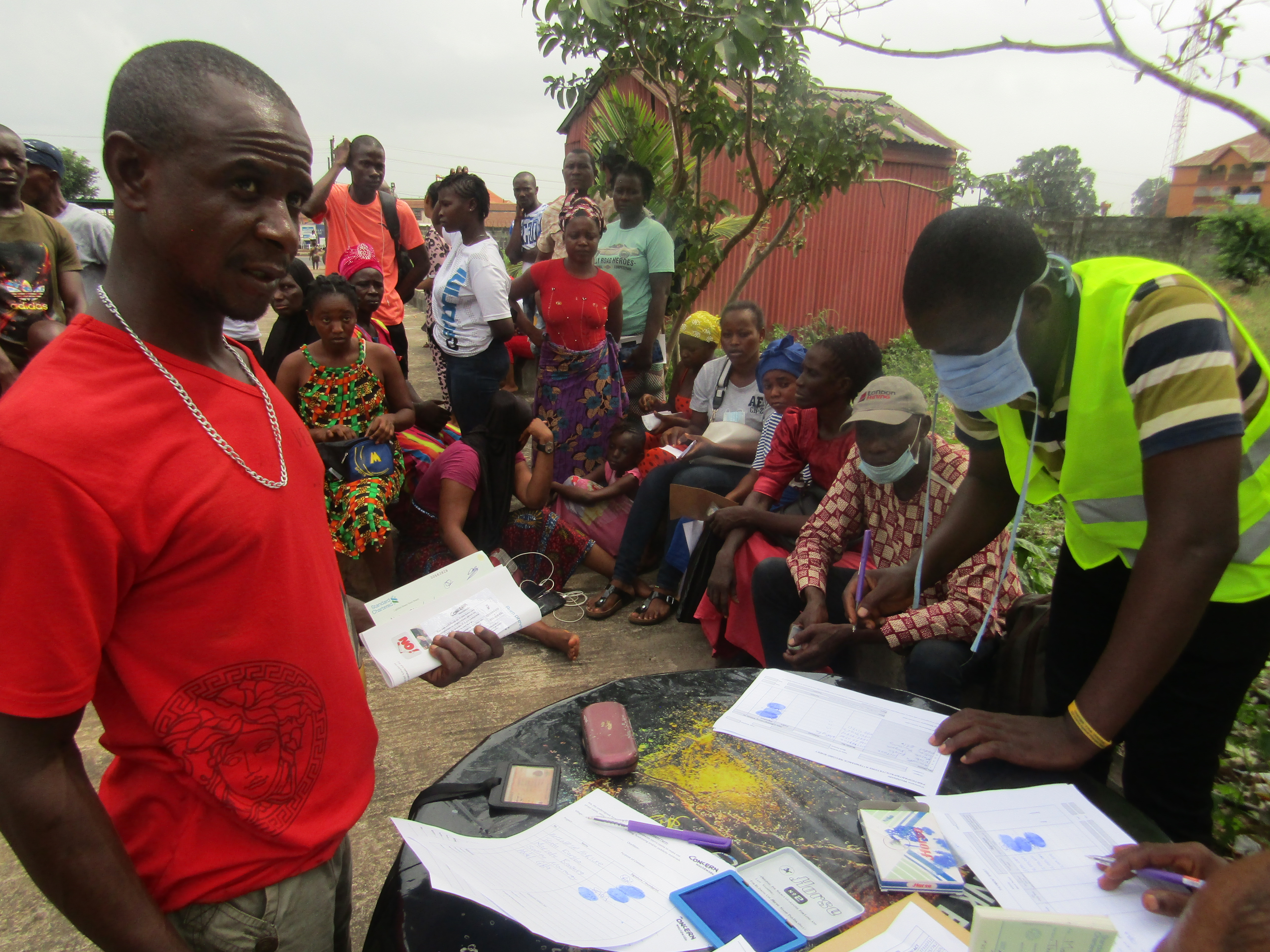 Abdul Gbla receives support for relative's funeral costs. Photo by Bilkisu Jah Concern Worldwide 16 Dec 2021
ENDS
For more information, you can contact the Embassy of Ireland at emma.mcloughlin@dfa.ie