Education links between Ireland and Singapore strengthened
Ambassador Keating opens Trinity College Dublin office at Singapore Institute of Technology and is guest of honour at graduation ceremony.
Educational links between Ireland and Singapore were boosted in October following the opening of Trinity College Dublin's first overseas office and the first locally organised graduation ceremony for TCD and Singapore Institute of Technology (SIT) graduates.
On Tuesday 13th October, Ambassador Keating formally opened the offices of TCD at SIT's campus. SIT obtained university status in 2014 and is the fifth publically funded university in Singapore. This is the first international office that TCD have opened outside of Ireland. In 2010, SIT approached TCD with respect to degrees in Physiotherapy, Occupational Therapy, Radiation Therapy, and Diagnostic Radiography. One year programmes in Physiotherapy and Occupational Therapy commenced in September 2012 and in September 2014, programmes in Diagnostic Radiology and Radiation Therapy have commenced. The programmes are delivered by full time TCD academic staff based in Singapore along with a number of staff flown in for intensive teaching periods. Singaporean students also travel to Ireland for 6 to 9 weeks for intensive lectures also. The opening ceremony was attended by President Professor Tan of SIT, Vice President for TCD Global Relations, Professor Juliette Hussey, TCD Secretary John Coleman, members of TCD academic staff, Enterprise Ireland, and TCD graduates.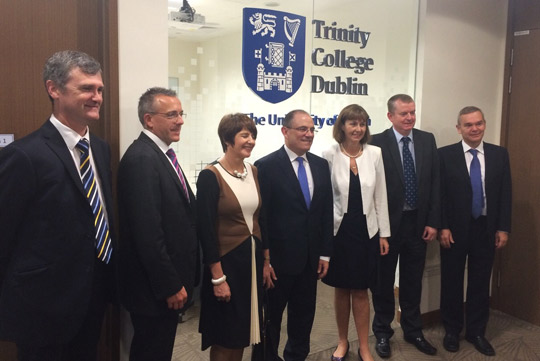 Later in the week, Ambassador Keating was the guest of honour and delivered the commencement address at the first locally organised graduation ceremony for TCD and SIT graduates. A total of 122 TCD graduates and their families were on hand to receive their degrees in either Diagnostic Radiography, Radiation Therapy, Physiotherapy, or Occupational Therapy.
In his address to the graduates, Ambassador Keating congratulated them on their excellent achievements and offering the advice that;
"Learning is a life-long process and in a rapidly changing world, you will need to acquire new skills along the way."
The Ambassador also encouraged the young graduates to maintain their links with Ireland and TCD in their future careers;
"I hope in the years ahead you will recall your time there and that you will remain curious about the small green island which in my lifetime has gone from being one of the poorest countries in Europe to being one of the richest, essentially by following a development path similar to Singapore, at the heart of which is a recognition of the importance of education."