Irish travel tech companies show their strength at Aviation Festival Asia in Singapore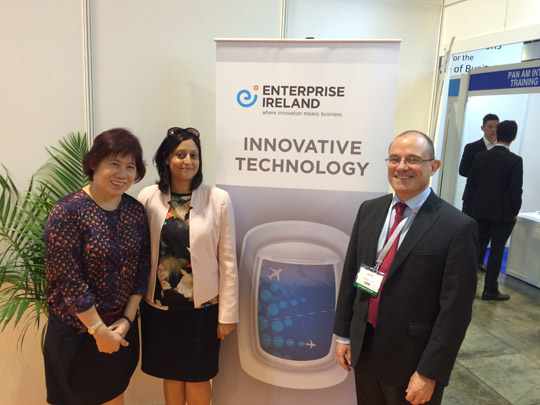 The Embassy teamed up with Enterprise Ireland in support of Irish companies at the Aviation Festival Asia, which took place at Singapore's Suntec Convention Centre on 12-13 February 2015.
Hosting a networking event for Enterprise Ireland companies and their clients at the Irish Residence, Ambassador Keating said, "Ireland's software and service companies have a leading reputation of providing innovative distribution technologies and solutions to the global travel industry for over 30 years. Our Embassies and State agencies can bring real value to these companies, and support jobs and growth in the Irish economy, as we work together in Singapore and other markets that are driving the expansion of the aviation industry globally."
2015 marks the first time that Enterprise Ireland became an official sponsor of the Aviation Festival Asia, whose organisers have plans to triple its size over the next two years.
EI's Regional Director for South East Asia, Smruti Inamdar-Nominé spoke of big opportunities in the aviation and travel sectors:
"At Enterprise Ireland, we've been working hard to develop a cluster of companies which specialise in areas such as distribution and reservation technologies, payment solution providers, business process and enterprise management solutions, CRM, mobile technologies and digital marketing. The EI clients we see here today – Car Trawler, Mobile Travel Technologies, Boxever and Open Jaw Technologies – are at the very cutting edge of travel tech in some of the most exciting growth markets in the world."
Over the course of two days, over 1,000 aviation executives and enthusiasts met at the Suntec Convention & Exhibition Centre to celebrate the premier commercial aviation event in Asia. This year, five complimentary and simultaneous events, supported by the top airlines from Asia Pacific and the Middle East, featured more than 150 keynote speeches from industry experts and CEOs – including some of those Enterprise Ireland client companies that featured as exhibitors.